Heroes sparring over who had the better movie create local Avengers plot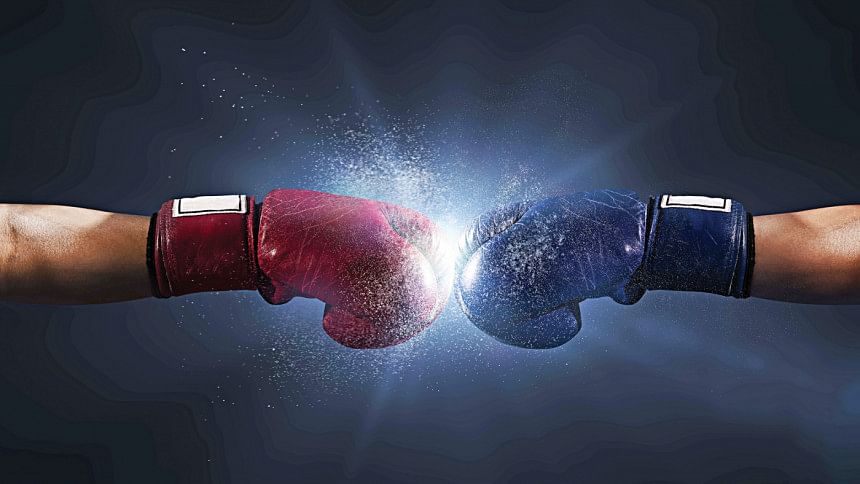 "Eid without our local heroes' fighting over their movies' supremacy is like sweet without sugar. You cannot enjoy the festival wholly if they don't fight," Tausif, a local movie freak from Basabo, said while sharing a movie meme in his timeline on Facebook.  
"I feel suffocated and immense emptiness around me unless I see our heroes' war of words during Eid. It reminds me that I am still alive and kicking and the festive mood is knocking at the door," Nazmus Sakib, another movie fanatic, said.
Bangladesh, the land of hidden talents, holds the record of having the highest number of heroes per capita. People are blessed here to be able to discover different "heroes from nowhere" every day.
A humanitarian research organisation framed Bangladeshi people's life-cycle after conducting a very sophisticated research programme. Birth-complaining about traffic-discovering new heroes every day-death is the cycle made by a delicate computer program, based on data found after research.
This tussle of titans was a blessing in disguise as it led to talk of creating Avengers, a local, and probably low-cost, universe of Bangalee superheroes.
Heroes from all walks of life have shown their potential many times on television, YouTube, Facebook. People call it 'Avengers of Bengal' as these heroes tend to attack each other collectively or individually with their superpower, a verbal attack that penetrates hearts more severely than a break-up. The attack gets momentum whenever one hero has to bring hundreds of reasons why his movie is better than his counterpart's.
Satireday encountered some of these characters who are believed to be in leading positions in becoming the Avengers of Bengal. "I am the number one hero of the country, and that means that my upcoming movie 'Litre' is already number one. No one other than me deserves to be the best Avenger Iron Man," Shaaksobji Khaan, a vegetarian actor said while looking for broiler chicken at Tk 250 per kg.
"My wife Forsha and I had to hold 20 business meetings to complete the shoots of my next movie 'Save Him'. Can you guess its appeal?" Antoto Reel, country's self-proclaimed superhero who can do the impossible, indicated what he was coming up with.
"People say when Appi's movie gets released, time stops and the audiences become hypnotised. My next movie 'Foolish' will show how important an Avenger I could be," said Appi Bohudoorie, who believes himself to be more powerful than Thor, that too without a hammer.