Policy Café on Women's Safety in Public Places
National Human Rights Commission (NHRC), Young Bangla of the Centre for Research and Information (CRI) and the Human Rights Programme of UNDP jointly organised a Policy Café titled "Women's safety in Public Places" on August 8, 2022. Here we publish a summary of the discussion.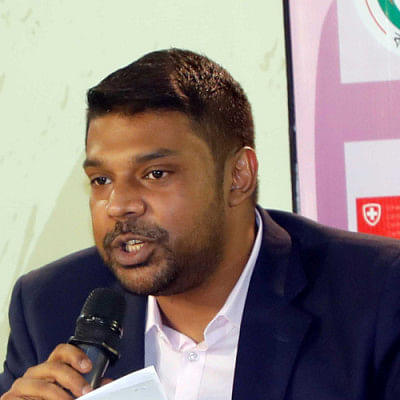 Barrister Shah Ali Farhad,
MPP Candidate, University of Oxford & Moderator of the session
Policy Café is one of the signature programmes of the Centre for Research and Information (CRI). It provides a platform where young people can discuss various public interest issues with relevant stakeholders from the public and private sectors. The topic for today's Policy Café is Women's Safety in Public Places. This programme is jointly organised by the National Human Rights Commission (NHRC), Young Bangla of the Centre for Research and Information (CRI) and the Human Rights Programme of UNDP.
Israt Farzana Tanni, Assistant Coordinator, Young Bangla, CRI
We started our campaign for women's safety in public places in 2020. Our goal was to reach the young people at grassroots level and listen to their viewpoints regarding the issue. The campaign took place in 10 districts including Dhaka, Narayanganj, Rangamati, Barishal, Chattogram, Patuakhali, Bogura, Rajshahi, Narail and Khulna. We also ran the campaign online. More than 4 million people have been reached through this campaign. Today, we will share their perspectives with you.
We found that the following stakeholders can play a significant role in ensuring women's safety in public places: law enforcement agencies, transport owners, city corporations and municipalities, market and shop owners, religious leaders, and civil society organisations.
In the online survey, 87 percent of women said that they faced harassment in public places. 36 percent of women faced harassment in transport and 23 percent endured harassment on roads and highways. Women also face harassment in the cyberspace. We asked how they responded to such incidents. 36 percent of women said that they protested while 34 percent did nothing. We wanted to know why women feel unsafe in public places. The lack of respect for women, overcrowded public transport and the lack of access to legal service were identified as the major reasons behind this situation. 34 percent of the female respondents shared that they didn't get any support from the public when they faced harassment.
The following recommendations came from the young campaigners at grassroots: end the patriarchal attitudes and the culture of fear; enhance women-friendly facilities and social services; and strengthen the legal framework to ensure safety of women in public places. Some of the general recommendations include: zero tolerance for sexual harassment issues and developing a separate law to address all forms of sexual harassment; inclusion of gender-focused education from the primary level and conducting awareness-raising campaign regularly.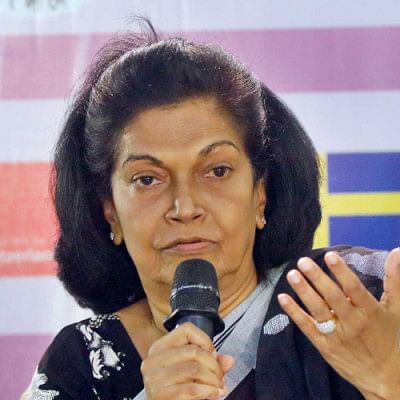 Rokeya Kabir, Executive Director, Bangladesh Nari Progati Sangha (BNPS)
We often say 2 lakh women lost their 'honour' during the Liberation War. This narrative should be changed. It is not the women but the perpetrators and the men -- the self-proclaimed 'protector' of women -- who should be ashamed of losing their 'honour'. We must recognise the fact that women equally participated in the war.
A BBS study shows that 90 percent of women face harassment at their home. Women are unsafe in both public and private spheres. Therefore, on the one hand, we have to change the patriarchal mindset of society, and on the other hand, we have to ensure protection and safety of women in both public and private domains. We have to uphold human rights and democracy. Gender-based discrimination is prohibited under the constitution of Bangladesh. Therefore, women must be treated as equal citizens of the country. I must thank the honourable law minister for placing the Anti-Discrimination Bill 2022 in the parliament. Last but not least, we must reform the inheritance law.
Rosa, Youth Representative
I travel to Barishal by launch regularly due to my job. On one such journeys, I realised that a person was following me as soon as I boarded the launch. It was around 1 am at night. When I returned from the washroom, I saw the person in front of my room. I screamed and gathered some people including the staff of the launch. I was talking about legal action against the person. But the launch authorities and some passengers requested me not to do that. Some of them even raised questions about my attire and asked why I was travelling alone at night. After returning home safely, I shared the experience with my friends and family members. They also suggested that I do not travel alone. As a citizen of the country, I want to live my life freely and safely and this has to be ensured at any cost.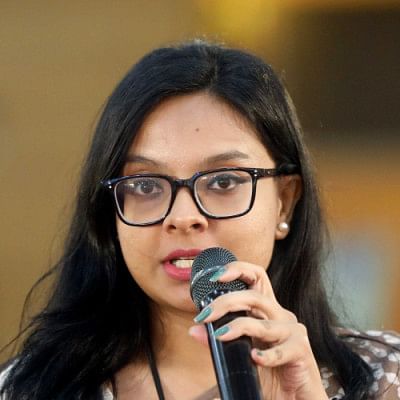 Prithi Mejbaheen, Youth Representative
A large number of women face harassment in public transport. There should be transports exclusively for women.
Sadat Rahman, Youth Representative
Women often become victims of cyberbullying. In rural areas, the local police and lawyers are not that aware of cybersecurity laws and regulations and, therefore, women and girls living there face difficulties in seeking legal remedies. Members of the law enforcement agencies and lawyers need to be trained on these issues.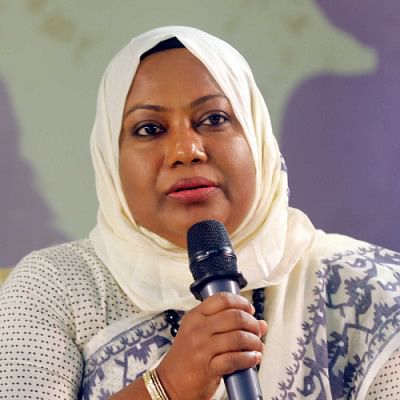 Amena Begum, BPM, DIG, Special Branch and President, Bangladesh Police Women Network
There is an all-women's cyber support service known as Police Cyber Support for Women, at the police headquarter. They received around 70,000 complaints in 6-7 months. It shows the wide prevalence of cyberbullying in our society.
The government has prepared some laws and regulations to fight cybercrimes. Members of the law enforcement agencies and lawyers who are working at grassroots levels also don't have sound knowledge about cybercrime-related laws and regulations. We are developing an online curriculum to sensitize the two lac members of the police force about gender issues.
Currently, we are trying to raise awareness about cybercrimes. We are providing training on the safe use of the internet.
With regard to the transport sector, we have pasted awareness stickers on buses and passenger sheds and made passengers and transport workers aware of sexual harassment in public transport.
Last but not the least, we need to improve our education curriculum and textbooks by including gender awareness materials that promote gender equality.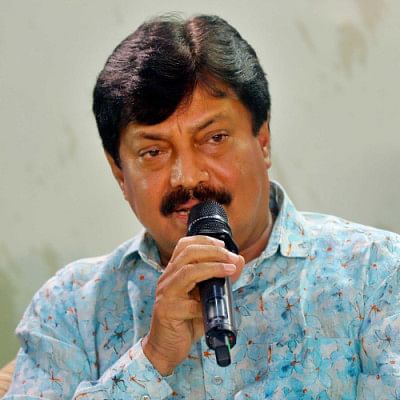 Md Helal Uddin, President, Bangladesh Shop Owners' Association
90 percent of salespeople are women in foreign countries whereas in Bangladesh, salespeople are invariably men. Moreover, they don't have adequate training in salesmanship. Therefore, we often get complaints that our salesmen don't behave properly with the customers. We need to provide training on salesmanship. We can significantly reduce sexual harassment in shops and marketplaces if the law minister and city mayor take initiatives to make it compulsory for every shop to have 50 percent female salespersons.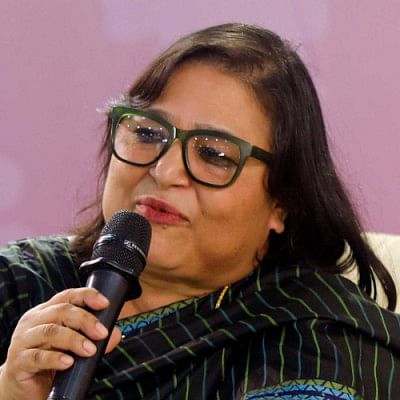 Neelima Akhter, Additional Secretary, Ministry of Road Transport and Bridges
People involved in the transport sector address my male counterpart as 'Sir' but they call me 'apa'. I have no issue with the word 'apa' but it reflects their inherent resistance to accept women in any important position. Hence, we should focus on changing the mindset of our society so that we learn to respect women.
We have a shortage of data on the transport sector and the problems associated with it. I have taken note of the findings of the online survey, and I must appreciate their effort. We are not doing enough to prevent sexual harassment on public transport. However, only punishment can't reduce the occurrence of such incidents. We have to create mass awareness regarding these issues.
We launched a special BRTC bus service only for women starting with 23 buses. Currently, only 7 of these buses are in operation due to the dearth of female passengers. Most of the female passengers are not well-informed about the routes of this bus service. With proper data we can realign these routes. There will be a coach exclusively for women on the metro rail, and it will have full CCTV coverage. Currently, the transport sector is controlled by private enterprises. We are working to rationalize the bus routes in the capital. If it is done properly, a lot of problems in this sector will be resolved.
Last but not least, we have to create more scopes for train drivers. The corporate sector should come forward in this regard. They should also play a leading role in recruiting female drivers.
Nasima Begum ndc
Chairman, National Human Rights Commission of Bangladesh
Violence against women is unacceptable in any civilized society. To continue the country's growth, we must empower our women. Bangladesh has achieved significant success in ensuring gender equality. However, the incidents of violence against women tarnish our image.
To combat sexual harassment, we formulated a draft law following the High Court's guidelines. We have already submitted the draft to the honorable minister, Ministry of Law, Justice and Parliamentary Affairs. I sincerely hope that the law will be passed soon.
National Human Rights Commission recently made an inquiry into the causes of sexual harassment and solutions to this problem. We discussed with all the stakeholders and accommodated their observations and suggestions in the inquiry report.
In response to the recent rape incidents on roads, we suggested that authorities bring the roads and vehicles under CCTV coverage.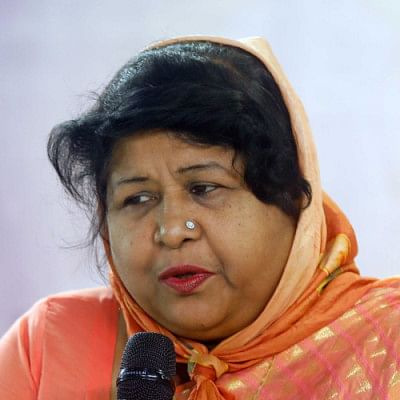 Jasmin Ara Begum, Member, National Human Rights Commission of Bangladesh
In 2009, the High Court issued 12 directives regarding the prevention of sexual harassment. Based on these directives, we have prepared a draft and submitted it to the law ministry. They are currently working on it. There are committees in every district working on the prevention of sexual harassment. We have suggested in our draft to make these committees accountable. If they fail to perform their duties, they will be punished.
Our main focus should be on changing the mindset of our society. There are youth clubs in schools. There are also many NGOs and CSOs which work on this issue at grassroots level. We should partner with these organisations to make our interventions more effective. We must ensure timely and adequate punishment of the perpetrators so that people refrain from harassing women.
Rokeya Kabir has emphasised ensuring equal inheritance for all women. We must ensure that they at least get what is rightfully theirs according to the existing arrangement.
Lastly, the religious leaders should be requested and, if needed, warned to refrain from making negative comments about women.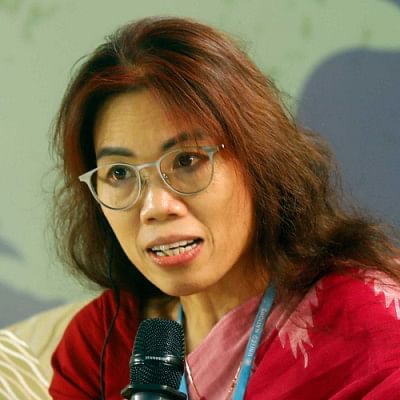 Van Nguyen, Deputy Resident Representative, UNDP
Safe cities and safe public spaces for women are a fundamental human right. But unfortunately, harassment and sexual violence are an everyday occurrence for women and girls across the world, including in Bangladesh. This reduces women's and girl's freedom of movement – to participate in school, work, and public life.
Ensuring safe public spaces for women spans across all of our work: on a recent visit to Sylhet during the devastating floods, I got the opportunity to talk to women in cyclone shelters who reported feeling unsafe without designated women's spaces in the shelter. It is important we listen to the experiences of these women and ensure their safety, including in disaster responses.
On another note, only 1 percent of women have reported incidences of harassment to law enforcement agencies. By engaging more female police officers in crowded public spaces such as bus stations, we hope to make women feel safer in their daily lives. UNDP is committed to working with the Government to ensure law and order, enabling every single citizen, and especially women, to seek justice without barriers.
But waiting for the law will not be enough. We believe prevention is key: we must educate everyone to become responsible citizens. Only this way we can ensure public spaces for women for generations to come.
Abdullah Al Zubayer, Youth Representative
I was closely involved with the campaign. As part of the campaign, we collected 105 case studies of which 3 rape victims live in a building in Narayanganj. They didn't get any help from the local administration. We should seriously address this issue. There should be adequate lighting and CCTV on the highways.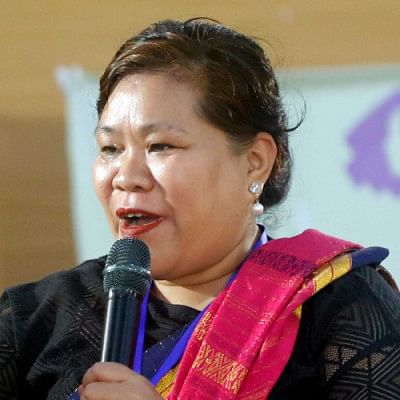 Chanchana Chakma
Indigenous people face many problems. They are not even recognised in the way they want to identify themselves. I believe, I have the right to develop and maintain my distinct identity and characteristics.
We indigenous women face harassment. This issue should be given due importance.
Tahmina Akhtar Nupur, Youth Representative
There are many religious influencers who preach hate against women and those videos are being uploaded on social media platforms like YouTube. Why aren't these videos being removed, even though we have a Digital Security Act? The law enforcement agencies must take action against these hatemongers.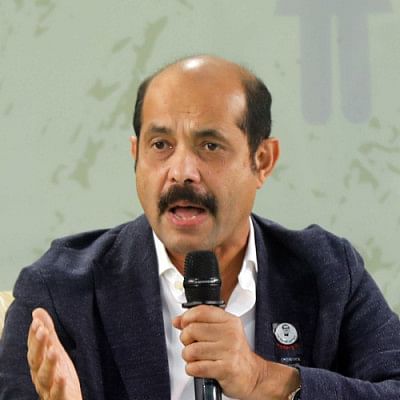 Atiqul Islam, Mayor, Dhaka North City Corporation
We should promote the concept of working together. Instead of reserving seats for women on buses, we have to develop a society where a woman can sit beside a man without facing any harassment.
RMG is the biggest export sector in Bangladesh and 80 percent of foreign currency comes from this sector. Women workers are the key force in this sector. We can proudly say that they are leading the export sector of Bangladesh. In garment factories, male and female workers work side by side.
The Dhaka North City Corporation has taken several initiatives to make the city safe for women. We have recovered 24 parks in the city and opened those for both men and women. We have launched an app named "Shobar Dhaka." It often happens that we see a problem in our city but we don't know where to lodge a complaint. Now you can do this through this app.
We are going to introduce the ICE (In Case of Emergency) option in the app. If anyone faces any problem and presses the button, it will send an emergency text immediately to three of their close contacts. Also, we can always call 999.
Many of our youths are doing small businesses these days. But when it comes to getting a trade license, city corporation staff don't cooperate with them which results in delays and hassles. We have received official approval that everyone will be able to get a trade license online from December 2022. Also, we are introducing a QR code that will be attached to rickshaws so that by scanning the code one can easily get all the information about the rickshaw and rickshawpuller. It will make our rides safe.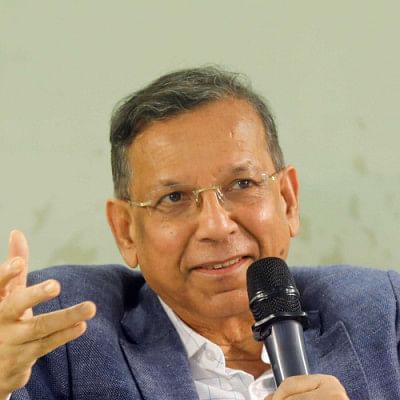 Anisul Huq, Minister, Ministry of Law, Justice and Parliamentary Affairs
Bangabandhu has taught us how to respect women. In his memoir, he repeatedly talked about his wife's commitment and trust that encouraged him to dedicate his life to the liberation of Bangladesh.
In terms of formulating laws to prevent violence against women, Bangladesh is well ahead of many countries. The country passed the Cruelty to Women (Deterrent Punishment) Ordinance in 1983. We also have other relevant laws to fight violence against women. We are currently working on the draft submitted by the National Human Rights Commission. However, laws alone will not be enough to solve the problem. We need to ensure the proper implementation of these laws.
Violence against women is a deep-rooted societal problem. We have to identify the root causes of this problem. We have to take a societal approach to this issue. Now, it is a good time to address this problem because a large number of Bangladeshi women are now self-reliant; the country has made significant progress in all development indicators. It is now a lot easier to disseminate information and connect grassroots people. We are seeing changes in the mindset of general people. We are also seeing a cultural shift. We need to exploit these opportunities to bring a change in the mindset of our society and reduce the rate of violence against women. Also, we need to raise our voices against all forms of harassment and violence.
We have to live by example. You must have heard about the Nusrat rape case. We tried to set an example by ensuring immediate punishment for the perpetrators. It will refrain others from committing such heinous crimes. I promise you that the perpetrators involved in the recent case of rape on the bus will be brought to justice very soon.
There have been many questions and much confusion regarding the Digital Security Act. It was enacted to combat cybercrimes. We have no intention to curtail freedom of speech. We will arrange more training on the Digital Security Act.
We can't resolve the case backlogs within a very short time. However, we are trying to address this issue through the digitization of the judiciary, addition of new judges and adoption of alternative dispute resolution mechanisms. I hope, we will see a big change within 2-3 years.
Finally, I urge the young people to use their talent and energy for the betterment of the country. We will provide all kinds of support to you.