Rohingya Return: Myanmar to allow int'l volunteers
Bangladesh delegation holds talks in Naypiydaw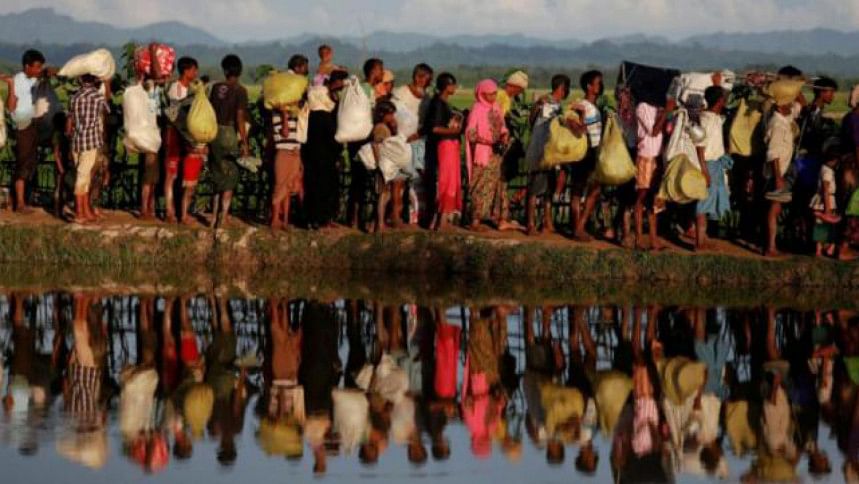 Myanmar will allow international volunteers, including those from the UN, China and ASEAN countries, to take part in the humanitarian assistance programmes during the repatriation of the Rohingyas.
The country agreed to this during a meeting between Bangladesh and Myanmar in Naypiydaw yesterday, a member of the Bangladesh delegation told The Daily Star.
The four-member Bangladesh delegation was led by Miah Md Mainul Kabir, director general of the foreign ministry's Myanmar wing. The meeting was part of a tripartite initiative mediated by China.
Bangladesh had asked Myanmar to ensure the involvement of international volunteers in the humanitarian assistance programmes after the Rohingyas voiced concern over security.
Yesterday, Myanmar also agreed that the Rohingyas will be repatriated to their original villages and the members of particular families will be taken back together, the Bangladesh delegation member said.
He said a Myanmar delegation is scheduled to visit the Rohingya camps in Cox's Bazar this month to brief the refugees on how they would be repatriated and reintegrated. The visit will take place as part of confidence-building measures for the repatriation.
Bangladesh is now hosting more than one million Rohingyas, most of whom fled Myanmar since August 2017 following a military crackdown on the ethnic minority group in Rakhine.
Two attempts of Rohingya repatriation failed in 2018 and 2019, with the Rohingyas saying there was no guarantee of safety and citizenship.
Dhaka and Naypiydaw are now in talks for the repatriation of 3,000 Rohingyas by December this year.
Chinese Special Envoy for Asian Affairs Deng Xijun visited Dhaka twice this year -- in April and on August 1. Bangladesh Foreign Secretary Masud Bin Momen also visited China and met the Chinese and Myanmar officials in Kunming on April 18.
Deng Xijun, during his meeting with Bangladesh officials, had said that Myanmar agreed to settle the Rohingyas in their original villages -- a demand that the Rohingyas had been making in response to Myanmar's earlier plan of resettling them in camps or model villages.
Meanwhile, a delegation of foreign diplomats, including Bangladesh Ambassador to Myanmar M Monwar Hossain, on Sunday visited the Rohingyas and other ethnic groups in Rakhine.
"Visited, with a team of Yangon-based ambassadors of South Asia and Southeast Asian countries, Bangladesh-Myanmar border in Northern Rakhaine state," Monwar Hossain tweeted yesterday.
He said they were briefed by a Myanmar union minister on post-Mocha rehabilitation efforts and preparations for repatriation of displaced Myanmar nationals temporarily sheltered in Cox's Bazar.
JAPANESE SPECIAL ENVOY MEETS FOREIGN SECY
Foreign Secretary Masud had a meeting with Yohei Sasakawa, chairman of Nippon Foundation and also the special envoy of Japan for national reconciliation in Myanmar, at his office yesterday.
Masud briefed Sasakawa on the initiatives taken by the government for the welfare of the Rohingyas.
He also said sustainable repatriation is the only solution to the long-standing problem.
Sasakawa informed the foreign secretary about his efforts and contributions to the welfare of the Rohingyas.