Pope likely to meet small group of Rohingyas in Dhaka
He will visit Dhaka from Nov 30 to Dec 2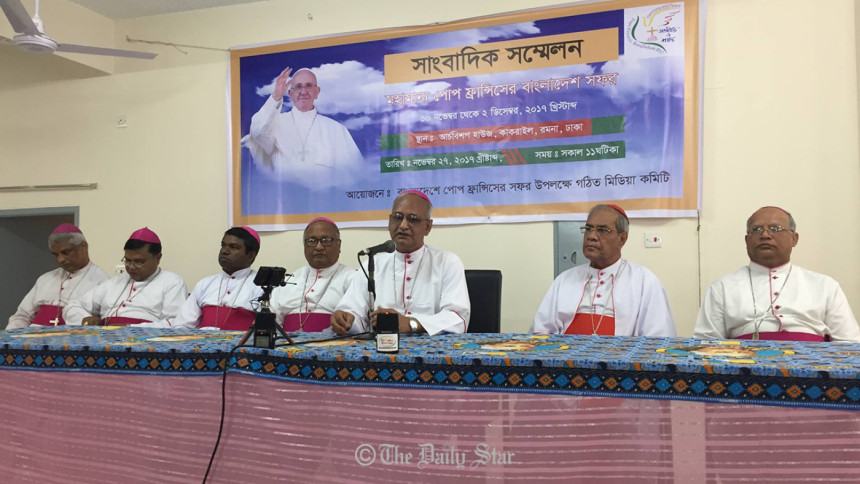 Pope Francis is likely to meet a small group of Rohingyas in Dhaka during his three-day visit from November 30 to December 2, which comes after his visit to Myanmar.
"We are trying, with approval of the government, to bring a small group of Rohingyas to Dhaka. We hope we can do it," Cardinal Patrick D' Rozario said at a press conference at Ramna Cathedral today.
Asked if Pope would use the word, Rohingya, as advised by the Catholic Church leaders in Myanmar because of its "political sensitivity", Cardinal Patrick D' Rozario said he did not have any idea about the matter.
Cardinal Patrick D' Rozario said he would surely raise the issue with the authorities in Bangladesh and Myanmar.
Cardinal Patrick and six other bishops spoke on the preparations the Catholic Church for the papal visit that begins on Thursday.
"They are praying and preparing to join a mass [prayer service] at the Suhrawardy Udyan on December 1," he said.
Around 80,000 Christians are expected to attend the service, Cardinal added.
On November 30, Pope would visit the National Martyrs' Monument in Savar, Bangabandhu Memorial Museum in Dhanmondi, meet the president, officials, diplomats and civil society members at the Bangabhaban.
On December 1, the pontiff would join a prayer service at Suhrawardy Udyan, meet the prime minister, address a civic reception at Ramna Cathedral where he would meet inter-religious and ecumenical leaders.
On December 2, Pope Francis would visit Mother Theresa Bhaban at Tejgaon, meet the Catholic religious leaders at Tejgaon Church, visit Tejgaon cemetery and 1600th century church building.
The same day, he would address a youth gathering at Notre Dame College before he leaves for Rome in the evening.
Archbishop Bishop Moses M Costa of Chittagng, Bishop Gervas Rozario of Rajshahi, Bishop Sebastian Tudu of Dinajpur, Bishop Shorot Francis Gomes of Dhaka, Bishop Subrata Hawlader of Barisal and Bishop Romen Bairagi of Khulna also spoke.