'The presence of God today is also called Rohingya'
Pope meets refugees at interfaith gathering, asks for forgiveness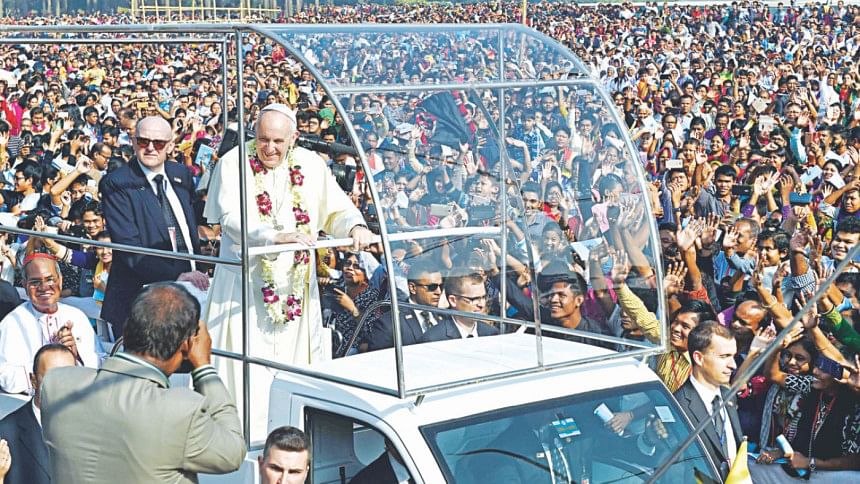 For the first time on his Asia tour, Pope Francis referred to the Rohingya people by name yesterday and assured them of continued support so that they can get their rights back.
"The presence of God today is also called Rohingya," the Pope said during an interfaith meeting at Kakrail Catholic Church where leaders of different communities prayed for religious harmony and global peace.
He also urged the world not to ignore refugees, persecuted minorities, the poor and vulnerable.
"How much our world needs this heart to beat strongly, to counter the virus of political corruption, destructive religious ideologies, and the temptation to turn a blind eye to the needs of the poor, refugees, persecuted minorities, and those who are most vulnerable," he said.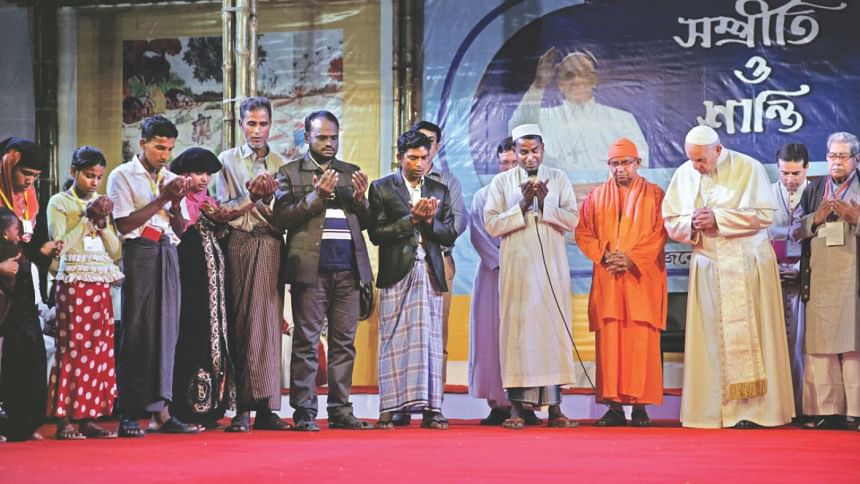 The highest spiritual leader of the Catholics met 16 Rohingyas -- 12 men, two women and two children -- who were brought to the cathedral premises with approval from the government and under the supervision of Caritas Bangladesh.
He heard the Rohingyas, held their hands and touched them as they walked to the dais one by one and shared their experiences in brief.
Among them was Shawkat Ara, a 12-year-old Rohingya orphan, who broke down in tears shortly after the pope spoke to her and gently touched her head.
She fled to Bangladesh after losing her entire family in an attack by the military in Myanmar.
"Your tragedy is very hard, very big. We give you space in our hearts," said the pontiff, who arrived in Bangladesh on Thursday afternoon following a three-day visit to Myanmar.
"In the name of all those who persecute you, who have persecuted you, those who have hurt you, above all for the indifference of the world, I ask for forgiveness, forgiveness." Francis said in improvised comments.
"Many of you talked to me about the great heart of Bangladesh, which offered you refuge. Now I appeal to your heart to give us the forgiveness we are asking from you," he told the group of refugees.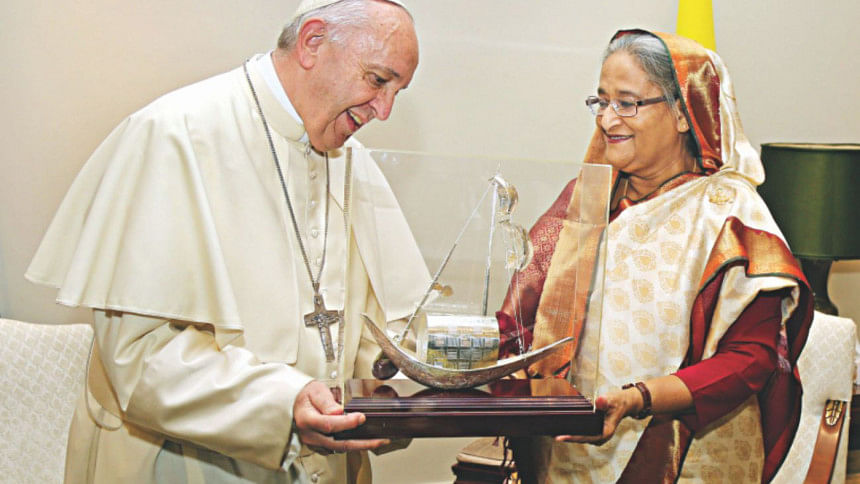 He also assured them of his support, saying, "We will not close our hearts for you."
Earlier this year from the Vatican, the pope twice defended the Rohingyas by name, once saying that they had been "tortured, killed simply because they wanted to live their culture and their Muslim faith".
The pope's avoidance of the word, Rohingya, in Myanmar was an issue of dismay of the rights activists who termed the atrocities of Myanmar security forces against the minority group as ethnic cleansing, genocide and crimes against humanity.
The authorities in Myanmar reject the term Rohingya. Many in the Buddhist-dominated country regard them as illegal immigrants from Bangladesh.
Fleeing widespread persecution, over 636,000 Rohingyas crossed over from Myanmar into Bangladesh since August 25. Another four lakh had arrived in the previous years.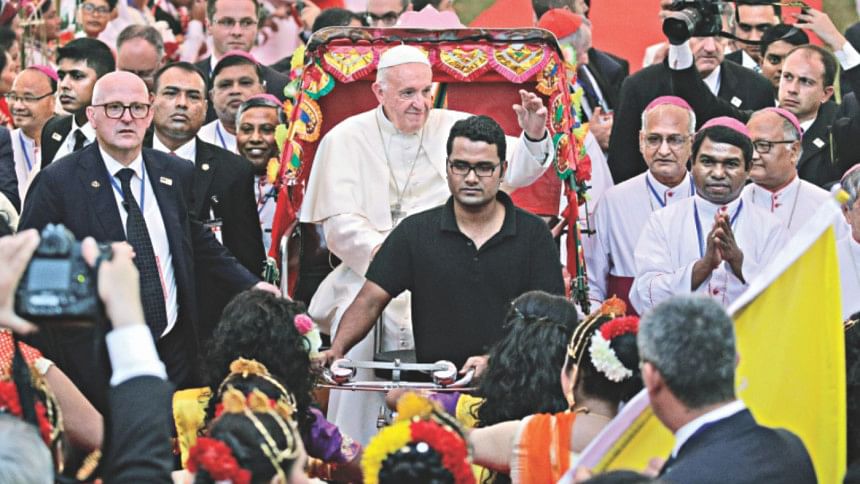 'OPENNESS OF HEART'
Pope Francis arrived at the programme venue of the Kakrail Catholic Church on a rickshaw at 4:30pm amid huge applauds and a Bangla song welcoming a religious leader who is known for championing the rights of refugee.  
As the pope took his seat on the dais, wearing a white cassock, the programme began with the national anthem of Bangladesh.
Addressing the unique function that was featured by musical and dance performances by artistes from Banglee as well as Khasia, Santal, Oraon and Mandi communities, Pope Francis said it was a "highly significant moment in my visit to Bangladesh".
"For we have gathered to deepen our friendship and to express our shared desire for the gift of genuine and lasting peace."
He told the gathering of some six thousand people that the meeting is a clear sign of the efforts of religious leaders and followers to live together with mutual respect and good will.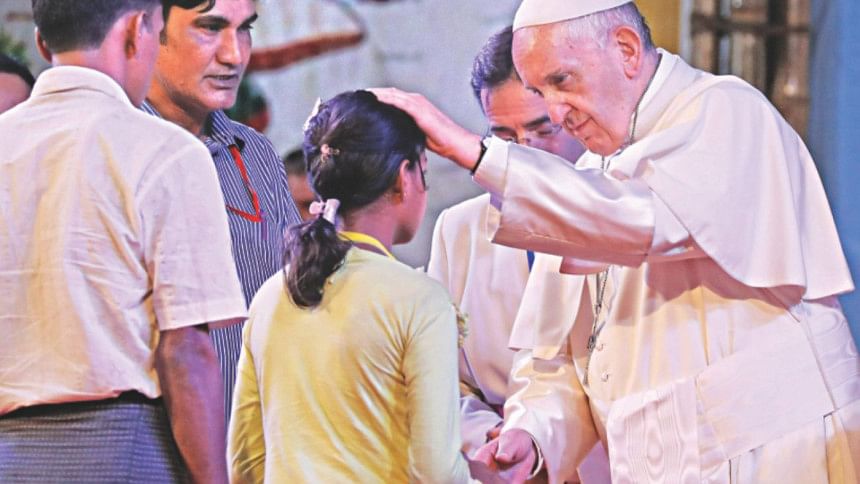 In Bangladesh, where the right to religious freedom is a founding principle, this commitment stands as a subtle yet firm rebuke to those who would seek to foment division, hatred and violence in the name of religion, he added.
"It is a particularly gratifying sign of our times that believers and all people of good will feel increasingly called to cooperate in shaping a culture of encounter, dialogue and cooperation in the service of our human family."
However, it entails more than mere tolerance, he said.
"It challenges us to cultivate an openness of heart that views others as an avenue, not a barrier."
He said "openness of heart" is the condition for a culture of encounter and compared it to a door, which enables communities to embark on a dialogue of life, not a mere exchange of ideas.
Openness is engaging fruitfully with another and sharing distinct religious and cultural identity, but always with humility, honesty and respect, he added.
The pope said openness of heart is likewise a path that leads to the pursuit of goodness, justice and solidarity. It leads to seeking the good of our neighbours.
"Religious concern for the welfare of our neighbour, streaming from an open heart, flows outward like a vast river, to quench the dry and parched wastelands of hatred, corruption, poverty and violence that so damage human lives, tear families apart, and disfigure the gift of creation."
He said Bangladesh's different religious communities have embraced this path in a particular way by their commitment to the care of the earth and by their response to the natural disasters that have beset the nation in recent years.
He said he too thinks of the common outpouring of grief, prayer and solidarity that accompanied the tragic collapse of Rana Plaza, which remains fresh in the minds of all.
"In this these various ways, we see a clear confirmation that how the path of goodness leads to cooperation in the service of others."
The 80-year-old Roman Catholic leader has frequently sought to influence a world he sees as indifferent to the plight of refugees forced to leave their homelands, whether through poverty or conflict.
Last year he took three Syrian families, all Muslim, back to the Vatican after visiting them on the Greek island of Lesbos, a hotspot for asylum seekers.
He has praised Bangladesh for giving refuge to the Rohingya, who have brought with them stories of horrific abuse at the hands of the Myanmar military and local Buddhist mobs, including rape, arson and murder.
Earlier in the day, the pope led a giant open-air mass in Dhaka attended by around 100,000 Bangladeshi Catholics who sang hymns in Bengali and chanted "viva il papa" ("long live the pope") as he was driven through the crowd in an open-sided popemobile.
There he ordained 16 priests.
"I feel like I am blessed to join the pope's prayers," said 60-year-old widow Pronita Mra, who had travelled from her village in northeastern Bangladesh.
"I hope the pope will pray for peace and harmony among all communities in Bangladesh."
THE MESSAGE OF PEACE
Addressing the interfaith gathering on behalf of the civil society, Professor Emeritus Anisuzzaman said Bangladesh was founded based on the principle of equality for all, but unfortunately religious and ethnic minorities sometimes face oppression.
The veteran educationalist thanked Pope Francis for supporting Rohingyas, and expected that this support would facilitate a solution so that the refugees can return home.
Speaking on behalf of the Muslim community, Maulana Farid Uddin Masud said the whole world is now plagued by violence and clashes among religious groups and nations.
"We are inspired by the way Pope Francis is working for peace," he said and vowed to fight against extremism and all other ills.
He hoped that with the support of pope, who is both a spiritual and a political leader, there will be a peaceful solution to the Rohingya crisis.
Swami Drubeshananda, who spoke on behalf of Hindus, said different religions originated in different times, but all of them speak for human welfare.
He thanked the pope for visiting Bangladesh with the message of peace.
Buddhist community leader Shanghanayak Shuddhananada Mohathero prayed for a stronger fraternity among religious and ethnic groups in Bangladesh.
Besides, he demanded Myanmar take back the Rohingyas protecting their dignity and rights.
Cardinal Patrick D' Rozario, archbishop of Dhaka, said Bangladesh is one of the best examples of religious harmony.
He called for continuing efforts to foster dialogues among all religious and ethnic groups to build a prosperous and peaceful Bangladesh.
Theophil Nisharan Nokrek, from the Catholic community, said people of all religions and ethnicities in Bangladesh live peacefully, but sometimes "bad politics" leads to violence.
He called for more dialogue among different communities.
Bishop Paul Shishir Sarker, from the protestant church, prayed for peace on the occasion. "There is corruption, immorality and poverty among us. Lord, please give us strength so that we can fight these menaces."
Foreign diplomats, including US Ambassador Marcia Bernicat and Indian High Commissioner Harsh Vardhan Shringla, were present at the programme.
[With inputs from CNN, AFP and Reuters]