Pope celebrates Holy Mass at Suhrawardy Udyan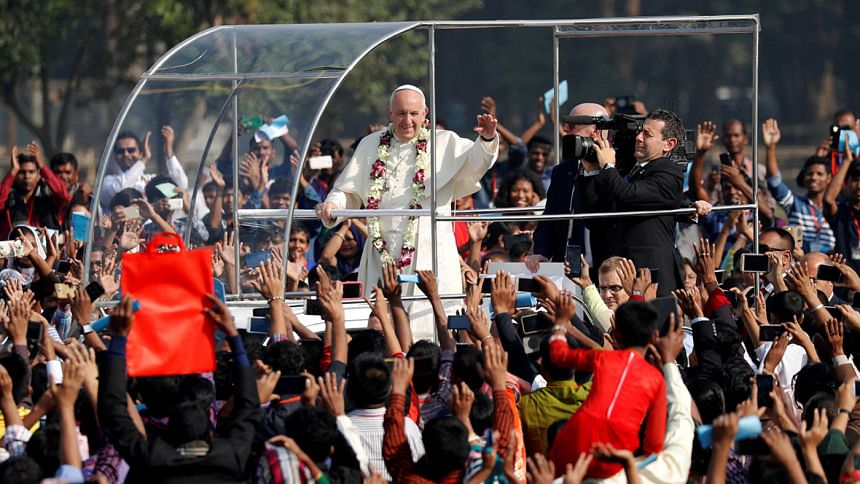 Pope Francis celebrated a Holy Mass, a prayer service, today at the Suhrawardy Udyan in Dhaka on the second day of his visit to Bangladesh.
The Holy Mass attended by more than 80,000 people from around the country began around 10:00am.
The mass people during the prayer service prayed for bringing peace in the country and the whole world.
"I know that many of you came from afar, for a trip for more than two days," the pope told the crowd in his homily, reports Reuters.
"Thank you for your generosity. This indicates the love you have for the Church."
Read more: Stand by Bangladesh
A total of 16 priests were ordained during the ceremony that continued till 12:30pm today.
The pope is scheduled to meet Prime Minister Sheikh Hasina around 3:30pm. Later he will hold two separate meetings at the Ramna Cathedral in the city.
One of the meetings will be with the Catholic Bishops and priests of the country while another with 5,500 leaders and scholars of different religions.
At the inter-religious gathering later on Friday, the pope was due to meet 18 Rohingya refugees who have fled to Bangladesh from Myanmar where authorities have been accused of ethnic cleansing by the United States and United Nations, reports Reuters. 
Tens of thousands of Catholics have travelled to the capital hoping to catch a glimpse of Pope Francis.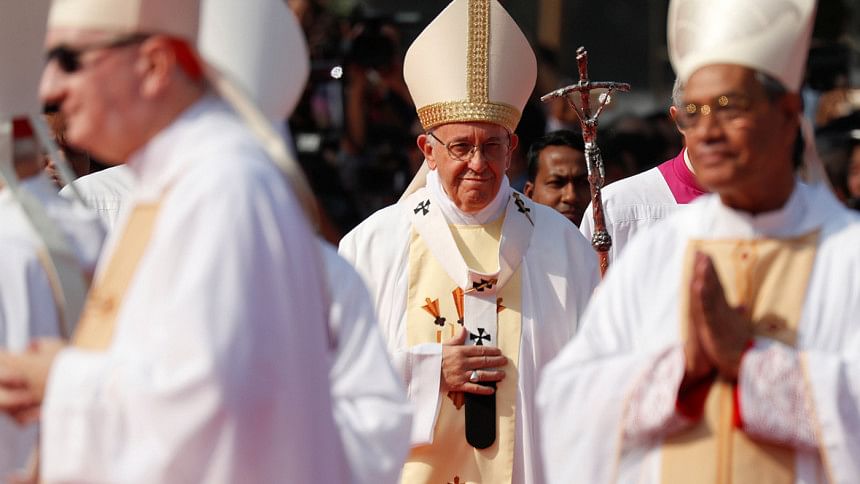 Pope Francis arrived in Dhaka yesterday after his visit from Myanmar. He in a speech shortly after arriving from Myanmar yesterday called for "decisive" international action on the Rohingya refugee crisis, where more than 620,000 of the Muslim minority have sought sanctuary after fleeing violence in Myanmar.
In Myanmar, he walked a diplomatic tightrope, staying away from allegations that the army is waging an ethnic cleansing campaign against the Rohingya, despite pressure to publicly confront the incendiary issue, reports AFP.
He praised Bangladesh for taking in the mass exodus across the border into overcrowded makeshift camps since a fresh outbreak of violence in Rakhine state in late August.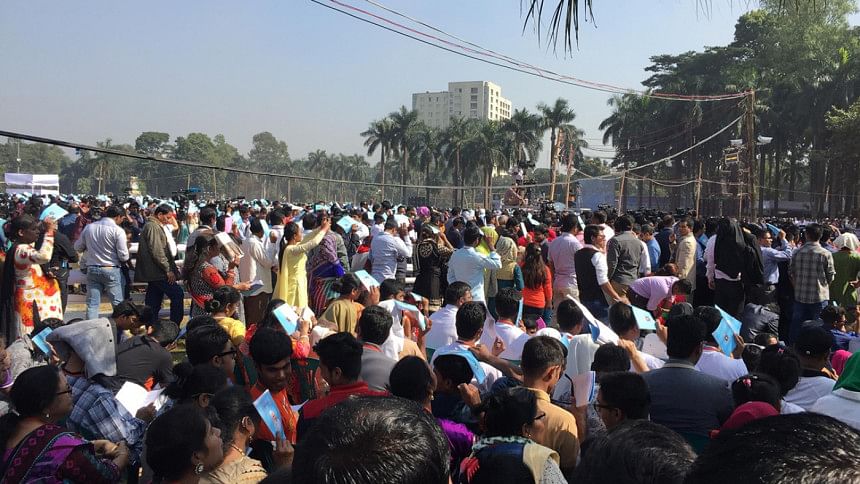 But as in Myanmar, he refrained from using the word "Rohingya", instead referring to "refugees from Rakhine state".
He, the first pope to visit Bangladesh in 31 years, had been urged not to use the name in Myanmar to avoid provoking hardline Buddhists and making the country's Catholics a target.
The 80-year-old Argentine pontiff has established a reputation for his down-to-earth manner, vowing to stamp out extravagance among the clergy and bring the Catholic Church closer to the poor.