Myanmar transit camps sit empty as Rohingya fear return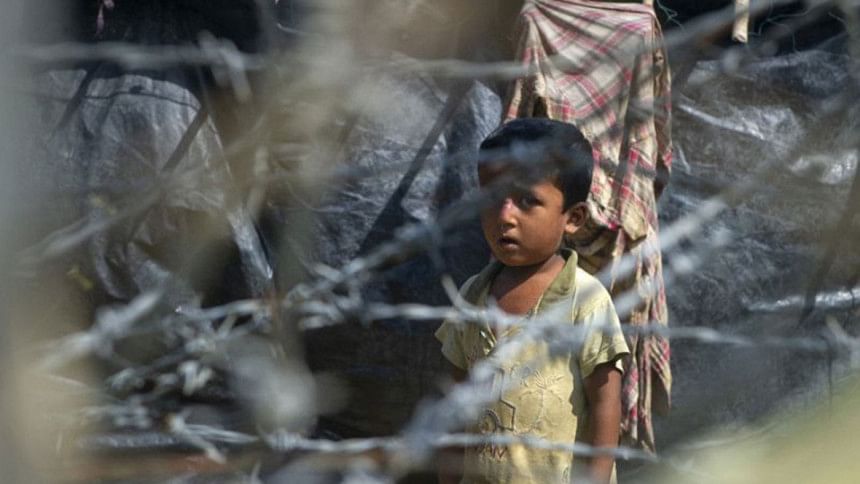 The transit camp in Myanmar's Rakhine state stands ready to welcome back 150 Rohingya refugees from Bangladesh every day.
But on most days it lies completely empty, as members of the stateless minority dread returning to a place they were violently driven from by the military, and Myanmar makes little effort to reassure them things will be different this time.
Read more: Rohingya crisis: The other face of today's humanity
"We have been ready to receive them since January, when we opened," said Win Khaing, immigration director at Nga Khu Ra, standing in the desolate camp with reporters on Friday as part of a two-day government-chaperoned trip to the area.
The result is a stand-off, as Myanmar immigration officials wait in empty offices shuffling papers and arranging biometric equipment but with little to no work to do except greet visiting delegations and journalists.
Fewer than 200 Rohingya Muslims have been resettled in Myanmar's northern Rakhine state from the 700,000 who fled a violent army crackdown in August.
Rohingya women say they were raped by security forces, while witnesses described summary executions and a merciless campaign of violence that the UN has said amounts to ethnic cleansing.
Myanmar says it only targeted militants, although the military has admitted one instance of executing captured suspects.
Even the limited number of Rohingya who have returned have all done so under murky circumstances.
In April the government trumpeted the arrival of a Rohingya family of five, but it was later slammed as a PR stunt as it emerged they had come from a buffer area between the two countries that is technically part of Myanmar.
Local authorities nevertheless created a billboard with several large photos of the family near the border, heralding the "photo records of steps of repatriation".
In recent months, Myanmar says dozens have been repatriated after crossing over from Bangladesh illegally.
It says others who tried to flee to Bangladesh by boat but accidentally washed up back in Myanmar have also been sent to live with relatives after being processed at the transit camp.
Bangladesh does not recognise these as legitimate returnees.
"The repatriation process has not begun," Bangladesh refugee commissioner Mohammad Abul Kalam told AFP.
'We haven't been to Bangladesh'
Nine Rohingya purportedly released from prison in May after crossing back over illegally were brought by Myanmar officials to meet journalists on Friday.
But cracks quickly emerged in the story, with some saying they had never even been to Bangladesh and were "repatriated" from prison in Myanmar.
"We were arrested in November last year (in Myanmar) and sentenced to four years imprisonment each under the immigration act," said Yar Sein, 35, a farmer and father-of-four.
"We were arrested from school and accused of coming from Bangladesh. We haven't been to Bangladesh."
The prolonged delays in repatriation have also strained relations with Bangladesh, which plans to send a protest note after a 10-year-old Rohingya boy in the buffer zone was struck by a bullet from the Myanmar side on Thursday.
Myanmar says it fired at people attempting to damage the border fence.
As the two countries blame each other for the delay, Myanmar has embarked on what is says is a massive development project in northern Rakhine, bulldozing Rohingya towns and remaking the entire landscape in the name of reconstruction.
The UN has said conditions in Rakhine are not ripe for a safe, voluntary and dignified repatriation, but signed an agreement with Myanmar to assess conditions on the ground to help refugees make an informed decision.
'No one' at the camps
Myanmar has faced global condemnation for its treatment of the Rohingya, and Amnesty International said this week that several senior military figures should be tried for crimes against humanity.
A US Trafficking in Persons (TIP) report Thursday downgraded Myanmar for failing to protect Rohingya Muslims fleeing the crackdown and leaving them vulnerable to exploitation and trafficking rings.
The Rohingya are loathed by many in Myanmar, where they were stripped of citizenship and branded illegal immigrants from Bangladesh despite calling Rakhine their homeland.
Min Aung Hlaing, the army chief, said last month that Rohingya have nothing to fear as long as they stay in places "designated" for them, raising concerns that they would be placed back into the apartheid-like conditions they escaped.
Ye Htoo, district administrator in Maungdaw -- the epicenter of violence in the western state -- told reporters Myanmar is "planning to create a good environment for them to stay if they come back."
Still, he admitted, "there is no one" at the camps.
Local residents have also spoken of not being willing to coexist alongside their former neighbours, whom many associate with a Rohingya militant group that attacked police posts.
Khin Soe, a 30-year-old Buddhist ethnic Rakhine woman from Inn Din village, said they are still afraid.
"If the government really plans to relocate them here again, we are leaving this place."