Myanmar must release Reuters journalists: MEPs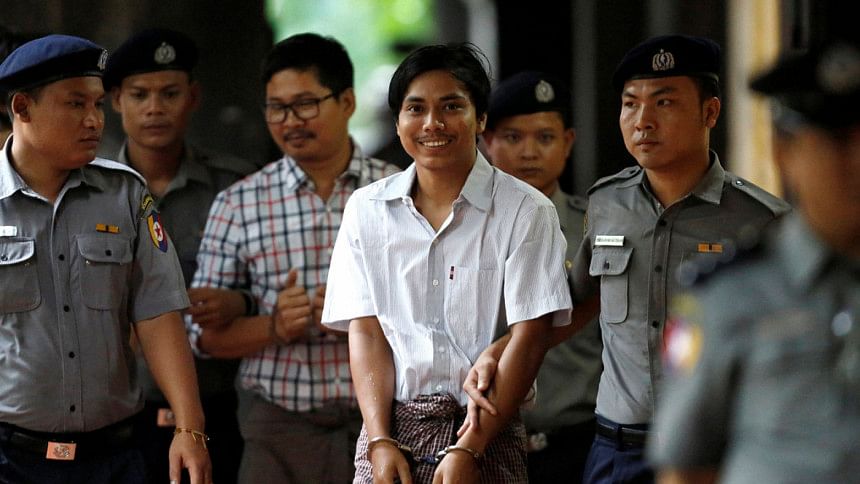 Conservative Members of the European Parliament (MEPs) today backed overwhelming calls in the European Parliament for the immediate release of journalists arrested in Myanmar while investigating the Rohingya crisis.
The resolution backed by MEPs condemned the arbitrary conviction of Reuters journalists Wa Lone and Kyaw Soe Oo after they were jailed for possessing police documents while reporting on the murder of ten Rohingya men last year.
Conservative Foreign Affairs Spokesman Dr Charles Tannock MEP said this is another clear attempt by Myanmar to cover up their military's crimes against the Rohingya people, according to a message UNB received from the press office of Conservative MEPs.
Tannock said the country has not only denied access to journalists but the UN, aid organisations and human rights lawyers as well.
"Myanmar must immediate release Wa Lone and Kyaw Soe Oo, drop all charges against them and against any other reporters, human rights defenders or political prisoners who are fighting to expose human rights abuses and wrong doing in the country," said the Spokesman.
"I am incredibly disappointed by Aung San Suu Kyi's defence of the conviction of the Reuter's journalists but not surprised. Despite being awarded the EU's human rights award and a Noble Peace Prize she remained silent while Myanmar's armed forces carry out atrocities," Tannock added.
Conservative MEP Sajjad Karim, told the European Parliament that the EU must seriously consider ending its trade preferences with Myanmar as the country continues to ignore the world's calls for its violent campaign against the Rohingya people to stop.
"The recent UN report on the Rohingya crisis unveiled the true level of Myanmar's crimes against humanity. Their military is burning whole villages, raping women and murdering children. This is not a country the EU should do business with," he said.