Rohingyas' statelessness increases vulnerability to trafficking: Report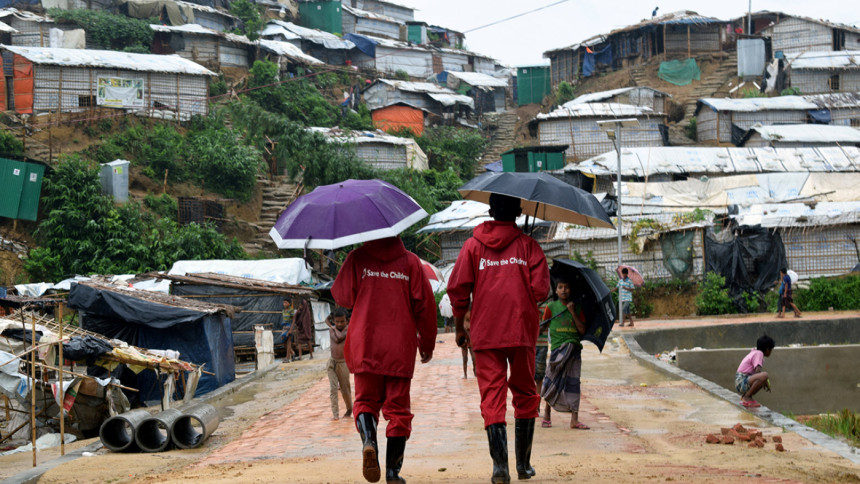 The Rohingya community's stateless status and inability to work legally in Bangladesh "increased their vulnerability" to human trafficking, said a global report.
With nearly 700,000 Rohingya fleeing Myanmar into Bangladesh since August 2017, Bangladesh is a host to more than 1 million undocumented Rohingyas, including hundreds of thousands who fled Myanmar in previous decades.
The government investigated alleged trafficking crimes against Rohingya refugees and arrested some of the perpetrators, while also establishing humanitarian aid and security that may contribute to the prevention of some trafficking crimes, according to Trafficking in Persons Report 2018 which was released yesterday.
The report of the US Department of State claims the government (Bangladesh) "did not demonstrate" increasing efforts compared to the previous reporting period.
Courts convicted only one trafficker in 2017-a decrease from 2016 and a low number compared to the scale of the trafficking problem, it says.
Rohingya women and girls are reportedly recruited from refugee camps for domestic work in private homes, guesthouses, or hotels and are instead subjected to sex trafficking, the report observes.
Rohingya girls, the report says, are also reportedly transported within Bangladesh to Chittagong and Dhaka and transnationally to Kathmandu and Kolkata and subjected to sex trafficking-some of these girls are "traded" between traffickers over the internet.
Some Rohingya women and girls report being subjected to sex trafficking by other Rohingyas through fraudulent jobs or marriage proposals.
Rohingya girls and boys are recruited from refugee camps to work as shop hands, fishermen, rickshaw-pullers, and domestic workers in Bangladesh, the report mentions.
Although promised monthly wages ranging from Tk 1,500-2,000 ($18-$24), these children are paid significantly less or not at all and in most cases are not allowed to communicate with their families and are subjected to excessive working hours, the US report claims.
Some Rohingya men, according to the report, are subjected to debt bondage by Bangladeshi fishermen if they place their shelter on the fishermen's land.
Some Rohingya men who fled to Bangladesh from Myanmar decades ago have been trapped in debt bondage to Bangladeshi fishermen for 20 years, it says.
In the recent past, some Rohingyas and Bangladeshi migrants who travelled by boats to Southeast Asian countries were subjected to exploitation when they were unable to pay ransoms and were instead sold into forced labour, it observes.
Within the country, the report claims, Bangladeshi children and adults are subjected to sex trafficking, domestic servitude, and forced and bonded labour, in which traffickers exploit an initial debt assumed by a worker as part of the employment terms.
Street children are sometimes coerced into criminality or forced to beg; begging ringmasters sometimes maim children to increase their earnings, it said mentioning that Bangladeshi children are vulnerable to forced labour in tanneries.
NGOs allege some officials allow human traffickers to operate at brothels, at India-Bangladesh border crossings, and at maritime embarkation points.
The US report says the government of Bangladesh does not fully meet the minimum standards for the elimination of trafficking; however, it is making significant efforts to do so.
The government demonstrated significant efforts during the reporting period by prosecuting two officials allegedly complicit in human trafficking, it says.
While the government maintained labour export agreements with several countries intended to regulate recruitment fees, the government continued to allow high recruitment fees and did not consistently address illegally operating recruitment sub-agents, which left workers vulnerable to trafficking.
Therefore, the report says, Bangladesh remained on 'Tier 2 Watch List' for the second consecutive year.
The report recommends taking steps to eliminate recruitment fees charged to workers by licensed labour recruiters and ensure they are paid by employers; increase prosecutions and convictions, particularly of labour traffickers, fraudulent labour recruiters, and complicit government officials, while strictly respecting due process; proactively incorporate forced labour and sex trafficking prevention measures into the response to the Rohingya refugee crisis.
It also recommends increasing investigations and prosecutions of credible allegations of trafficking of Rohingyas; establishing guidelines for provision of adequate victim care and standard operating procedures for the referral of victims to such services; enhancing the training provided to officials, including law enforcement, labour inspectors, and immigration officers, on methods to identify trafficking cases and refer victims to protection services; expanding the support services available to victims.
"This year's report focuses on effective ways local communities can address human trafficking proactively and on how national governments can support and empower them," says Secretary of State Michael R Pompeo.
"Modern slavery has no place in the world, and I intend to ensure, through diplomatic engagement and increased action, that the United States government's leadership in combating this global threat is sustained in the years to come," he said.