Conduct credible Rohingya probe
Japan PM tells Suu Kyi; rights envoy says Myanmar 'unwilling' to probe, UN must act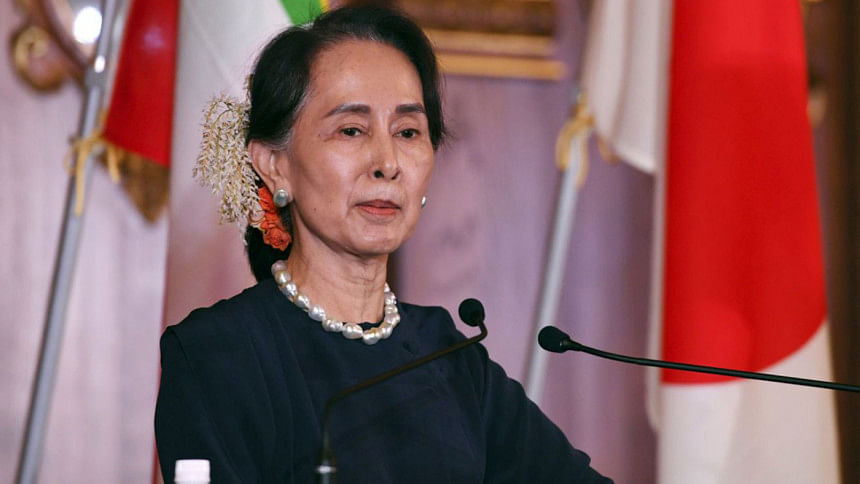 Japanese Prime Minister Shinzo Abe has told Myanmar's leader Aung San Suu Kyi that a credible investigation into alleged human rights violations against Rohingya Muslims is key to resolving tensions in the country's Rakhine state.
The call came after UN special rapporteur to Myanmar Yanghee Lee on Tuesday said the country is 'unable and unwilling' to investigate its abuses against Rohingyas, bolstering calls for the country's generals to be hauled before an international court.
A UN fact-finding mission has called for Myanmar's top brass to be investigated for genocide, crimes against humanity and war crimes over a brutal crackdown against Rohingyas in Rakhine state that forced more than 720,000 of the beleaguered minority to flee the country to Bangladesh.
Myanmar has dismissed the allegations, slamming the UN body as biased, and the government has set up its own committee to investigate the crimes.
Abe told a joint news conference after holding talks with State Counsellor Suu Kyi that Japan will support efforts by Myanmar to accommodate Rohingyas who return home from refugee camps in neighboring Bangladesh.
"This problem is complicated and serious, and Japan will think with Myanmar and support its effort in resolving the problem," Abe said on Tuesday. "A credible investigation by the independent panel is particularly important."
Suu Kyi's government has rejected independent international investigations into the alleged abuses and has commissioned its own probe.
Suu Kyi agreed Tuesday on the importance of an "accurate and appropriate" investigation. She defended the government-commissioned panel as free and effective, and its members — one each from Japan and the Philippines and two from Myanmar — as experts on human rights and international issues.
"I welcome Japan's support for our efforts for the refugees' return," said Suu Kyi, who is in Tokyo for a six-nation Mekong regional summit hosted by Japan.
But Yanghee Lee – who has been barred from entering the country since December – said the government has shown little capacity for an unbiased probe into the violence, saying it has taken "limited and insufficient steps."
"[Myanmar] is unable and unwilling to discharge its obligation to conduct credible, prompt, thorough, independent and impartial investigations and prosecutions," Lee said in a report she published via her Twitter account on Monday.
Given Myanmar's refusal to hold itself accountable, she added, it was up to international courts to seek justice.