Rohingya return starts tomorrow
Fear, confusion remain; Myanmar's neighbours may call for 'accountability' in Rakhine crisis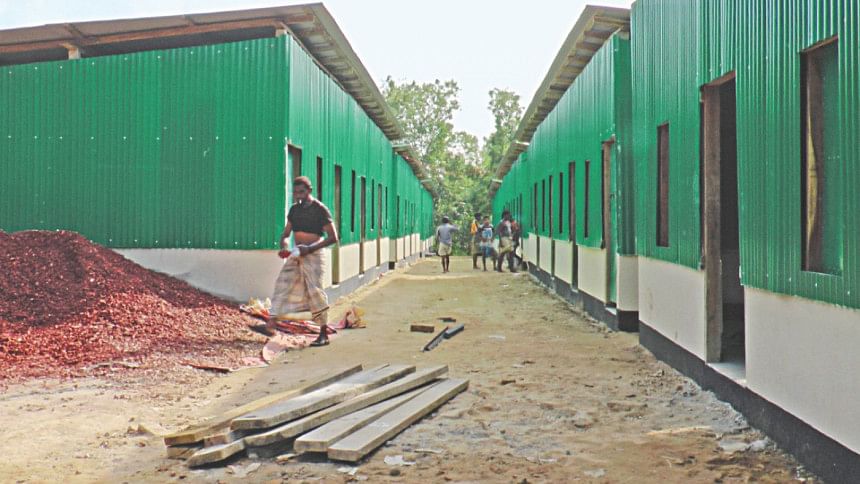 Bangladesh and Myanmar are set to begin the long-awaited repatriation of Rohingyas tomorrow. In the first batch, 2,260 refugees are expected to go home.
The authorities have built two repatriation centres -- one on the bank of Naf River at Kerantoli of Teknaf in Cox's Bazar and the other at Ghundhum, a bordering area under Naikhyangchhari upazila of Bandarban.
Each centre has 33 semi-pucca rooms for refugees.  
"Initially 2,260 Rohingyas of 485 families verified by Myanmar will be taken to these two centres from the camps before repatriation," Bangladesh's Refugee Repatriation and Rehabilitation Commissioner Abul Kalam told The Daily Star yesterday.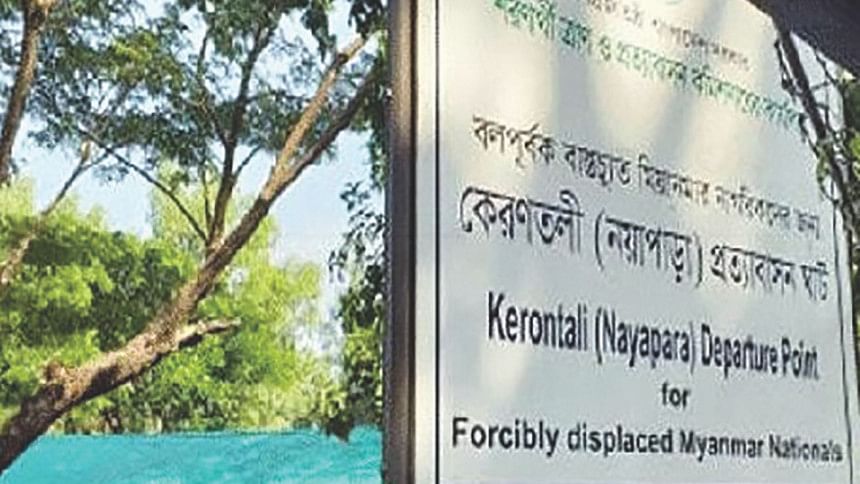 They are part of some 5,000 refugees verified by Myanmar.
"We are hopeful about the repatriation. Let's see what happens," Foreign Secretary M Shahidul Haque told reporters after attending a workshop at a city hotel yesterday.
Both the countries are working as per the schedule, he added.
According to Abul Kalam, those taken to Ghundhum will enter Myanmar overland while refugees from Kerantoli will cross the border through the Naf river.
The UN Refugee Agency, to whom Bangladesh authorities had handed over the list of 2,260 Rohingyas, began interviewing the families to assess their voluntariness yesterday, he said.
"We are expecting feedback from the UN Refugee Agency on Wednesday [today].
"We want voluntary, safe and dignified return."
A brutal military operation that began in August last year drove as many as 750,000 Rohingyas into Bangladesh. They joined some 300,000 others who fled violence in previous phases and took shelter in camps of Cox's Bazar.
A UN report has detailed mass killings and gang rapes with genocidal intent in the crackdown and urged prosecution of Myanmar's commander-in-chief and five generals under international law.
Besides, Southeast Asian nations will call for those responsible for atrocities in Rakhine to be held "fully accountable", according to a statement prepared for a regional summit, reflecting a stronger line being taken within the group.
The draft of the chairman's statement, which was reviewed by Reuters but may change before it is delivered by host Singapore Prime Minister Lee Hsien Loong at the close of meetings of the 10-member Association of Southeast Asian Nations (ASEAN), said the situation in Rakhine State was a "matter of concern".
"We called on the Independent Commission of Enquiry established by the Government of Myanmar to carry out an independent and impartial investigation of the allegations of human rights violations and related issues, and hold those responsible fully accountable," said the draft.
Myanmar's de facto leader, Aung San Suu Kyi, who will be joining the summit in Singapore, has been widely criticised for her handling of the crisis.
Malaysian Prime Minister Mahathir Mohamad, ASEAN's seniormost leader, was scathing about the Nobel peace laureate yesterday when asked about the situation in Myanmar.
"It would seem that Aung San Suu Kyi is trying to defend what is indefensible," the 93-year-old told reporters in Singapore. "We are very disappointed, because someone who has been detained before knows the sufferings, and should not inflict it on others."
Amnesty International said yesterday it had withdrawn its most prestigious human rights prize from Suu Kyi, accusing her of perpetuating human rights abuses by not speaking out about violence against the Rohingya.
UNHCR POSITION
Meanwhile, the UN Refugee Agency in an internal paper said it will not provide humanitarian assistance to Rohingyas if they are interned in camps on their return to Myanmar.
The confidential briefing paper, dated this month and reviewed by Reuters yesterday, reflects a desire not to be drawn into supporting long-term camps for the minority.
Myanmar has been building transit centres for the refugees that it says will be temporary, but many Rohingyas fear the sites could become permanent because of harsh restrictions on movement imposed on the largely stateless minority, reports Reuters.
The UNHCR paper says the agency "will not provide individual assistance in situations of encampment, including in reception facilities or transit camps, unless they are clearly temporary in nature and used for the sole purpose of facilitating free movement to places of returnees' origin or choice".
The document, which was circulated to diplomats, also advises other agencies not to assist with any such camps.
Tens of thousands of Rohingyas have been languishing in UN-supported camps and villages across western Myanmar since 2012, when they were driven out of their homes during a previous wave of ethnic violence. They were told the camps, razor-wire ringed areas they are forbidden to leave, would be temporary.
FEAR REMAINS
Also yesterday, Bangladesh High Commissioner to India Syed Muazzem Ali during a diplomatic briefing in New Delhi mentioned that over 2,000 refugees are expected to leave for Myanmar tomorrow in the first batch of voluntary and verified repatriation.
Supervised by UNHCR, it is a token repatriation and it'll be a test case for Myanmar, he added.
Myanmar hurriedly signed a bilateral deal with Bangladesh in November last year and a tripartite deal with UNHCR and UNDP in June this year.
The UN, which is assessing the ground situation in Rakhine, says conditions there were not conducive for Rohingya return and suggested that the Rohingyas are allowed to visit Rakhine and see for themselves the situation and decide if they would volunteer to return. 
Some of the Rohingyas, who are on the list of return, reportedly fled camps.
Last week, more than 20 individuals on the list of potential returnees submitted by Bangladesh told Reuters they would refuse to return, saying they feared for their safety in Myanmar, which has been denying citizenship of Rohingyas since 1982 and depriving Rohingyas of basic rights including freedom of movement.
The UNHCR's paper seen by Reuters reiterates the refugee agency's stance that conditions in Rakhine are not conducive to returns.
That view was echoed by UNHCR Assistant High Commissioner for Protection Volker Turk yesterday.
"I think we are still not at that stage where the conditions are there that we would be able to facilitate or promote returns at this point in time," Volker told a news briefing in Geneva.
"So if there are indeed people who want to return, we have to absolutely make sure that we are able to certify that they do this on [the basis of a free and informed choice."
The UNHCR called in the document for Myanmar to release more information about plans over return and reintegration of the Rohingyas.
On Sunday, Myanmar's Minister for Social Welfare Win Myat Aye said returnees would only be allowed to travel within Maungdaw township if they accept national verification cards, an identity document most Rohingyas reject because they say it brands them as foreigners.
Authorities have said they plan to build houses in 42 sites across Rakhine but have not revealed the locations.
In its memo, the UNHCR says the organisation would provide support to refugees in "resettlement sites and model villages" in Rakhine state only if these were "located in places of refugees' origin or choice".