Another 5m euros for Rohingyas
The fund from European Commission to go for food assistance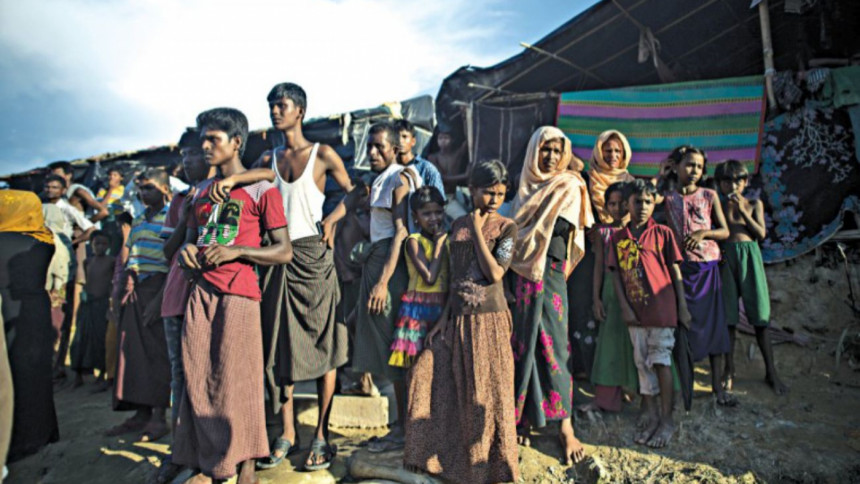 The European Commission (EC) has released an additional €5 million to provide food assistance for the around 700,000 Rohingya refugees who are seeking shelter in Bangladesh.
In May, the EC had announced to provide €40 million in humanitarian aid for the Rohingyas.
"…Food assistance is an absolute necessity, and we will continue to support both Rohingya refugees and host communities in Bangladesh throughout this crisis," said Christos Stylianides, European commissioner for Humanitarian Aid and Crisis Management, in Brussels.
The additional funding will provide urgent food assistance to the refugees, while ensuring access to food throughout the camps, makeshift settlements and the host communities, said an EC press release issued in Brussels yesterday.
Bangladesh saw a mass influx of Rohingya refugees since August 2017, who were fleeing persecution in their homeland in Myanmar.
So far, the EC has allocated nearly €115 million for the Rohingya refugees and the host communities in Bangladesh.
EU PROVIDES US $690,000 FOR UNICEF BANGLADESH
Meanwhile, the European Union (EU) has pledged to contribute over US $690,000 to support Unicef's efforts in protecting rights of children affected by migration in Bangladesh.
Over the next three years, the contribution will directly reach an estimated 12,000 children who are migrating or have been forcibly displaced within their own countries or across borders.
Unicef is implementing the programme across multiple regions of south, southeast and central Asian countries to protect children whose parents or caregivers left them behind and migrated -- often in search of better economic opportunities to support their families.
Ambassador Rensje Teerink, the head of delegation of the EU to Bangladesh, said, "All children, regardless of their migration status, must be protected. We have to ensure their access to education, healthcare and sanitation, social and legal services, and psychological support."
Unicef Bangladesh Representative Edouard Beigbeder said, "Poverty, physical or sexual abuse, and peer influence are the three major factors that push children to migrate from rural to urban areas and to further risk of trafficking. These children are deprived of essential services."
In Bangladesh, the Unicef project will focus on issues of internal and cross-border migration of children, especially the ones at risk or are survivors of trafficking, sad a Unicef press release.
Bangladesh government reported that around 5,000 Bangladeshi children and women were trafficked into India and the Middle East in 2014 and 2015.
Besides, a large number of children of the Rohingyas had been separated from their parents and are at risk of trafficking.
Moreover, around 600,000 children -- among whom 380,000 are aged between 5 and 14 -- are living in the streets due to a high rate of internal migration in Bangladesh.