PM urges G7 leaders to take definite actions on Rohingya issue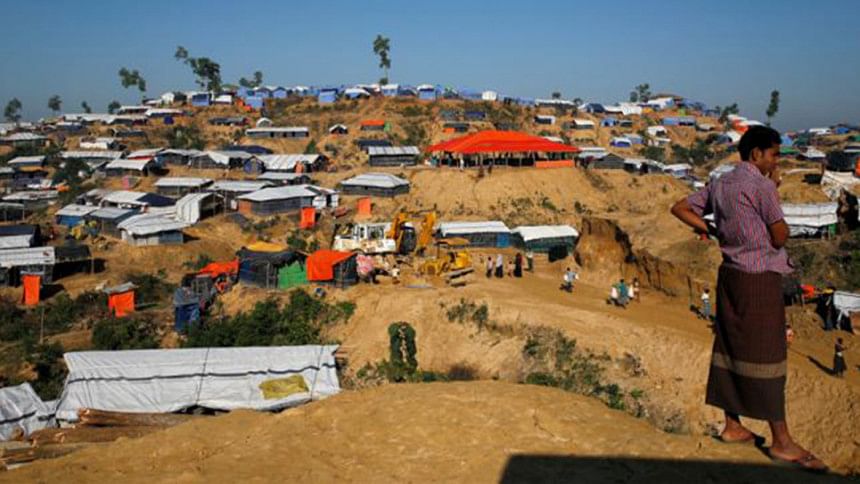 Prime Minister Sheikh Hasina has urged the G7 leaders to take definite actions to pursue Myanmar to implement the bilateral agreements with Bangladesh for safe and sustainable return of the forcibly displaced Rohingyas.
"Myanmar should take necessary steps to create conducive environment in the Rakhine State to execute the bilateral agreements … they should take measures for implementation of Kofi Annan Commission's recommendations to address the root causes and stop the recurrence of the Rohingya exodus," she said while addressing the Outreach Meeting of the G7 Summit in Quebec yesterday.
"In this regard, we need more support from the international community, especially from the G-7 countries," she added.
Sheikh Hasina said the root of the Rohingya problem lies in Myanmar and the solution has to be found in Myanmar, adding the Rohingyas must be able to return to their homes where they lived for centuries.
"We have already signed agreements with Myanmar to ensure their right to return. We have also involved UNHCR to make sure that the return is permanent and sustainable," she said.
The premier called on the G7 leaders to pursue Myanmar for implementation of the recommendations of Rakhine Advisory Commission immediately and unconditionally and work towards adoption of resolution in the UN Security Council imposing appropriate and adequate sanctions against the responsible entities.
"Actions will have to be taken to ensure accountability and justice for the mass atrocity crimes or human rights violations committed against the Rohingyas," she said.
Sheikh Hasina said Bangladesh is now hosting more than 1.1 million forcibly displaced Myanmar nationals and they have fled to Bangladesh to save their lives as they have been facing ethnic cleansing in their own country.
"Our people have opened their homes and hearts for the distressed Rohingyas and shared their food with them," she said.
Appreciating the international communities who have graciously stood beside Bangladesh on the Rohingya issue, the prime minister said a total of 122 local and international NGOs and UN agencies are working in the camps in Cox's Bazar.
"We have our own constraints, yet we are providing them with safe shelter, medicare and other basic services from our own resources … we are also taking necessary precautions for the impending monsoon and cyclone season," she said.
Sheikh Hasina said the government has decided to relocate some 100 thousand Rohingyas living vulnerably at the hill-tops to a safer place in an island named "Bhashanchar".
"This place is habitable, secure and would have adequate protection to natural calamities … there will be better living conditions and livelihood opportunities and we are building cyclone shelters there," she said.