Rising sea level: Emerging threat to human security
Rising sea level: Emerging threat to human security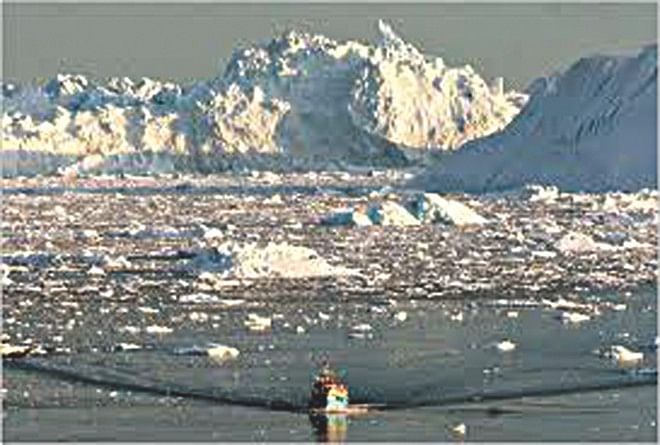 It is alarmingly noted in the Fifth Assessment Report (AR5) of IPCC's Working Group-I (WG-I) entitled "Climate Change 2013: The Physical Science Basis" that the Global Mean Surface Temperature (GMST) has increased throughout the last 19th century, and past three decades have been warmer than all the previous decades followed by the warmest decade of the 2000's. It indicates we are living in a warmer planet with emergent risks, and constant threats to well-being. Currently, the UNEP Emissions Gap Assessment-2012 projects that if present emission trends continued, climate warming would reach the range of 3.5°C to 5°C by 2100 that would adversely affect our living planet. Growing thermal expansion leading to climate warming, however, is overwhelmingly expediting the melting and discharge of mountain glaciers and grand ice capes of Greenland, Antarctic and Himalaya that results into the sea level rise.
Already, it is well documented that ocean thermal expansion and glacier mass loss are the predominant catalysts to Global Mean Sea Level (GMSL) rise during the last quarter of 20th century. Thermal expansion alone is projected to contribute over half of the average rise. Besides, the AR5 of IPCC (WG-I) estimates that global glaciers (excluding the peripheral glaciers around Greenland and Antarctica) contributed to sea level rise of 0.25 to 1.00 mm yr–1 during 1971–2010. Based on tide gauge records and satellite data since 1993, it is estimated that GMSL has risen by 0.19 m over the period 1901-2010 and the likely mean rate of sea level rise was 1.7 mm yr–1 between 1901 and 2010. And the rate was very higher at 3.2 mm yr–1 from 1993 to 2010. It is also projected in the AR5 that GMSL rise for 2081-2100 (relative to 1986–2005) will likely be in the 5–95% ranges.
Rising sea level, however, in conjunction with storm surges, flooding and erosion, acts as a threat multiplier to low-lying Small Island Developing States (SIDS) of the tropics and the subtropics which are home to more than 63 million people and places of outstanding natural beauty, rich ecosystems, biodiversity and dazzling landscapes. These island states include Vanuatu, Tuvalu, Samoa, Tobago, Tonga, Mauritius, Suriname, Maldives, Kiribati, Jamaica, Dominica, Barbados, Bahamas, Cape Verde that span the ocean regions of the Pacific, Indian, and Atlantic etc.
Recent estimations indicate that the small island states are badly experiencing annual or frequent flooding, inundation, beaches erosion, salinization of freshwater aquifers, damage to coastal infrastructures and ecosystems due to global sea level rise that undoubtedly jeopardizes human security and long-term sustainability. The islanders face considerable challenges to guarantee of material aspects of human security including access to alternative livelihoods, food security, housing, clean water, employment, health safety, and poverty alleviation. Furthermore, rising sea level and extreme events threaten to erode and engulf significant land areas and associated infrastructures and settlements of small island states.
Human security of island states is punctured by sea level rise and a range of extreme events such as tropical storms, sea surges, hurricanes, droughts, etc. Water supply is likely to be affected by these extreme events. Reduction in rainfall is likely to shrink surface and ground water availability whereas increased rainfall particularly in the form of torrential downpours is likely to produce landslides, beaches erosion, and damage of residential and commercial areas. Water scarcity will badly affect the viability of food and cereal production of small island states. Moreover, loss of land and growing beach erosion directly affect the countries' tourism sectors on which their national economy depends. It is estimated that, for instances, 45% of tourist resorts in Maldives face varying degrees of beach erosion and projected sea level rise would aggravate the current conditions, and rise by 1 m would even cause disappearance of entire Maldives. All human settlements, infrastructures and industries are close to shorelines that are often adversely affected by extreme climatic events, and the projected sea level rise even poses a decisive threat to the existence of these infrastructures.
Coral reefs provide not just natural protection to islands but are also associated with main economic success like tourism, fisheries and local livelihood activities. It is expected that survival of coral reefs would be badly staked by rising sea level, and sea surface temperatures. The emerging threats to beaches, reefs, infrastructures, biodiversity and natural beauty of resort island countries would cause fall of tourism industries on which their state economy predominantly relies. The vulnerability of agricultural production and crisis of locally grown foods within islands might increase dependency on imported food items and threaten food security of island dwellers. Besides, poor sanitation of rural island communities would be affected by increasing rainfalls that might cause  waterborne diseases like diarrhea. Present state of health services and facilities would simply be inadequate if weather related diseases aggravate.
For Bangladesh, IPCC warned in the Third Assessment Report (TAR) of 2001 that 29,846 sq. km area of coastal land particularly Hatia, Sandweep, Maishkhali, St. Martin, Bhola and southern coasts will be lost, and 14.8 million people will be landless by 1-m sea level rise. Land loss expedites loss of agricultural fields, homesteads, infrastructures, biodiversity, communication and lifeline services etc. In 2001, the World Bank cautioned that the Sundarbans will be completely destroyed by 1-m sea level rise and life and livelihoods of forest dependent people will be jeopardized. The longest sea-beach and tourist site of Cox's Bazar being highly exposed to anticipated sea level rise, might be destroyed.
Similarly, Kuakata and Patenga beaches are extremely vulnerable to projected rise that threatens country's tourism industry as all facilities are close to coastlines. Some decisive impacts of sea level rise for the people of Bangladesh are extreme salinity concentration in soil and water, damage of habitation and forests, fresh water crisis, eroding beach and coastal land, acute health hazards, loss of fisheries, agriculture and biodiversity etc. The World Bank projects that rice production would decrease by 0.2 million metric tons for salinity intrusion resulted from sea level rise. Thus, rising sea level might be an emerging threat to human security as well as  for all living beings. So, "Raise Your Voice: Not Sea Level" is the motto of World Environment Day 2014. That is raise your voice against harmful emission that cause global warming melting glaciers and ice caps as well as polar ice sheet leading to sea level rise to the peril of Small Island Developing States, among others.
The writer is Lecturer, Department of Sociology, Jagannath University.
E-mail: [email protected]