Revisiting the Great Rebellion of 1857
Revisiting the Great Rebellion of 1857
Alamgir Khan takes a stroll through history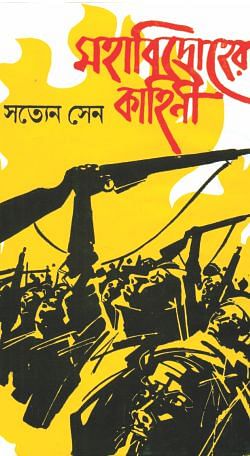 THE great rebellion of 1857 is a most important event in the history of India and British colonialism. The people of Bangladesh, then part of an Indian whole, were also pulled into the whirlwind of this great event. Sepoys in Chittagong and Dhaka mutinied against British rule, rendered their duty to history by sacrificing their lives at the altar of freedom and thus have made us proud as a people who hold their heads high before the blood-red eyes of tyranny.
Satyen Sen's Mahabidroher Kahini tells that tale of a national struggle that is widest in range and boldest in nature and yet embraced defeat of a very tragic kind. But Sen's novel-type book of history indicates that it was not a failure in the patriotic sense, but a great source of inspiration for all freedom-loving people. Unfortunately, fed by British historians and their acolytes, we have forgotten many of our heroes and the author time and again laments about this.
The Great Rebellion of 1857 that shook the foundations of the British empire in India and sent its vibrations through all British colonies was foreshadowed in 1764, seven years after the fall of Bengal at the battle of Plassey. An English sepoy received Tk 40 a month, whereas an Indian sepoy received only Tk 6 in the British army in India. Some Indian sepoys were angry and revolted against this injustice. Major General Munro blew twenty four of them from the mouths of cannons and quelled the mutiny for the time being. Ninety-three years later the Indian sepoys refused to tear off the cartridge from Enfield rifles, mixed as it was with pig and cow fat, which again was prohibited equally for Muslims and Hindus. This mutiny swelled into a national war for independence across India, about which many books and articles have been written in many languages.
Sen has consulted many books, most of which have been written by British historians. Yet the truths are so glaring that even these authors could not hide their Goebbels-type falsehood and cruelties of an unprecedented scale committed against the natives of India. Some unforgettable characters that shine in this book with all their humane beauty, upright character, unbowed patriotism, and political and military brilliance are Azimullah Khan, Mangal Pandey, Maulvi Ahmedullah Shah, Mojor Ali, Azizan, Pir Ali, Kuwar Singh, Khan Bahadur Khan, Bakht Khan, an English officer who fought against the British army, Rani of Jhansi, Ali Naqi Khan, Tantia Topi, Begum Hazrat Mahal, Nazim Mohammad Hasan, Shahzada Firoz Shah and many others.
There are also villains and traitors like Jagannath Singh, the Raja of Pawayan, who killed Maulvi Ahmedullah Shah for Rs. 50,000, the reward the British declared for the head of the Moulvi. Raja Jagannath invited him to his fort with the hint of helping him against the British. When Maulvi went there, he refused to open the gate and fired on him. 'Thus died the Moulvee Ahmed Oolah Shah of Faizabad. If a patriot is a man who plots and fights for the independence, wrongfully destroyed, for his native country, then most certainly, the Moulvee was a true patriot,' wrote the British historian Malleson. Satyen Sen is deeply saddened to say that this great warrior of the first independence war of India is not remembered in the way he deserves from his countrymen, neither in India nor in Pakistan.
Tantia Topi, the tiger of Maharashtra, was captured in his sleep by Raja Man Singh in a thievish way and was sentenced to death by a court martial. On 18 April 1859, he put the hanging rope on with his own hand. Thousands of people gathered to pay tribute to this rebel and some English women prayed for him and scrambled for a lock of his hair as memorabilia.
Emperor Bahadur Shah Zafar banned cow slaughter in Delhi and Khan Bahadur Khan promised prohibition of it in Bareilly in the interest of Hindu-Muslim unity in the war of independence. Shahzada Feroz Shah fought a heroic battle against British rule and afterwards roamed the globe drumming up support for the independence of India. But it was all in vain. The poet Ghalib saw rivers of blood before him in Delhi and had no comfortable sleep in the dark. It was not all in vain, as Satyen Sen emphasizes and points out to us in this book of a mere 144 pages.     
In the preface, the eminent writer Sardar Fazlul Karim states unambiguously that though the book is not history, the author has never strayed from the facts of history. It has reproduced the characters in flesh and blood in the great rebellion before our eyes. Since its first publication in 1957, this book, with Hashem Khan's cover design, has seen nine editions to date showing the unabated interest among readers in it. People in the Lalbagh area in Dhaka also experienced a river of blood and had no sleep night after night in those days and the period following that. Shall we, therefore, not pause for a moment before Bahadur Shah Park (formerly Victoria Park) in old Dhaka to think of those soldiers who were hanged to death from the branches of its trees and upon whose enormous sacrifices the life we enjoy today has been built?
Alamgir Khan is Research and Publication Officer, Centre for Development Innovation and Practices (CDIP)