Pregnant woman burnt in attack dies in Kushtia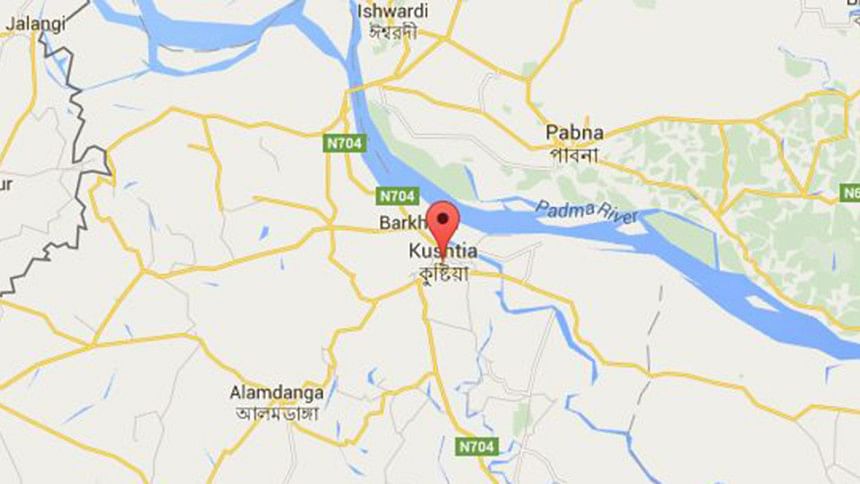 A pregnant woman, who suffered burns in an attack -- allegedly by the son of her landlord -- in Kushtia town on April 28, died at a hospital in the district today.
Zulekha Khatun (35), undergoing treatment at Kushtia General Hospital with 80 percent burns, breathed her last soon after she gave birth to a stillborn at the hospital, said Golam Mostafa, officer-in-Charge (OC) of Kushtia Model Police Station.
The victim along with her husband Mehedi Hasan used to live in a rented house owned by Fazul Haq at Kamalapur in the district town, said the OC.
The couple hailed from Bahalbaria sugarcane centre area under Mirpur upazila in the district, he said.
On April 28, Zulekha had an argument with the landlord's eldest son Roknuzzaman Rony over rent that was apparently due, when her husband was out of home, the OC said.
At one stage, Rony threw petrol on the woman's body and set her on fire, the police official said.
Hearing Zulekha's screams, others rescued her and took her to Kushtia General Hospital.
Later, she was shifted to the burn unit of Dhaka Medical College after her condition deteriorated, said the OC.
SM Tanvir Arafat, superintendent of Kushtia police, took the initiative to send her to Dhaka and managed some money as the family members of the victim could not pay for her treatment immediately, reports our Kushtia correspondent. 
Dr Tapas Kumar Sarkar, resident medical officer (RMO) of Kushtia General Hospital, said Zulekha suffered over 80 percent burns.
The DMCH authorities returned Zulekha to Kushtia General Hospital on Thursday as she had no chance of recovery, said the RMO.
A case was filed at the Model Police Station the day the incident happened.
On April 29, a judicial magistrate court in Kushtia sent Rony to jail after a team of Kushtia Model Police arrested him the previous day.