'Voter turnout of nat'l polls might have been 30pc, 50pc added farcically'
Dr Akbar Ali Khan says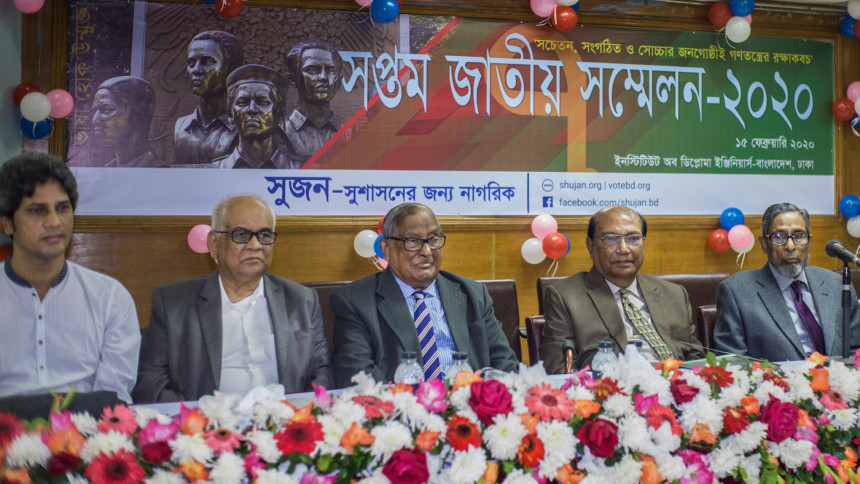 Voter turnout in the 11th parliamentary polls might have been 30 percent and another 50 percent was shown "farcically", noted economist and former caretaker government adviser Dr Akbar Ali Khan said today.
Voter turnout of the national polls was shown to be more than 80 percent; on the other hand, it was less than 30 percent in city corporation polls, he told the inaugural ceremony of Sushashoner Jonno Nagorik's (Shujan) 7th National Council-2020 held at the city's Institute of Diploma Engineers, Bangladesh.
Usually, voter turnout in general polls is low because political parties are not organised at grassroots level as per expectation, he said.
But when union parishad or municipality polls take place, local candidates remain proactive and they put extra effort to make their relatives, friends and well-wishers cast their votes, he said.
"So, in no way voter turnout of general election could surpass the turnout of municipality polls," he added.
The overall turnout in the recently held Dhaka South City Corporation (DSCC) polls was 29 percent while it was 25.32 percent in the Dhaka North City Corporation (DNCC) election.
Akbar Ali Khan said the Election Commission should examine turnout at each polling centre before declaring the polls result.
If it is seen that turnout is 100, 98 or 95 percent then they should immediately suspend the voting on the ground of false votes, he said.
If the EC can monitor voting result in such a way, many irregularities will be apparent, he added.
He also said no effective measure was taken to earn people's trust on electronic voting machines (EVM) and its function.
The EVMs seem effective considering the technology. However, in many countries there are controversies regarding EVMs and it is necessary to be cautious about their use in Bangladesh, he said.
Akbar Ali lauded Shujan's efforts as a platform campaigning for good governance and said it should stick to a one-point mandate during the course of its future movement, which is the demand for fair election.