Tarique will be punished: Minister Mahmud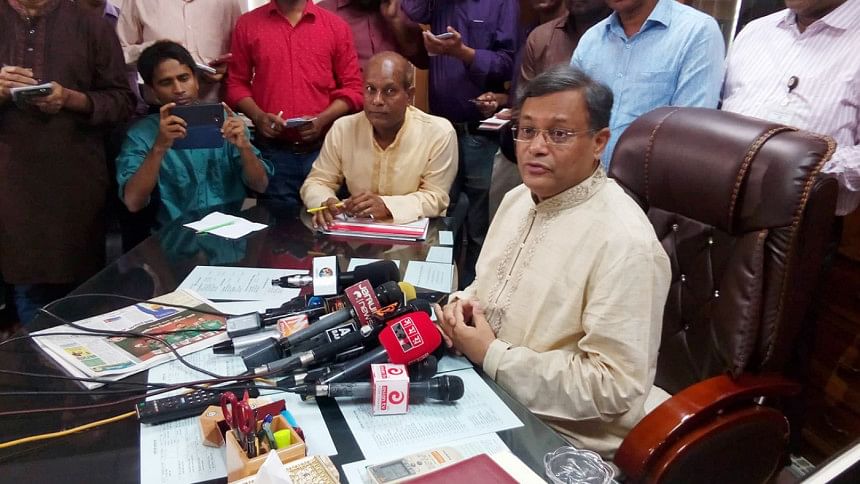 Information Minister Hasan Mahmud today said BNP's acting Chairperson Tarique Rahman will have to face his punishment one day.
"It is the duty of the state to ensure the execution of a convict's punishment and Prime Minister Sheikh Hasina pointed out that yesterday," he said.
"One day, Tarique will have to face judgement he has been served," the minister told reporters at his Secretariat office.
Prime Minister Sheikh Hasina yesterday reaffirmed that the punishment given by courts to Tarique Rahman in different cases will surely be executed.
BNP Secretary General Mirza Fakhrul Islam Alamgir has termed the prime minister's remark about Tarique "devoid of political etiquette".
When asked about unity in the Oikyafront, Minister Hasan Mahmud said, "There is no unity in the party and today's meeting called by the party proves it".
WHAT DID PM SAY ABOUT TARIQUE?
Prime Minister Sheikh Hasina today reaffirmed that the punishment BNP acting chairman Tarique Rahman was given by court in different cases will surely be executed.
"We've been in talks with the British government (to bring Tarique back home) ... I can say the punishment (he was awarded by the court) will be executed today or tomorrow," she said.
Sheikh Hasina came up with the remarks while speaking at a press conference at her official residence Gono Bhaban about the outcome of her recent tri-nation visit to Japan, Saudi Arabia and Finland.
Replying to a question by a journalist about the update over government efforts to bring Tarique back home, the prime minister said, "I hate to take this name."
She said Tarique has been leading a luxury life in London as he amassed huge ill-gotten money. "He tries to create some problems whenever I go there."
WHY TARIQUE IS FUGITIVE CONVICT?
Tarique, who was declared a fugitive by Bangladesh courts, has been sentenced up to life in jail in several cases, on charges of money laundering, corruption and the August 21 grenade attack on an Awami League rally.
On September 11, 2008, Tarique went to London for treatment, and has been living with his family there since then.
He was arrested on March 7, 2007 during the army-backed caretaker government, and later released on parole on September 3, 2008.