Khoka laid to rest at Jurain graveyard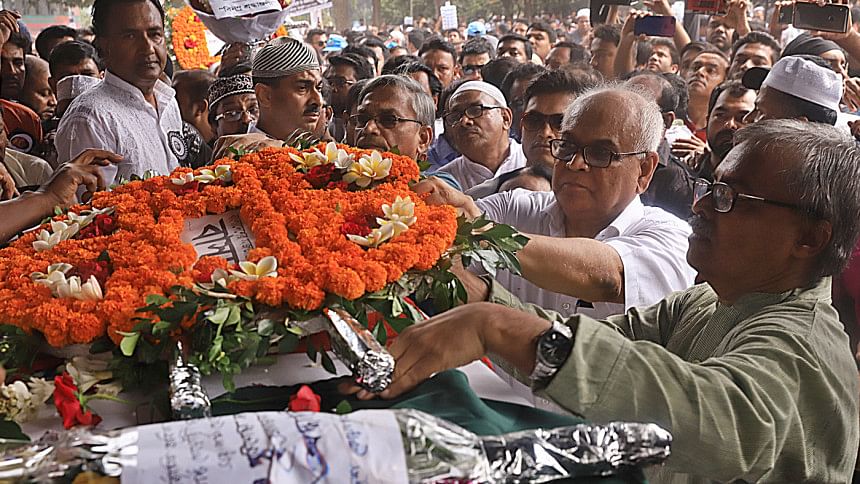 Sadeque Hossain Khoka, a valiant freedom fighter, was laid to rest at Jurain Graveyard following the last funeral prayer this evening.
As per his wish, Khoka was buried at the graveyard beside his mother's grave after the last namaz-e-janaza held at Dhupkhola playground in the capital.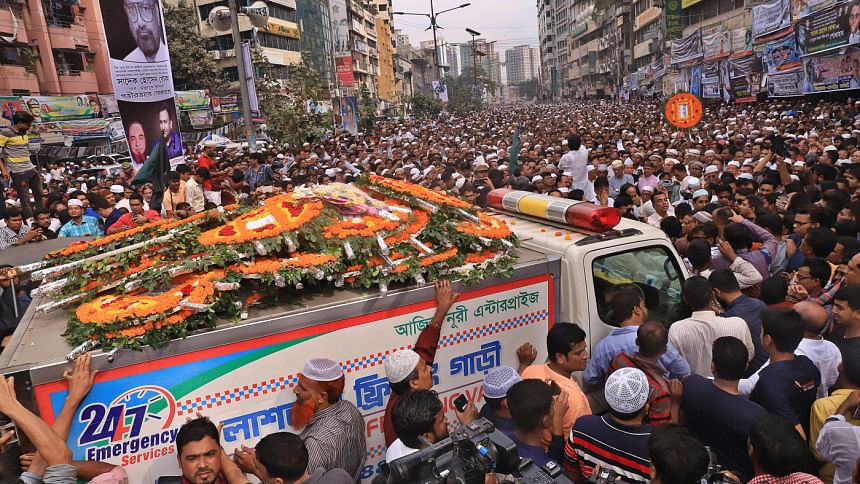 Earlier in the day, his body was taken back home from the USA. A flight of Emirates Airline carrying his body landed at Hazrat Shahjalal International Airport in Dhaka at 8:28am.
BNP Standing Committee Members Mirza Abbas and Iqbal Hasan Mahmud Tuku received the body while a number of leaders and activists of the party were present at the airport.
Later, the coffin of Khoka was taken to the South Plaza of Jatiya Sangsad where his first namaz-e-janaza was held.
The body of Khoka was taken to BNP's Nayapaltan central office around 1:30pm and kept on a temporary stage in front of it where leaders and activists of the party paid their last respect to the former mayor of undivided Dhaka City Corporation.
Thousands of BNP leaders and activists from its different front and associate bodies gathered Nayapaltan area and bid tearful adieu to their beloved leader.
Later, his third (second in the country) namaz-e-janaza was held there where thousands of party leaders and activists joined.
After the janaza, BNP Secretary General Mirza Fakhrul Islam Alamgir along with party's senior leaders, including Khandaker Mosharraf Hossain, Mirza Abbas, Gayeshwar Chandra Roy, on behalf of party Chairperson Khaleda Zia, placed wreaths on his coffin and draped it with a party flag as a mark of respect to the late leader.
Leaders and activists of BNP's different front and associate units also paid tributes to Khoka by placing wreaths at his coffin.
After the namaz-e-janaza, the coffin of Khoka was taken to Central Shaheed Minar where people from all walks of life paid their last respects.
Another namaz-e-janaza of the BNP leader was held at Dhaka City Corporation Bhaban.
Khoka passed away in the USA on November 4 at the age of 68. He breathed his last while undergoing treatment for cancer at Memorial Sloan Kettering Cancer Center in New York.
A janaza of Khoka was earlier held at Jamaica Muslim Center in New York, joined by a number of Bangladeshis.
He had been suffering from kidney cancer since 2014 and his condition worsened a few days ago. He along with his wife went to the USA in 2014 for treatment.
Khoka is survived by his wife Ismat Ara, daughter Sarika Sadeque, sons Ishraque, Isfaque Hossain and a host of relatives, followers and well-wishers to mourn his death.