JS adopts obituary motion on Badal, Khoka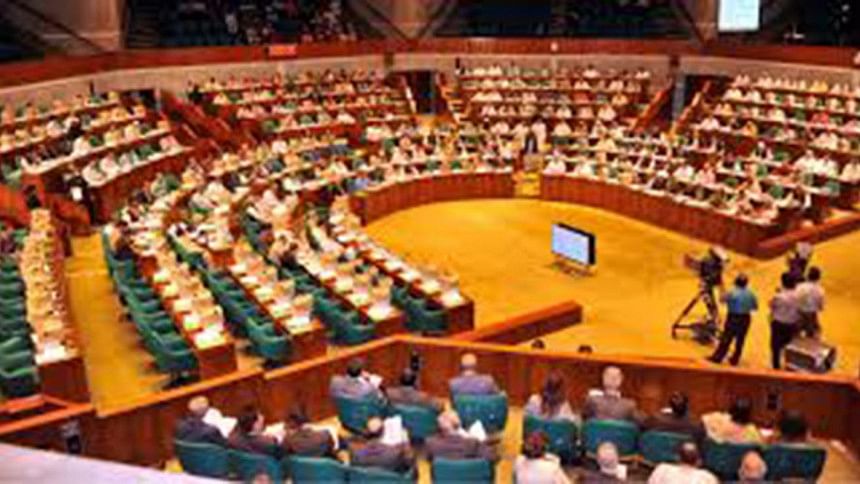 The Jatiya Sangsad has unanimously adopted obituary references on a number of distinguished personalities including Jatiya Samajtantrik Dal executive president Mayeen Uddin Khan Badal MP and former mayor of undivided Dhaka City Corporation Sadeque Hossain Khoka.
Participating in the obituary motion on the death of Badal, who was also a freedom fighter, Prime Minister Sheikh Hasina said his demise has created a huge vacuum in the country's politics.
"Badal always worked for the people of his constituency. He had contributions in different sectors including politics. His death has created a big vacuum in the political arena of the country," the PM said.
Paying a rich tribute to the veteran parliamentarian, Hasina said Badal had an active role in all democratic movements including the Liberation War and anti-Ayub movement.
"His knowledge and thinking process on politics was very strong. He was active when the 14-party alliance was formed," Hasina also president of the ruling Awami League, said.
"I had a scope to work with him (Badal) together in different movement on streets," Hasina said adding, "It's very unfortunate for us that we will not listen to his strong voice in parliament anymore."
Hasina, also Leader of the House prayed for eternal peace of the departed soul and conveyed profound sympathy to the bereaved family.
Opposition leader in parliament Raushan Ershad, AL MPs Tofail Ahmed, Amir Hossain Amu, Mohammad Nasim, Abul Kalam Azad and Shajahan Khan, President of a faction of Jatiya Samajtantrik Dal Hasanul Haq Inu, Workers Party leader Rashed Khan Menon, Jatiya Party lawmaker Anisul Islam Mahmud and opposition chief whip Mashiur Rahman Ranga, among others also participated in the obituary reference.
Earlier, Speaker Shirin Sharmin Chaudhury moved the obituary references separately with brief resumes on those who died after prorogation of the fourth session of the 11th parliament on September 12.
While moving the references, the speaker said the House expresses its deep shock at the death of BNP vice chairman Sadeque Hossain Khoka, former deputy minister Humayun Kabir, among others.
After the House adopts the obituary reference unanimously, the speaker adjourned the sitting of the House to show respect at the death of a current MP Badal.