The rise and fall of HM Ershad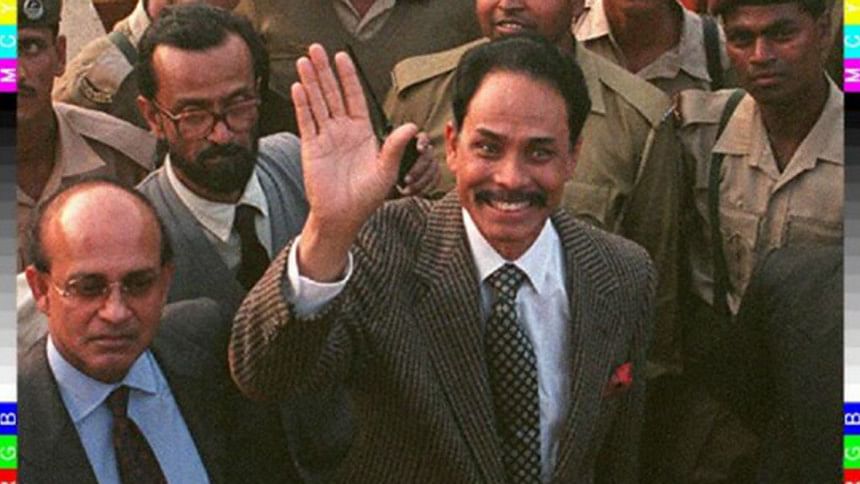 Bringing an end to a long and controversial political career that saw many upheavals, HM Ershad today breathed his last at the Combined Military Hospital.  
He was born in 1930 in Dinhata, a subdivision of Coochbehar district of present-day West Bengal in the-then British India, to Mokbul Hossain and Mazida Khatun. Ershad was one of nine siblings.
His parents migrated from Dinhata to Bangladesh (the then East Bengal) in 1948 after the India-Pakistan partition.
Ershad studied in Carmichael College in Rangpur, and later graduated from the University of Dhaka in 1950. He was commissioned into the Pakistan Army in 1952 from Officers Training School in Kohat. He was an adjutant in the East Bengal regimental depot in Chittagong. Later, he completed advanced courses from the Command and Staff College in Quetta in 1966.
READ MORE: Dissent and the price of freedom
After serving with a brigade in Sialkot, he was given command of the 3rd East Bengal Regiment in 1969 and the 7th East Bengal Regiment in 1971. He was reportedly interned along with other Bengali officers stationed in West Pakistan during the 1971 Liberation War and repatriated to Bangladesh in 1973.
On April 24, 1982, Ershad usurped state power as the Chief Martial Law Administrator (CMLA) by removing the elected government of President Abdus Sattar through a bloodless coup, and three days later he installed Justice Abul Fazl Mohammad Ahsanuddin Chowdhury as the President.
Later, Ershad assumed the country's Presidency in December 1983.
During his regime, he suspended the country's constitution and parliament, repressed his political opponents and according to critics, he used "religion" to gain petty political interest through wooing country's majority Muslims by making Islam the state religion in 1988 by amending the constitution.
He formed a political party while holding the office of the Chief of Army and also being at the helm of the government.
Following a nationwide mass movement, Ershad was finally forced to step down on December 6, 1990.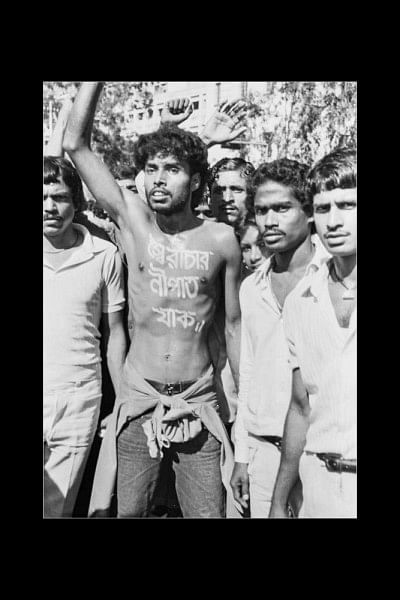 He was arrested in 1991 and was later released on bail in January 1997.
The politician was sued in over 26 cases on different charges including corruption. Later, he was convicted in two cases and was acquitted and discharged from 20 cases during the BNP and Awami League tenures.
But two cases -- General Manzoor murder and a graft case – are still pending against him in two separate courts.
While in jail, he took part in the national elections of 1991, 1996 and won from all five constituencies he took part in. In 1996, Ershad extended support to Awami League to form a coalition government.
In 2000, Ershad was sentenced in a corruption case. As a result, he could not contest the 2001 elections. He was, however, released on bail in the case on April 9, 2001.
Ershad was elected as lawmaker in 2008, 2014 and 2018 national elections.
He continued to take advantage of the country's tricky alliance-based politics, and became pivotal figure in the political scenario of Bangladesh, especially in forming coalition governments.
ALSO READ Shahidul Alam: His Journey as a Witness
Yet, despite the criticism Ershad came to be fondly known as "Pallibandhu" by his admirers, and had brought significant changes to the country's local government system.
In 1984, Ershad introduced upazila system in the country aiming to decentralise local administration at grassroots level. He expanded the national highway system, increased number of districts to 64, and also tried to decentralise the civil and judicial administration.
Ershad married Raushan Ershad in 1956. The couple had a son together and also adopted a daughter. Raushan later went on to become the senior co-chairperson of Jatiya Party, and also a lawmaker and the leader of the opposition in the parliament.
Ershad faced criticism on many occasions for keeping relationship with several women. 
He later married Bidisha, his second wife, in 2000, and later made her a presidium member of JP. He has a son with Bidisha.
However, the marriage ended in divorce over a "political drama" in 2005.