Shahidul Alam: His Journey as a Witness
Alongside his work as a photographer and teacher, Shahidul Alam has always spoken out for the rights of all Bangladeshis, and for free speech. He has been imprisoned for more than a month now for alleged "provocative comments". He has been repeatedly denied bail, with the next hearing likely to take place on Sunday. The Daily Star presents a snapshot of Alam's work in, and for, Bangladesh, compiled and edited by Katatare Prajapati, a group of Bangladeshi artists and writers, and journalists Brian Palmer and Erin Hollaway Palmer. We feel that Alam's work speaks louder than anything we can say about his contributions and his commitment to the ideals of Bangladesh's Liberation War.
***
1983: Alam completes his PhD in organic chemistry from the University of London. He works as a research chemist at Bedford College to invent alternative printing processes for photographs.
1984: Returns to Bangladesh; becomes secretary general of Bangladesh Photographic Society.
1987: Alam photographs the people's resistance to section 144 imposed by the Ershad military junta. He is elected president of Bangladesh Photographic Society.
1988: Bangladesh is hit by the worst floods in a century. Alam photographs people's struggles, highlighting the mismanagement of relief efforts by the Ershad junta.
1988: Begins photographing migrant labourers who leave Bangladesh for all parts of the world. This becomes the seed for Alam's multi-year project on labour migration, Migrant Soul. At that time, the Bangladesh government and media were paying no attention to the concerns of migrant workers.
1989: Registers Drik Picture Library (named after the Sanskrit word for "vision") with an XT computer, a dot matrix printer on hire, and a telephone line. Continues photographing protests against the Ershad junta.
1990: First annual Drik calendar is published.
1990: Ershad regime falls. Along with the photograph of Noor Hossain's back by Pavel Rahman, Alam's photos become records of the democracy movement. In December 1990, the New York Times carries Alam's image of people celebrating Ershad's fall.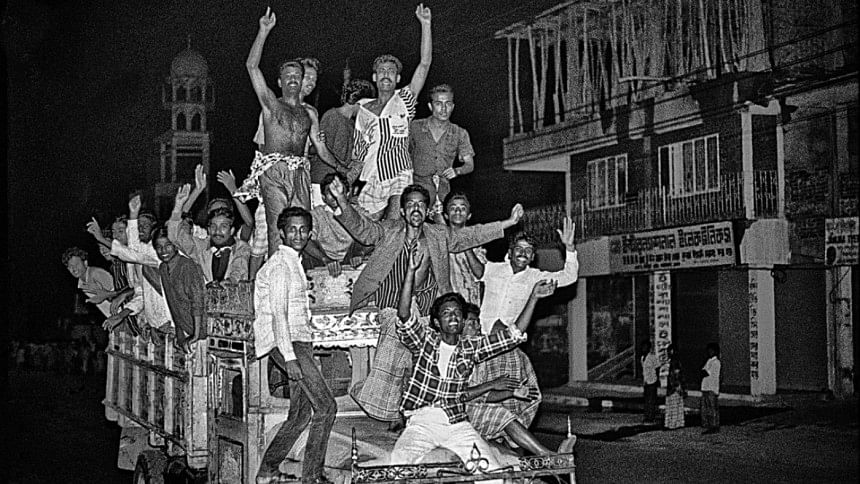 1990: Organises the first photo exhibition after the fall of the regime at Zainul Gallery, Dhaka University. The queue outside is a mile long as 400,000 people come to see the show in three days.
1991: Second annual Drik calendar comes out, featuring photographs by the first and second generations of post-1971 photographers, including Manzoor Alam Beg, Bijon Sarkar, Jahangir Kabir, Mohammad Ali Salim, Naibuddin Ahmed, Shafiqul Alam, Rashidun Nabi, and Shahidul Alam.
1991: Takes iconic photograph of Sufia, a young girl from Anwara who was orphaned in the April cyclone. Alam writes: "She was soon taken in by another family. The generosity of the poor has always amazed me." The photograph is published by the New York Times.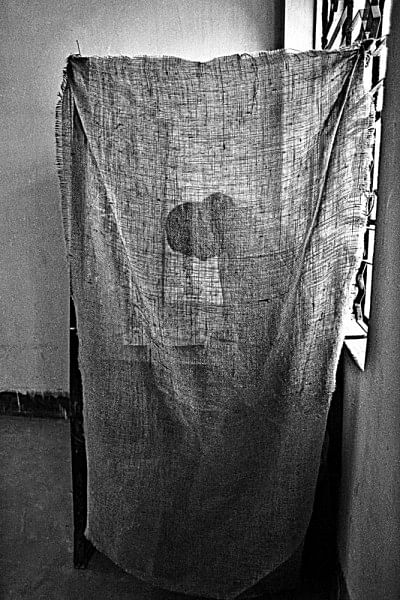 1991: As Bangladesh holds its first elections after military rule, Alam photographs the voting booth.
1991: Photographs Adivasi women in the Chittagong Hill Tracts. Alam continues his work on the rights of Adivasi people in the CHT for the next three decades.
1993: Local elders issue a religious fatwa against Nurjahan, mandating extrajudicial punishment. Nurjahan commits suicide by poisoning. Mahila Parishad, the largest women's organisation in Bangladesh, takes up the case. Alam photographs Nurjahan's father in Sylhet.
1993: Dutch organisation TOOL offers to help Drik set up Bangladesh's first email network, DrikTAP, using Fidonet technology, as part of "South-South exchange". Drik arranges a seminar on email at the Engineer's Institute, attended by the secretary of the Ministry of Information.
1994: Begins teaching photography to a group of working-class children. The group is named "Out of Focus".
1994: DrikTAP launches. The central server is a 286 computer, running from a single telephone line with fax/data/voice switch. In the first year there are 500 subscribers.
1996: Alam takes iconic photograph of a Dhaka University student from the AL's student wing, Bangladesh Chhatra League, inside a police van. The photograph is widely reprinted as an example of police repression under the BNP government.
1996: Seventh annual Drik calendar prints unseen photographs of Bangladesh's 1971 Liberation War. The exhibit comprises restored black-and-white negatives, with fungus and scratches removed. In the introduction Alam protests the BNP government's attempts to erase the war: "Though history books carry distortions, the photographs say otherwise. Photographs say, there is evidence, I am the witness."
The calendar prints photographs of Bangabandhu Sheikh Mujibur Rahman (Begart Institute, Rashid Talukdar), surrendering Pakistani soldiers (Aftab Ahmed), and the first Bangladesh flag (Shahidul Alam).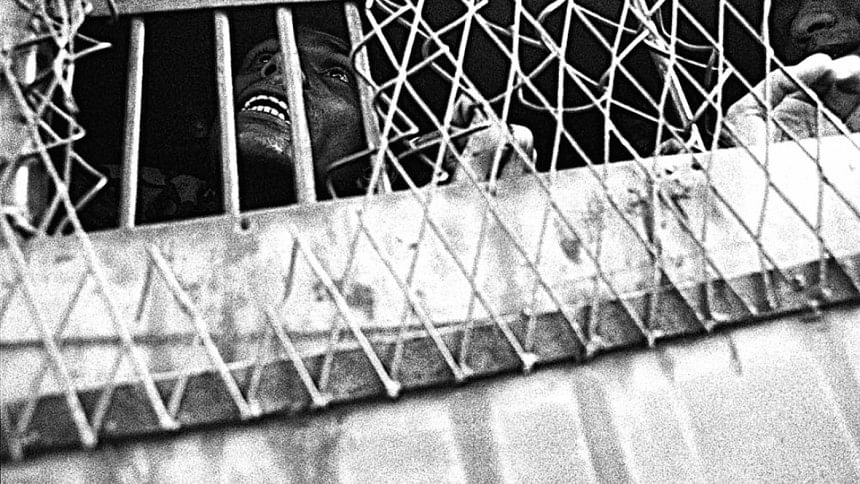 1996: Spearheaded by the AL, protests spread nationwide demanding fair elections under a caretaker government. The BNP retreats behind a high wall of police and security. Unknown assailants stab Alam on the street eight times during a crackdown on journalists documenting street protests.
1997: Eighth annual Drik calendar consists entirely of photographs by the working-class children of Out of Focus, breaking with the tradition of featuring "established" photographers.
1997: Alam documents the role of sex workers in distributing condoms to prevent HIV/AIDS, work that was unacknowledged by the Bangladesh government, which was still denying there were any AIDS cases in the country.
1998: Ninth annual Drik calendar features Alam's photographs, which include one showing how domestic workers are not allowed to watch TV in the same room as those for whom they work.
1998: Establishes Pathshala, the South Asian Institute of Photography (renamed Pathshala South Asian Media Institute in 2010). It is launched to coincide with Dhaka's first World Press Photo exhibition, which is inaugurated jointly by AL deputy leader Abdus Samad Azad and BNP deputy leader Dr Badruddoza Chowdhury.
2000: Launches Chobi Mela, the first festival of photography in Asia, with the exhibition 1971: The War We Forgot. Dr Hasib Zakaria writes: "It took six years for Alam to arrange and collect the photographs of 1971. Thirty photographers from about ten different nationalities affiliated with a dozen international news organisations participated in the exhibition." The exhibition features 1971 photos by Raghu Rai, Rashid Talukder, Kishore Parekh, Abbas, Don McCullin, Raymond Depardon, Marc Riboud, Mary Ellen Mark, David Burnett, and Marilyn Silverstone.
2001: Sets up Bangladesh Human Rights Network, which actively promotes human rights reforms both within Bangladesh and across geographical and political boundaries.
2001: Drik is using VSAT technology for its email network but finds costs too high. Alam meets with a member of the Bangladesh Planning Commission and advocates that the country connect to a submarine cable. The government declines, citing security concerns and setting Bangladesh back by a half decade in ICT.
2003: Fourteenth annual Drik calendar expands beyond Bangladeshi photographers to highlight photographs from all over the world. Alam advocates using the term "Majority World" instead of "Third World".
2005: As the US-led war in Iraq continues, the 15th annual Drik calendar celebrates "Resistance".
2006: Alam's photographic installation Belief, and Practices: Justice for Nurjahan is exhibited at the inaugural Singapore International Biennale.
2008: As free speech is shut down during the military-backed "1/11 Caretaker Government," Drik and the International Federation of Journalists host a media roundtable on "Building Tolerance and Unity through Media" at Drik Gallery.
2008: Alam photographs protests against the loan of Bangladeshi artifacts for exhibition at the Musée Guimet in France. The protesters claim that the project, led by the military government, did not protect Bangladesh's rights within international cultural exchange.
2009: Police prevent Drik from opening the exhibition Into Exile: Tibet 1949 – 2009, organised by Students for a Free Tibet. Professor Muzaffar Ahmed sits in front of Drik Gallery protesting the ban.
2010: Police prevent noted Indian writer Mahasweta Devi from entering Drik Gallery to inaugurate Alam's exhibition Crossfire about extrajudicial killings. The police blockade is removed after Drik's lawyers file a writ and the exhibition finally opens.
2011: Alam's book My Journey as a Witness is published by Skira of Milan.
2011: The Birth Pangs of a Nation, edited by Alam, commemorating the 40th anniversary of the independence of Bangladesh, is published. This is part of Drik's "Archiving 1971" programme, which aims to collect oral, textual, and visual resources to build a one-stop repository for academics, researchers, and the public.
2013: Twenty-fourth annual Drik calendar features some of Bangladesh's early photographers, under the theme "Pathfinders". The earliest image is by Golam Kasem Daddy, who writes about developing his first print in 1912.
2013: In the only op-ed the New York Times published on Bangladesh's Shahbag movement demanding transparent war crimes trials, Alam writes: 'Bangladesh's original Constitution had four basic principles: nationalism, democracy, socialism and secularism. Military dictators replaced that with 'absolute trust and faith in the Almighty Allah as the basis of all actions' in 1977, and made another change in 1988 that led to our once-secular nation's being redefined as an Islamic one. Martial law, amnesty and political deals allowed the collaborators to go free and Jamaat-e-Islami to gradually rejoin the political mainstream."
2013: Alam opens Searching for Kalpana, a photography exhibit about the long-unsolved abduction of Adivasi activist Kalpana Chakma in the Chittagong Hill Tracts.
2014: Twenty-fifth annual Drik calendar, "Silver Thread, Frayed Seams", commemorates the victims and survivors of Tazreen and Rana Plaza, two of Bangladesh's worst garment factory disasters.
2014: Alam continues his work on Kalpana Chakma's abduction and opens his exhibition 18 on the 18th anniversary of her disappearance. The exhibition uses found objects, newspaper clippings, excerpts from her diary, and her personal belongings.
2015: Launches Kalpana's Warriors, an exhibition commemorating the activists who have pursued the Kalpana Chakma case for two decades.
2015: Receives Bangladesh's highest arts award, the Shilpakala Padak, from President Abdul Hamid.
2016: The Best Years of My Life, an exhibition and book of photographs by Alam of Bangladeshi workers in Malaysia, opens at Bangabandhu International Conference Center as part of the ninth meeting of the Global Forum on Migration and Development. The meeting is opened by Prime Minister Sheikh Hasina.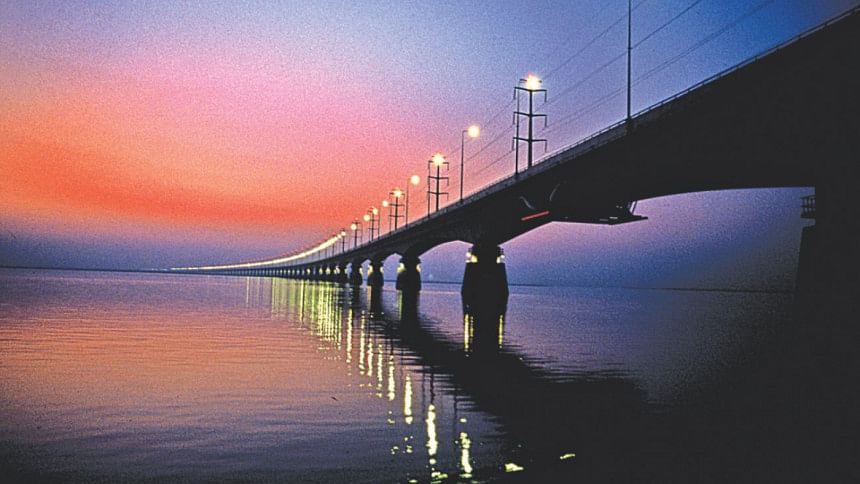 2016: The July issue of British Journal of Photography highlights two global schools for special mention—the Royal College of Art in England and Pathshala in Bangladesh.
2017: Alam presents Embracing the Other, looking at ways in which we can recalibrate the conversation about Islam by considering the everyday life of devotees, focusing on one particular centre of learning, the Aga Khan Award–winning Bait Ur Rouf mosque in Dhaka. Alam writes, "Islam (and pretty much all religions) by and large, provides a moral compass for our navigation. It is not Islam we need to fear, but the weapons industry and those who control it."
2018: Twenty-ninth annual Drik calendar, "When Buddha Looks Away", focuses on Rohingya refugees fleeing genocide in Myanmar.
2018: Alam is selected as the 2018 recipient of the Lucie Awards' Distinguished Humanitarian Award to be presented on October 28 at New York's Carnegie Hall. The Lucie Awards celebrate master photographers and their contributions to the field of photography.
2018: On August 5, along with other journalists, Alam photographs armed men attacking students protesting for road safety. He posts on social media and is interviewed on Al Jazeera. A few hours later, men in plain clothes abduct him from his home at night. After a national outcry, Alam is produced by the police in court, barefoot, unable to walk unaided, and showing clear signs of physical and mental torture. The government takes him into custody in relation to a case filed under section 57 of the ICT Act. More than forty days later, he remains imprisoned.
---
Brian Palmer is a photographer and former CNN correspondent. Erin Hollaway Palmer was the managing editor of Parade magazine. They are working on a documentary about vanished African American communities. Katatare Prajapati is a group of Bangladeshi artists and writers.
Photos/Copyright: Shahidul Alam
---
Follow

The Daily Star Opinion

on Facebook for the latest opinions, commentaries and analyses by experts and professionals.
To contribute your article or letter to The Daily Star Opinion, see our

guidelines for submission

.
---