Rangamati attack well-designed: Fakhrul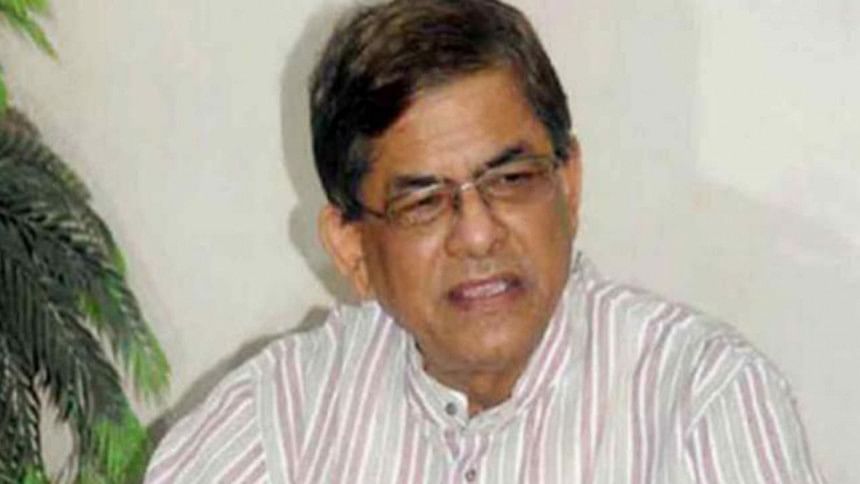 Terming Rangamati gun attack a well-designed one, BNP today said the acts of violence and criminalisation is on the rise due to absence of democracy and atmosphere for credible polls.
"Bangladesh has been affected with the disease of terrorism as the government wants to hang on to power by posing threat and creating panic. I think the attack on election officials at Baghaichhari is a well-planned one," BNP Secretary General Mirza Fakhrul Islam Alamgir said in a press statement.
BNP considers killing of any people in any terror attacks as a hateful act, Fakhrul said and expressed strong condemnation to the attack.
In the statement, he also called up on the government to identify the attackers for ensuring exemplary punishment to them.
At least seven people, including two polling officials and four Ansar personnel, were shot dead while 14 others were injured in Rangamati's Baghaichhari upazila in a violent turn of events in the second phase of upazila polls yesterday evening.
Fakhrul alleged that the ruling party men were indulged in carrying out in acts of violence for establishing their all-out supremacy in the voter-less upazila parishad election.
"The criminals got encouraged to grab power through the midnight ballot stuffing during the December 30 national election," he alleged.
The BNP leader also said the ruling party leaders are now in engaged in unhealthy competition of capturing local power through vengeful acts as they do not have any accountability to the people.
Fakhrul claimed that people did not respond to the second phase of 'unilateral' upazila parishad election as they do not believe that any credible election can be held under the current government.
He alleged that the government is using the state machinery to eliminate the opposition party from politics.
He also prayed for the salvation of the departed souls of the gun attack victims and wished early recovery of the people who sustained injures in the attack.