DU, JU students protest harassment of teacher
Demand punishment of perpetrators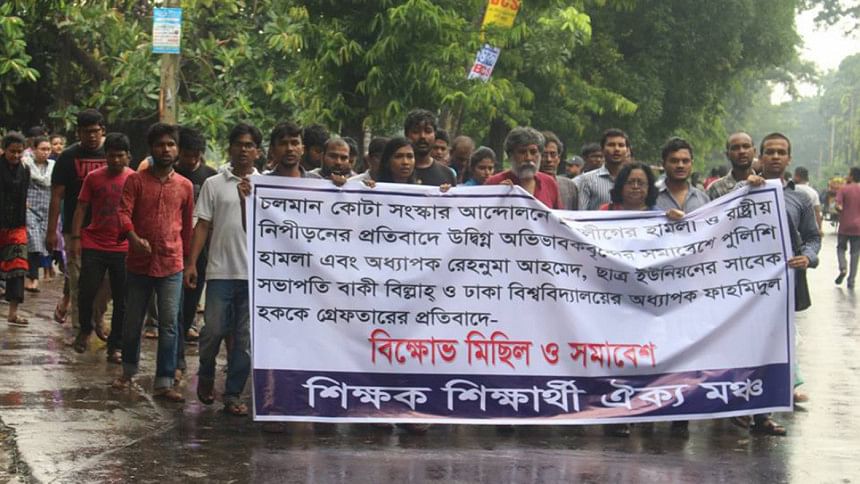 Students and teachers of Dhaka University and Jahangirnagar University today staged demonstrations protesting the manhandling of Dhaka University teacher Fahmidul Haq and temporary detention of writer and anthropologist Rahnuma Ahmed, and former student leader Baki Billah.
Yesterday, police picked up Rahnuma and Baki Billah and manhandled DU teacher Fahmidul in Jatiya Press Club in Dhaka when they along with a group of citizens tried to stage a peaceful protest against the attacks on the students demanding quota reform in civil service. However, the detainees were released later.
At DU, students and teachers of the Mass Communication and Journalism department today formed a human chain at the foot of 'Aparajeyo Bangla' around noon.
"Government is curbing our right to speech. Not only this, those who have protested at various times are being attacked," said Gitiara Nasrin, professor of Mass Communication and Journalism Department.
"This kind of incidents is happening regularly and those who are involved should be punished under the law after investigation," she added.
Meanwhile, a masters student of the same department, Masud Al Mahdi said, "We have been protesting such incidents despite knowing that those incidents will never be brought to justice. But only protest will not work, we have to build strong resistance."
At Jahangirnagar University, teachers and students under the banner of Teachers-Students Unity Platform also staged demonstrations on the campus.
They brought out a protest procession and held a rally protesting the ongoing oppression on teachers and students across the country.