PM orders action against Nur attackers: Quader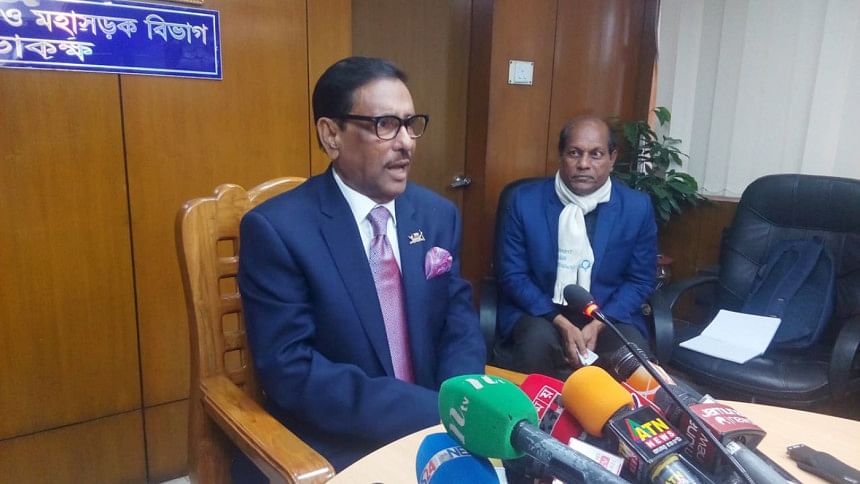 Prime Minister Sheikh Hasina has given a clear instruction to take organisational and administrative actions against the persons who attacked Ducsu Vice President Nurul Haque Nur and his supporters yesterday, Awami League General Secretary Obaidul Quader said today.
Awami League Presidium Member Jahangir Kabir Nanak yesterday visited the injured persons at Dhaka Medical College Hospital as per instruction of the prime minister and talked about their treatment, Quader told reporters at his ministry office today.
Legal action will be taken against those whoever were involved with the attack, he quoted the prime minister as saying.
While talking to the reporters, Quader, also road transport and bridges minister, condemned the attack and said the persons who attacked Nur and his supporters in broad day light would be punished.
When asked about Muktijuddho Moncho activists who were also involved with the incident, he said he talked to the home minister on this matter and asked him to take action against them.
He termed the incident as embarrassing to the party.
Yesterday, activists of a faction of Muktijuddho Moncho, mostly comprised of Chhatra League supporters, once again beat up and injured Nur, storming into his office at the Ducsu building. 
At least 27 of his supporters were injured in the attack carried out around 12:45pm after Ducsu Assistant General Secretary and BCL leader Saddam Hussain threatened Nur with dire consequences if he didn't leave his office.
Dhaka University Proctor Prof AKM Golam Rabbani went to the spot around 1:00pm and sent 20 of the injured to Dhaka Medical College Hospital (DMCH).
Of them, 14 were released after primary treatment, and six others, including Nur, were admitted to the hospital.
One of the six, TuhinFarabi, a student of a private university in the capital, was shifted to the Intensive Care Unit from the emergency unit after he had breathing problems and convulsions.