Protesters give 24-hr ultimatum to arrest Nur attackers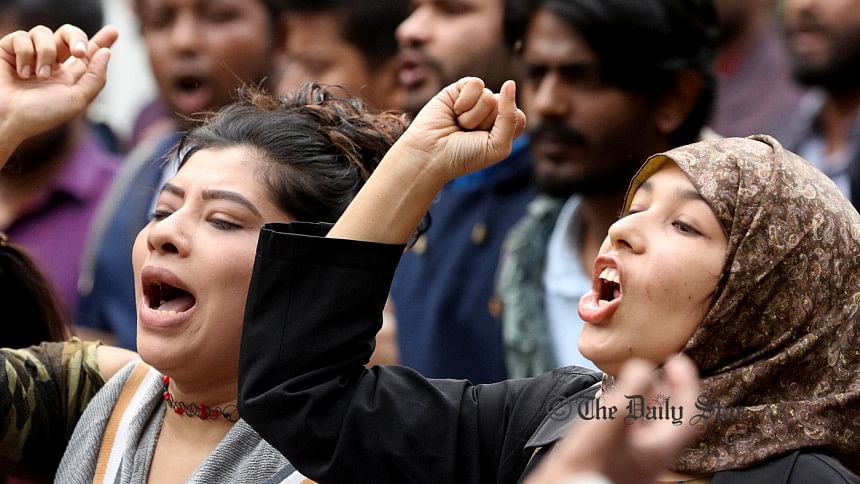 A section of Dhaka University students today gave a 24-hour ultimatum to the authorities to arrest the culprits who attacked Ducsu Vice President Nurul Haque Nur and his supporters yesterday. 
The ultimatum came from a rally held by the students under the banner of 'Santrash Birodhi Chhatra Oikya' at the Raju Sculpture of DU campus this afternoon. 
The authorities must identify, arrest and put the attackers under the trial, the protesters demand.  
The agitating students threatened to go for tougher movement if no action is taken against the attackers, reports our DU correspondent from the spot.
"If our demand is not fulfilled by 24 hours, we will announce to stage demonstration throughout the country," Akhtar Hossain, social service affairs secretary of Dhaka University Central Students' Union (Ducsu) said while addressing at the rally.
Earlier, the students staged a demonstration on the university campus this noon protesting yesterday's attack on Nur and others.
The students under the banner of 'Santrash Birodhi Chhatra Oikya' gathered in front of Raju Sculpture of the Dhaka University campus around 12:00pm and staged the demonstration protesting the attack.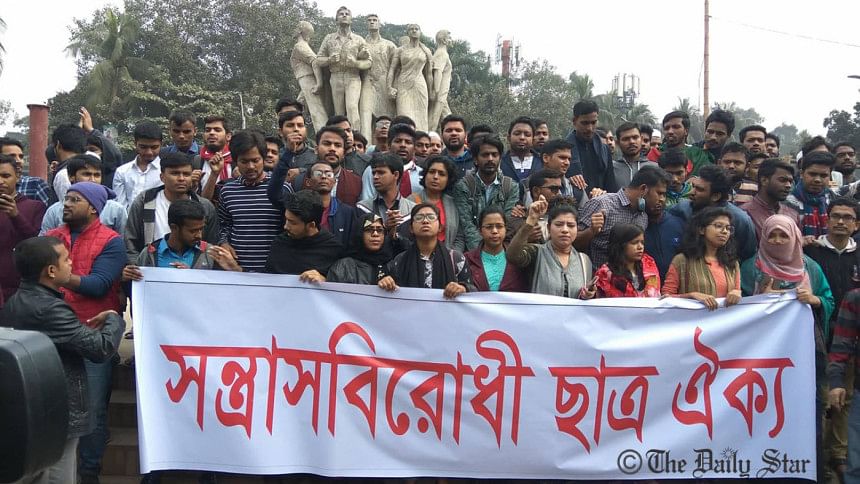 They also demanded the exemplary punishment of the attackers during the protest.
The agitating students also demanded the removal of DU Proctor AKM Golam Rabbani, alleging that he was inaction when Muktijuddho Moncho activists attacked VP Nur and his supporters.
Later, they brought out a procession on the campus and after marching different roads on the campus, they ended the procession at the Raju Sculpture where they held the rally.
Yesterday, Nur and around 27 of his supporters were injured in the attack carried out by activists of a faction of Muktijuddho Moncho, mostly comprised of Chhatra League men after Ducsu Assistant General Secretary and BCL leader Saddam Hussain threatened Nur with dire consequences if he didn't leave his office.
Of them, 14 were released after primary treatment, and six others, including Nur, were admitted to Dhaka Medical College Hospital
This is the second time Nur came under attack from Moncho activists.
Later, DU Vice Chancellor Md Akhtaruzzaman and Proctor AKM Golam Rabbani visited Nur and five others, who are receiving treatment at Dhaka Medical College Hospital.