News Analysis: Political enmity beyond borders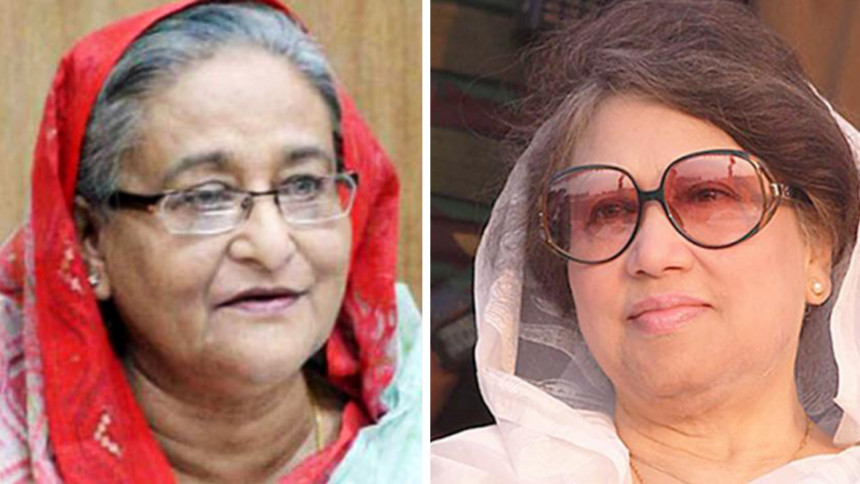 While her party men were staging demonstration against Prime Minister Sheikh Hasina's visit in London, BNP chief Khaleda Zia in Dhaka on Monday invited Hasina to attend an iftar party she will host in honour of the country's political leaders.
As earlier announced, leaders and supporters of the UK unit of BNP staged the protests wherever the premier went during her visit to London since Friday.
Tying black cloth on their heads, they, under banner of UK unit of BNP, took to the streets and chanted slogans against Hasina, the ruling Awami League chief. On Monday, they also gave chase to the leaders and supporters of UK chapter of AL.
Their agitation programmes, of course, were not for honouring Hasina, prime minister of Bangladesh. They demonstrated a lack of respect for their country's prime minister. Their agitation also exposed the nature of mockery that was Khaleda's iftar invitation to Hasina.
What the BNP men have done in London is a manifestation of pervasive confrontational culture in politics in Bangladesh, which has gradually morphed into enmity between the two rivals crossing geographical boundaries.
This domestic hostility transplanted in foreign soil has in no way brightened the image of BNP men of UK chapter, let alone the country's image.
The AL men in London are no angels either. They also are guilty of the same odious tricks abroad.
Take the example of Khaleda Zia's visit to London in May 2011. While her party men went to the Heathrow airport there to receive her, AL men gathered at the place to stage demonstration against her. Under banner of UK unit of AL, they bore black flags and placards with various slogans against Khaleda and BNP.
At one stage, the leaders and supporters of AL locked horns with BNP supporters in front of the Heathrow International Airport. The police then detained two BNP men on charge of creating chaos there.  
There are many more incidents of such clashes between the AL and BNP men in UK and USA. Take some incidents in recent years.
On Sept 20, 2010 activists of AL and BNP clashed at JFK airport in New York.
Hasina had gone to USA to attend the United Nations General Assembly.
Several hundred activists of AL and its front organisations in USA thronged at the airport to welcome her. At the same time, BNP men gathered there to hold a protest against Hasina's arrival.
BNP activists held protest programmes outside the hotel where Hasina stayed during her visit, outside her reception centres, and the UN General Assembly.
In defence of their protest, the BNP leaders said Hasina had tarnished the image of Bangladesh by inciting her activists to attack a peaceful gathering of BNP.
After the clash an officer of New York Police termed it as "shameful."
A clash between the supporters of AL and BNP on July 16, 2010 forced the organiser to hastily abandon a conference on "Human rights, democracy and role of political parties in Bangladesh" at the prestigious London School of Economics.
In 2015, AL and BNP men engaged in scuffles over placing flowers at the Shaheed Minar on the Independence Day at Altab Park in East London.  
They also engaged in clash at the same place in December 2014 as they enforced programmes to counter each other over some derogatory remarks against Bangabandhu made by BNP senior vice-president Tarique Rahman. At least five people were injured in the clash.
The parties' internal conflicts also manifest frequently. For example, supporters of the AL unit in USA clashed among themselves at a function marking Bangladesh's Victory Day.
Each of those incidents is unfortunate and shameful that undoubtedly tarnished the country's image every time. Such incidents have been taking place for years in different countries continuously.
Both the AL and BNP must bear the responsibility of tarnishing the country's image by spreading their enmity in domestic politics abroad through their foreign wings.
And they are maintaining their foreign wings flouting the electoral law.
In efforts to prevent the battling political parties from take their domestic hostility in politics abroad, the Election Commission led by ATM Shamsul Huda had brought some changes in the laws in 2008 on the registration of political parties with the EC.
According to the law, a party willing to get registered with the EC can not have any provision in its charter for establishment or operation of any office, branch or committee outside the territory of Bangladesh.
At that time, the AL and BNP were compelled to amend their constitution to repeal the provision dealing in details about maintaining the parties' foreign units and their status. They deleted the provisions for the sake of getting registration, which was a precondition to contest the parliamentary election.
But later, they changed their stances. Both have later introduced new provisions in their respective charters allowing party supporters living abroad to form units of the party in the countries they live in.
For violation of this provision, registration of a political party may be cancelled. But the EC remains silent about it, allowing the parties a free rein in operating their units in many countries including UK and USA.
Maintaining the foreign branches provides huge benefits to the high commands of both the parties.
Whenever they visit any country, leaders and supporters there host the party's central leaders. They also lobby with the central leaders to get posts in the local committees abroad. Allegations of money for posts in the committees are common. These unholy practices explain to some extent the parties' interests in maintaining their foreign branches.
It is difficult to find any major political party in any other country that has wings in foreign countries.
But it is possible for Bangladesh's political parties – AL and BNP – as everything is possible for them in the perverted culture in which partisan interests prevail over the country's interest.