BNP vents anger as 'cops go unpunished' in Nusrat murder case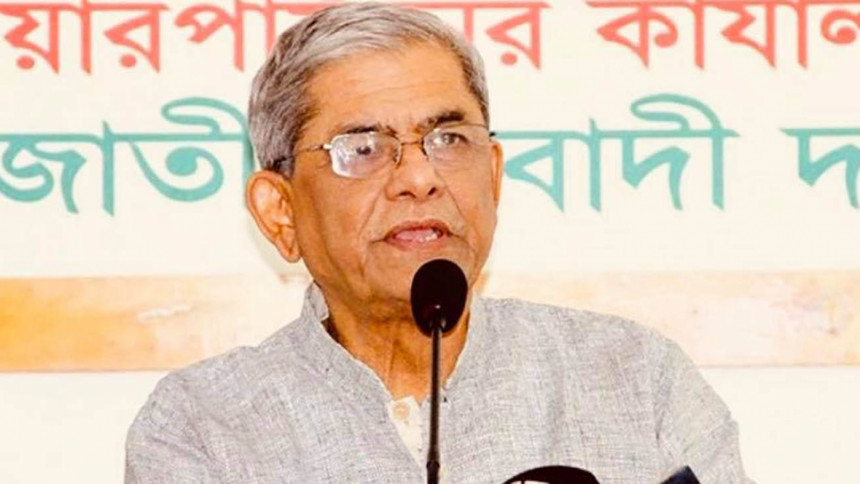 BNP Secretary General Mirza Fakhrul Islam Alamgir today voiced anger over the verdict in Feni madrasah student Nusrat Jahan Rafi murder case as he said the accused cops have gone unpunished.
 "As they (govt) are dependent on the police, they're exempting police personnel from punishment for committing such crimes. The verdict has exposed that," he said.
 The BNP leader further said, "The current government is not an elected one, and it lacks people's mandate. So, they've been staying in power by force by resorting to such criminal cats."
 The BNP leader came up with the remarks while talking to reporters at Hazrat Shahjalal International Airport after returning home from Australia.
 Earlier in the day, a tribunal in Feni sentenced 16 people to death for their involvement in Nusrat murder.
 Nusrat was set on fire on April 6 last on the roof of a madrasah she attended, allegedly by people loyal to principal Sirajuddoula whom she had accused of sexually harassing her. Nusrat succumbed to her injuries four days later at Dhaka Medical College Hospital.
 Fakhrul, who was out of the country as he had been to Singapore and Australia, said he received treatment in Singapore for two days, and then went to Australia. "You all know my elder daughter lives in Australia. I took leave from the party to spend some days with them (daughter's family).
 In his absence, Fakhrul said, many incidents took place in the country, including the murder of Buet student Abrar Fahad. "The killing of Abrar is a very tragic and regrettable incident. It's an unpardonable crime."
 He said the government is fully responsible for the incidents as such elements have been carrying out the 'terror acts' with the backing of the ruling party. "Chhatra League and Jubo League have become uncontrollable for the past few years and the entire country is witnessing its adverse impacts."
 The BNP leader said it cannot be accepted in any way that a student was killed for expressing his opinion in favour of the country's interest. "It's also unthinkable. I think the government should have resigned for the incident."
 The BNP leader said Bangladesh's interests were not protected with the bilateral documents Prime Minister Sheikh Hasina signed with India during her recent visit.
 About the violence in Bhola that killed four people in police firing following a blasphemous status from a hacked Facebook account, Fakhrul said there was surely provocation by any vested quarter behind such an incident.
 "Hurting people's religious sentiment with derogatory remarks about our Prophet (Pbuh) and religion is a condemnable act. At the same time, firing gunshots by police on people is also more condemnable act," he observed.
 The BNP leader alleged that police attacked a peaceful rally and opened fire on people in Bhola. "It's demonstrated that there's no scope to express dissenting opinions in the country what we've long been saying."
 He said crises are being created in the country one after another as an 'unelected' the government has been there in power which has no responsibility to people. "We think the government should resign immediately and hold a credible election under a neutral administration and the Election Commission to overcome the country's crisis."
 About Workers Party President Rashed Khan Menon's recent remark that people could not cast their votes in the December -30 general election, Fakhrul said, "I thank Menon Bhai (brother) that he revealed the truth after so many days. The government should now step down."
 He also said the government's current anti-corruption purge is nothing but mere eyewash as the 'big corrupt elements' have not been arrested so far.