Police foil BNP demo in N'ganj
One held in Barishal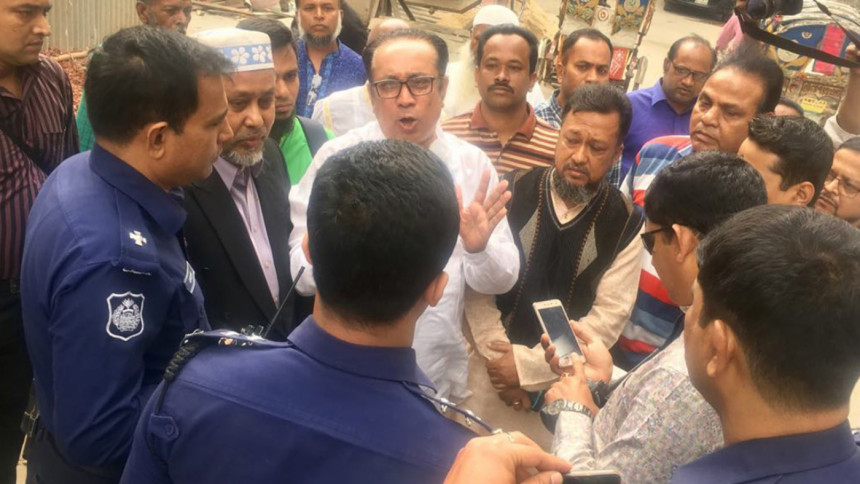 Police yesterday foiled a BNP demonstration in Narayanganj and arrested a Jatiyatabadi Chatra Dal leader in Barishal.
In Khulna, different units of the local BNP held rallies in front of the party's office on KD Gosh road marking Khaleda's one year in prison.
The BNP on Friday hinted that it would take to the streets to ensure Khaleda's release from jail.
"We have to turn around burying all sorts of organisational weaknesses. It is not possible to ensure the release of Khaleda Zia only through placing demands. We have to release her through a movement," Khandaker Mosharraf Hossain, member of BNP standing committee, told a rally at the Institute of Engineers, Bangladesh that day.
Upon conviction in a corruption case, BNP Chairperson Khaleda was sent to jail on February 8 last year.
Since its formation in 1978, the party for the first time participated in a parliamentary election on December 30 with Khaleda in jail.
Alleging widespread rigging by the ruling Awami League, the BNP rejected the polls result.
In Narayanganj yesterday, police barred BNP men from holding a pre-scheduled rally in front of Narayanganj Press Club around 10:30am.
Protesting this, the activists tried to stage a sit-in, but police forced them to leave.
"We gathered together for a peaceful programme as per the instruction from the central committee," said ATM Kamal, secretary of Narayanganj city BNP.
"Anybody can hold programmes in front of the press club. Despite being a large political party, why would BNP be barred from organising programmes in front of the press club? We condemn this act by the law enforcers."
Contacted, Kamrul Islam, officer-in-charge of Narayanganj Sadar Model Police Station, told The Daily Star that the BNP did not take prior permission for the event.
Besides, police did not let them demonstrate on the road to avert untoward incidents, he added.
Barishal Metropolitan Police arrested Afroja Nasrin, assistant organising secretary of JCD central committee, around noon from in front of the party office near Ashwini Kumar Hall.
Moniruzzaman Faruque, vice president of Barishal city BNP, said police arrested Afroja "for no reason".
Nurul Islam, officer-in-charge of Barishal Model Police Station, said Afroja was arrested in a case over sabotage filed earlier.
In Khulna, BNP leaders in the rallies alleged that thousands of their leaders and activists were arrested and jailed in false cases.
Khulna city BNP President Nazrul Islam Monju said, "The Awami League robbed the people of voting rights."
In Bogura, JCD and Sechchasebak Dal men had an altercation around 1:15pm during a rally in front of the party office.
Contacted, Bogura BNP President Saiful Islam said he heard about a "little feud" between two groups.
Our Narayanganj, Barishal, Khulna and Bogura correspondents contributed to this report.