Movement from single platform
BNP, Juktofront, Jatiya Oikya Prokriya decide to join hands for five-point demand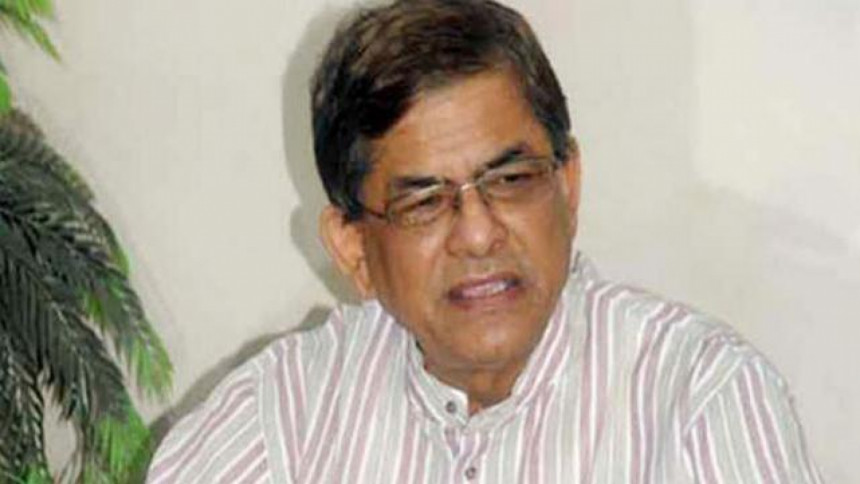 The BNP, Juktofront, and Jatiya Oikya Prokriya have decided to wage a movement from a single platform to press home their five-point demand, including release of BNP Chairperson Khaleda Zia.
Jatiya Samajtantrik Dal President ASM Abdur Rob made the announcement after a meeting of the parties was held at BNP standing committee member Khandakar Mosharraf Hossain's home in the capital yesterday.
Juktofront is an alliance comprising Prof Badruddoza Chowdhury's Bikalpadhara Bangladesh, Jatiya Samajtantrik Dal (JSD-Rob) and Nagorik Oikya.
The five-point demand also includes dissolving parliament and resignation of the prime minister before election, deployment of the army with magistracy power ahead of the polls, and no use of Electronic Voting Machines (EVMs) in the general election.
In reply to a question whether the Jamaat-e-Islami would be in the "greater unity", Rob said, "We are forging unity with the BNP, and all the pro-liberation forces can be in the unity process. But we cannot say whether any other parties will be with the BNP."
He also said people of the country wanted the unity to launch a movement against the "autocratic" government.
After the meeting, BNP standing committee member Moudud Ahmed said they agreed on the five-point demand and the "greater unity" process would move forward on the basis of the demands.
This was the first formal meeting of the BNP, Juktofront and Jatiya Oikya Prokriya.
After a brief pause in the efforts towards "greater unity", the BNP and other political parties involved sat yesterday to give the combine a proper shape.
The BNP has already assigned its Secretary General Mirza Fakhrul Islam Alamgir and standing committee members Khandakar Mosharraf Hossain and Moudud Ahmed to negotiate with other political parties for forging the unity.
Prof Badruddoza Chowdhury-led Juktofront has assigned Nagorik Oikya Convener Mahmudur Rahman Manna to negotiate with the BNP.
The process came to an apparent halt as Dr Kamal Hossain, convenor of Jatiya Oikya Prokriya and a key figure in the process, went abroad for treatment last month.
On September 22, several top BNP leaders shared the stage with Dr Kamal and Badruddoza at a citizens' rally and extended full support to the Jatiya Oikya Prokriya's three-point demand, including formation of a polls-time neutral government.