Padma bridge 'conspirators' to be tried: PM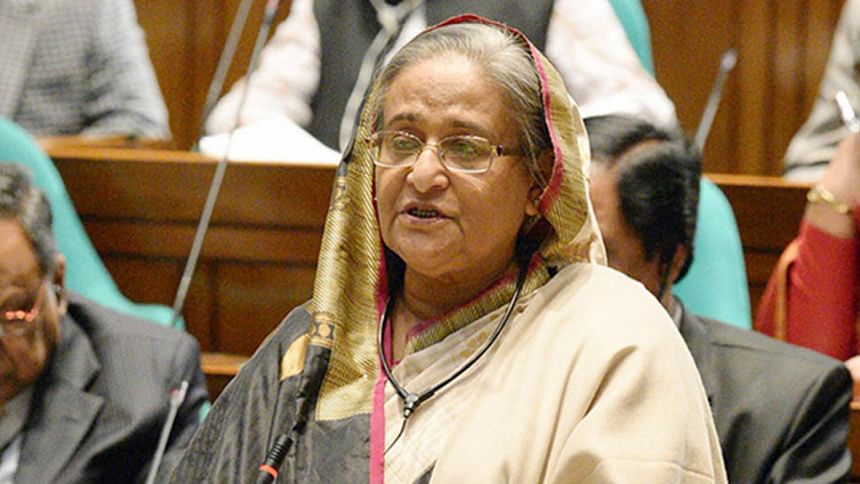 Prime Minister Sheikh Hasina told the parliament today that the 'conspirators' of the Padma bridge project will be tried under the country's existing laws.
"The Anti-Corruption Commission has carried out an investigation against those who were involved in a conspiracy to create obstacles towards implementing the Padma bridge project," the PM said.
In a reply to lawmakers' queries, the PM said the investigation by the ACC proved the allegations of corruption conspiracies in the Padma bridge project raised by the World Bank to be 'baseless'. 
While replying to a query by Jatiya Party lawmaker Kazi Firoz Rashid, the PM said her government has plans to extend gas pipelines to the southern parts of the country, phase by phase depending on the availability of gas and funds for the pipeline extension.
The premier added that there is a provision for the construction of a 30inch diameter gas pipeline within the Padma bridge project which has been financed by the Bangladesh government.
In reply to another query, the PM informed the House that the government has planned to equip 62,000 Urban Search And Rescue Volunteers (USARV) for successful rescue operations after any natural calamities, such as earthquakes.
In another reply, the PM also said the government has already trained 30,000 of the 62,000 volunteers.
There will be three USARV teams operating in Dhaka division and one each in Chittagong, Sylhet, Barisal, Khulna, Rajshahi and Rangpur divisions, she also said.
The number of Fire Service and Civil Defence stations in the country will be increased from 310 to 552 and the workforce will be doubled, the PM added.