Ousted Malaysian govt accused of covering up scandal at state fund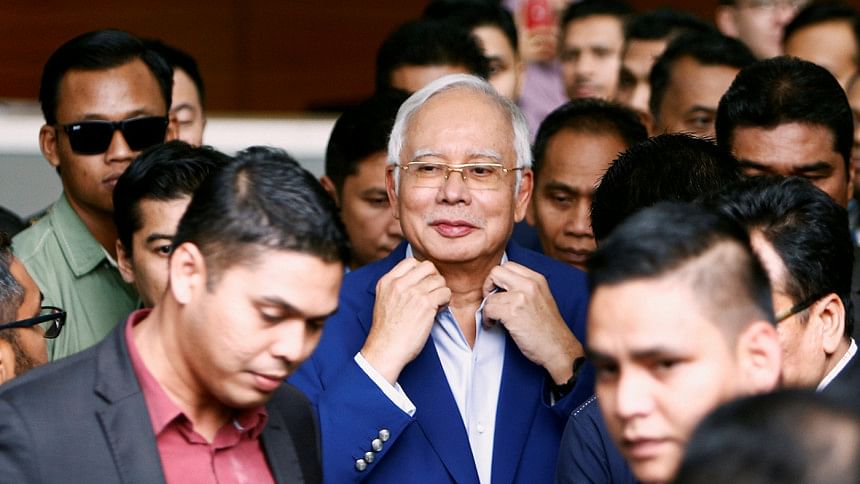 - New finance minister says Najib's government deceived parliament
- Anti-graft agency chief gives account of 2015 cover-up
- Najib was summoned to give statement, not to be charged
- Najib has consistently denied any wrongdoing at 1MDB 
The government of ousted Malaysian prime minister Najib Razak deceived parliament over the finances of state fund 1MDB and suppressed an investigation by intimidating and purging anti-corruption agents, officials said yesterday.
"It is clear that the previous government has conducted an exercise of deception to the public about certain hot-button items, especially 1MDB, and even misrepresented the financial situation to parliament," new Finance Minister Lim Guan Eng said in a statement.
Lim said he had discovered that Malaysia has been "bailing out" 1Malaysia Development Berhad (1MDB) debt obligations since April 2017, but the true financial situation was still unclear because officials were unable to access certain "red files".
The bailout had cost 6.98 billion ringgit ($1.8 billion) so far, but more payments of 954 million ringgit would fall due by November, and from 2022 Malaysia would be required to make further payments running into billions of ringgit, Lim said.
Earlier, the head of the Southeast Asian country's anti-graft agency gave an explosive account of how witnesses disappeared and officers were purged and intimidated after they tried in 2015 to charge Najib for siphoning funds from 1MDB.
Najib has consistently denied any wrongdoing since the 1MDB scandal erupted in 2015, but he replaced an attorney-general and several Malaysian Anti-Corruption Commission (MACC) officers to shut down the initial investigation.
Describing the lengths taken to suppress an investigation at the time, Shukri Abdull - who was restored to the agency following Najib's shock election defeat on May 9 - said that on one occasion a bullet was sent to his home.
Shukri was addressing a news conference after Najib arrived at the headquarters of the MACC, which has ordered him to explain transfers of $10.6 million into his bank account.
Shukri said he had called Najib into the agency to record a statement, not to arrest or charge him.
Several hours later, Najib emerged from the MACC headquarters and spoke briefly to reporters, saying he would be returning to complete his statement on Thursday.
Najib said he had amplified on a statement made to the agency in 2015 "with verification of documents and several more complete details".
The new government's uncertainty over how much debt Najib's administration had left behind provoked questions from foreign investors in Malaysian bonds and shares.
"If they have been fudging these figures, what else have they been fudging?" said Alex Holmes, Asia Economist at Capital Economics in London.
"ACCUSED OF BEING TRAITORS"
The MACC action is just the beginning of a new investigation into the alleged theft of billions of dollars from 1MDB, a scandal that dogged the last three years of Najib's near-decade-long rule and was a key reason why voters dumped him.
In the most revealing account so far of an apparent cover-up, Shukri said his agency had been poised to launch a case in 2015 against Najib but had been stopped in its tracks by the sacking of the attorney-general.
"We wanted to bring back money that was stolen ... Instead we were accused of bringing down the country, we were accused of being traitors," Shukri said, shedding tears briefly as he made his remarks.
This month's election upended Malaysia's political order, as it was the first defeat for a coalition that had governed Malaysia since its independence from colonial rule in 1957.
Malaysia's new leader, Mahathir Mohamad, who at the age of 92 came out of political retirement and joined the opposition to topple his former protege, has reopened investigations into 1MDB and has set up a task force to recover the money.
Since losing power, Najib and his allegedly shopaholic wife, Rosmah Mansor, have suffered a series of humiliations, starting with a ban on them leaving the country, and then police searching their home and other properties.
US TO PURSUE INVESTIGATION
Najib has said $681 million of funds deposited in his personal bank account were a donation from a Saudi royal, rebutting reports that the funds came from 1MDB.
The initial focus of the MACC's new investigation is on how 42 million ringgit ($10.6 million) went from SRC International to Najib's account.
SRC was created in 2011 by Najib's government to pursue overseas investments in energy resources, and was a unit of 1MDB until it was moved to the finance ministry in 2012.
MACC has been able to track the money trail from SRC more easily because transactions were made through Malaysian entities, whereas most other transfers of 1MDB funds went through foreign banks and companies.
The new 1MDB task force will liaise with enforcement agencies in the United States, Switzerland, Singapore, Canada and other related countries.
The US Department of Justice said on Tuesday it would pursue investigations into 1MDB and looked forward to working with Malaysian law enforcement authorities.
"The Department of Justice is committed to ensuring that the United States and its financial system are not threatened by corrupt individuals and kleptocrats who seek to hide their ill-gotten wealth," a DoJ spokesperson said in a statement.
The DoJ filed forfeiture complaints in 2016 and 2017 seeking to recover over $1.7 billion in assets traceable to funds allegedly misappropriated from 1MDB.
These complaints alleged that more than $4.5 billion was diverted from 1MDB and laundered through a web of shell companies and bank accounts located in the United States and elsewhere.