No scope to amend new laws before election: Quader
Decision on polls-time govt on Oct 26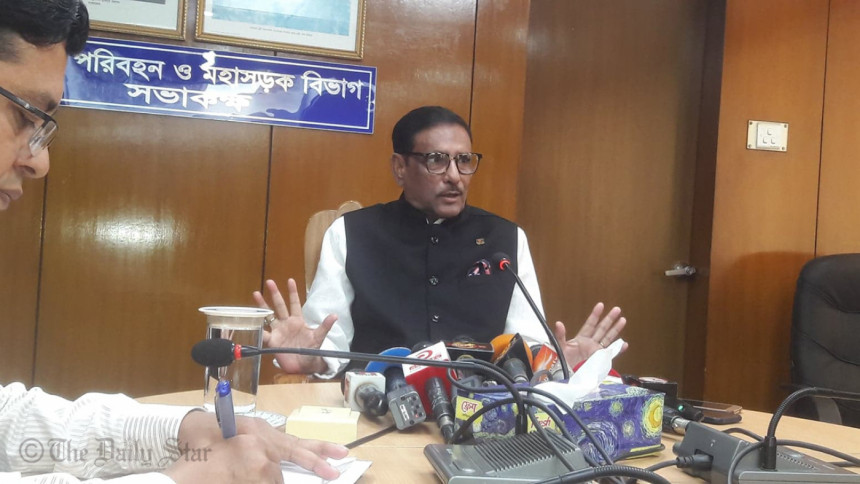 There is no scope to amend the much-debated Digital Security Act and Road Transport Act before the next general election, Road Transport and Bridges Minister Obaidul Quader said yesterday.
Quader, also the general secretary of ruling Awami League, said this while replying to questions at a press briefing at his secretariat office in the capital. The briefing was arranged to respond to contemporary issues.
From a human chain on October 15, the Sampadak Parishad (Editors' Council), a platform of editors, demanded proper amendments to nine sections of the Digital Security Act within the last session of the current parliament for the sake of independent journalism and freedom of expression.
Both Law Minister Anisul Huq and Information Minister Hasanul Haq Inu had earlier said time for discussion on the law was not over yet.
But yesterday, Quader said, "There is no scope for such amendment in this tenure of the government... However, we will keep watch so that the law is not misused. We will do it seriously ...."
The last session of this parliament started on October 21 and will end tomorrow. "The law was not enacted for journalists… Why are you in fear if you do not commit any offence?" he added.
ROAD TRANSPORT ACT
On Monday, Bangladesh Road Transport Workers Federation announced that it will enforce a two-day work abstention from October 28 if their eight-point demand, including bringing amendments to the Road Transport Act 2018, is not met.
Asked about their demands, Quader said there is no question of amending the law within the tenure of the government.
The minister said the law has been enacted after holding discussions with transport leaders for three years.
"I have asked them to refrain from movement. The government will bring changes to it if required," he added.
POLLS-TIME GOVERNMENT
Quader said Awami League will take final decision over the formation of the election-time government at a joint meeting of its central working committee, advisory council and parliamentary party on October 26 at Gono Bhaban.
He said one or two more ministers might be included in the cabinet from main opposition Jatiya Party, even if the current cabinet is trimmed down. The new ministers will be from members of the parliament, the minister said.
Quader said the situation before the last parliamentary election was different, and thus the cabinet was downsized. But, in other democratic countries, the size of a polls-time government remains the same.