3 held for 'spreading fake photos, derogatory remarks on PM'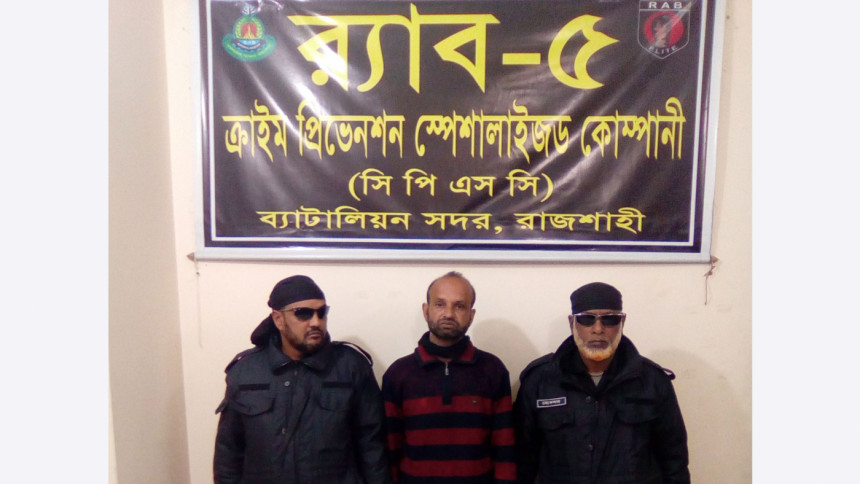 Rapid Action Battalion (Rab) today claimed to have detained three men in Chattogram, Bogura and Rajshahi for allegedly spreading photoshopped images and making derogatory comments about the prime minister on social media.
In Chattogram, Rab-7 arrested Md Tofazzal Hossen Helal, 40, a carpenter early today for allegedly making derogatory comments against Prime Minister Sheikh Hasina on social media.
He was arrested from Bolirhat area under Chandgaon Police Station in the city, said Major Mehedi Hasan, deputy director of Rab-7.
The Rab official said Helal has been posting derogatory comments and distorted photos of PM and Roads Transport and Bridge Minister Obaidul Quader from his Facebook ID over a long time.
"Scrutinising his social media ID, it is apparent that he is a supporter of BNP," Major Mehedi said, adding that he was handed over to Chandgaon Police Station for the next course of action.
In Bogura, Rab-12 personnel arrested Abu Rayhan Al- Biruni Pushkin, 36, a local businessman, early today for allegedly spreading rumours against government through Facebook.
Pushkin was arrested from his home at Naruli Moddhyapara of Bogura Sadar upazila, said Assistant Superintendent of Police SM Jamil Ahmed, also an official of Rab-12.
"We arrested him based on secret information that Pushkin has been spreading propaganda and false information against government, high ranked-government officials and army for a long time," he said.
Rab also seized two mobile phones and 17 screenshots of his Facebook shares and messenger during the raid, Jamil Ahmed also said, adding that the arrestee has been handed over to Bogura Sadar Police Station.
A case under Digital Security Act was also filed with the police station against him, he added.
SM Bodiuzzaman, officer-in-charge of the police station, confirmed the development to The Daily Star.
In Rajshahi, Md Akhlakuzzaman Ansari, 43, was arrested yesterday for spreading fake images of prominent persons of home and abroad like Bangabandhu Sheikh Mujibur Rahman, Prime Minister Sheikh Hasina, Tarana Halim, Aung San Suu Kyi through his android phone, a press release of Rab-5 today read.
He was arrested from his home for spreading false images which were used to propagate unrest, the press release added.