Graft trial: Khaleda blames jailors for absence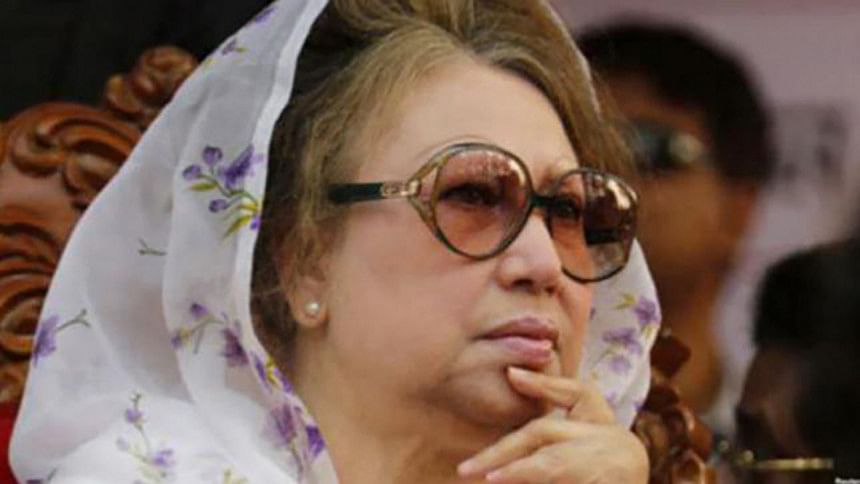 BNP Chairperson Khaleda Zia today told a local court that jail authorities did not produce her for trial in Niko graft case on February 20.
Speaking from a wheelchair during today's hearing on charge framing in the case, she told the judge that she was "ready to appear" that day.
"I was not produced before the court though I was ready. It was said that I was unwilling to come to the court. It was not right," she said.
On February 20, during indictment hearing, jail authorities said Khaleda could not be produced as she "did not wake up from sleep".
During hearing, BNP standing committee member Moudud Ahmed, an accused, said: "There is nothing in the case about me — no documents or witness".
"I gave my opinions when I was in the ministry's charge. Khaleda Zia also signed in the contract following rules. So, all the accused should be released from the case," he said.
Advocate Masud Ahmed Talukder, a lawyer for Khaleda, told the court that Khaleda Zia needed treatment as she was sick.
Anti-Corruption Commission's lawyer Public Prosecutor Mosharraf Hossain Kajol said Khaleda Zia can get treatment according to the jail code.
Judge Sheikh Hafizur Rahman of the Special Judge Court-9 of Dhaka fixed March 19 for the next hearing on the charge framing in the case.
The case was filed by ACC on December 9, 2007 with Tejgaon police accusing Khaleda and 10 others for abusing power to award a gas exploration and extraction deal to Canadian firm Niko.