Quader warns BNP against anarchy
Saifur president, Laskar secy of Matsyajibi League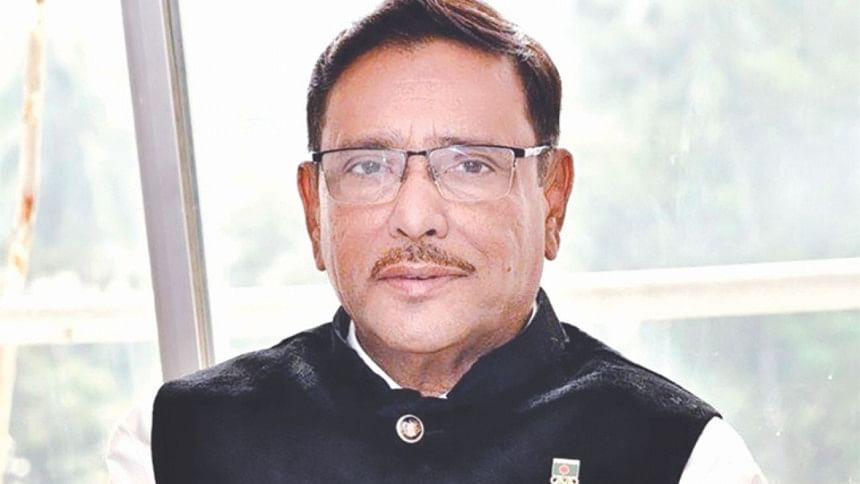 Awami League General Secretary and Road Transport and Bridges Minister Obaidul Quader today said actions will be taken if BNP carries out anarchy in the name of movement.
"Befitting reply will be given if BNP wants to fish in troubled water by creating disorder in the name of movement," he told the inaugural session of the national council of Awami Matsyajibi (fishermen) League at Krishibid Institution, Bangladesh (KIB) auditorium.
Quader said BNP does not abide by rules of law and court procedures.
"To create pressure on the court for the release of BNP chairperson Begum Khaleda Zia, the party's leaders and workers carried out vandalism, launched attacks on police and hurled brickbats on the premises of court," he added.
The AL general secretary urged the party leaders and workers to remain alert, saying conspiracy is being hatched to thwart the popular government of Prime Minister Sheikh Hasina.
About the Matsyajibi League, Quader said: "We do not want any leader who will be involved with extortion. We want clean-image leadership."
Awami League Presidium Member Matia Chowdhury, Office Secretary Dr Abdus Sobhan Golap and Relief and Social Welfare Secretary Sujit Roy Nandi were present on the occasion, among others.
Matsyajibi League Council Preparatory Committee convener Narayan Chandra Das presided over the function. Later in the council session, Obaidul Quader announced the names of newly elected leaders of Matsyajibi League.
Md Saifur Rahman and Sheikh Ajgar Laskar were elected president and general secretary respectively of the organization.
Saidul Alam Manik was made the executive president. Vice-presidents are Abul Bashar, Abdul Gafur, Mohammad Alam, Babul Miah, Mir Asaduzzaman, Shahe Alam Mia and Nasrin Sultana while Engineer Abdul Alim, Tipu Sultan and Rafiqul Islam Rafiq were made joint general secretaries.
Earlier in the morning, the AL general secretary inaugurated the council with the playing of the national anthem.