Nusrat died as cops didn't discharge duties properly: Moudud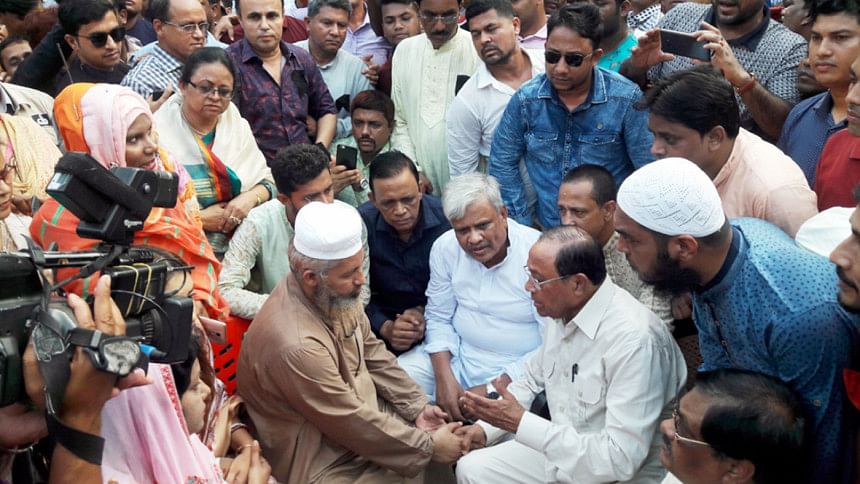 BNP Standing Committee Member Moudud Ahmed today said that the death of Feni madrasa girl Nusrat occurred as the law enforcers failed to deliver their duties properly.
"Had the law enforcers discharged their duties properly, then the miscreants could not have killed Nusrat by setting her on fire," Moudud said while talking to reporters after meeting with the victim's family members at Uttar Char Chandia village of Sonagazi upazila in Feni this evening.
Nusrat's death also proves that the country's law and order situation has sharply deteriorated, the BNP leader said.
Moudud, also a former law minister, alleged the government has kept police administration prepared only to repress and suppress the opposition party men instead of aiding people with security and legal support.
Many killing incidents like that of Nusrat have taken place in the country and this trend is continuing due to the lack of strong enforcement of the law.
Claiming that Nusrat was killed in a pre-planned manner, Moudud said, "It is a cruel killing; we have lost our words to express condemnation to the brutal killing."
If the teachers are engaged in such offensive acts, then the social depletion will reach an extreme level, the BNP leader said, pointing finger at Siraj Ud Dowla, principal of the madrasa.
He also called upon members of the law enforcement agencies to ensure a fair investigation into the murder case and exemplary punishment of the people involved in the heinous crime.
Moudud along with a group of BNP leaders today visited Nusrat's family members in line with the directive of BNP Chairperson Khaleda Zia, now in jail.
The BNP delegation also visited Nusrat's grave, placed wreaths there and offered prayers seeking eternal peace of the departed soul.
They also expressed their sympathy to the members of the bereaved family so that they can have the strength to bear the grief.
Nusrat, a student of Sonagazi Islamia Senior Fazil Madrasa in Sonagazi upazila of Feni, was set ablaze on April 6 allegedly for refusing to withdraw a case filed against Siraj Ud Dowla, principal of the madrasa, for sexually harassing her last month.
After fighting for her life for five days, the madrasa girl died at Dhaka Medical College Hospital on Wednesday night.