'Participatory does not equate to fair'
Did not change stance on polls, says Election Commissioner Mahbub Talukder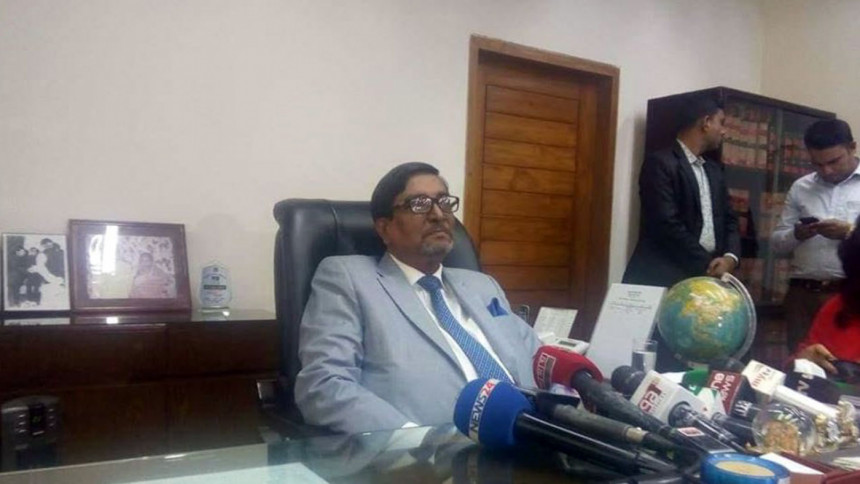 Election Commissioner Mahbub Talukder yesterday said he did not change his stance and reiterated that participatory polls does not necessarily equate to a fair election.
He made the remarks in a written statement to clear his stance regarding "confusion" over his comments at a programme organised to thank Election Commission (EC) officials on January 3.
At the programme, Mahbub said that the EC has held a participatory election and that created confusion.
"Several reporters asked me whether I changed my stance. So, it is necessary to clear the confusion," he said.
"On December 17, 2018, I said a participatory election means all political parties participate in the polls. That has no connection with a free and fair election. A participatory election is a primary achievement. The main concern is whether the election is held acceptably and credibly," Mahbub said.
"If the election is not held in an acceptable and credible manner, there will be no benefit even if it is participatory," Mahbub said.
"I didn't say anything about the credibility and acceptance of the national election at the [January 3] programme. Reporters asked me how the election was. I had earlier said ask your conscience and you will get the answer; I am still saying that," he said.
"I have not changed my stance," he claimed.
"The programme on January 3 was a ceremony to give thanks. It is considered civil to thank someone with a favourable comment. It is improper to analyse my speech of thanks politically," Mahbub said.
This is the first time the election commissioner faced the media officially after the December 30 election.
Ahead of the election, Mahbub had alleged that there is no level playing field for the polls. He issued a written statement on December 17, in which he said fairness was still absent and the words "level playing field" had become meaningless.
The next day, Chief Election Commissioner (CEC) KM Nurul Huda told reporters in Rangamati, "He [Mahbub] did not speak the truth. The overall election atmosphere is good."
Mahbub, on December 19, retorted: "It must be kept in mind that the chief election commissioner and all other election commissioners are equal."
The remarks and counter-remarks of the CEC and Mahbub hogged the headlines as the two publicly spoke against each other regarding the level playing field.
Expressing grave concern over a spate of violence ahead of December 30 polls, Mahbub on December 26 said that violence and election cannot go hand in hand.
"An election is not just about being participatory; it has to be free, fair, neutral and lawful. Besides, we will not be able to hold our heads high before the world if the election is not acceptable and credible," he added.