Khaleda's Trial: Makeshift court in jail illegal: SCBA chief
Law minister says it's for smooth proceedings and her security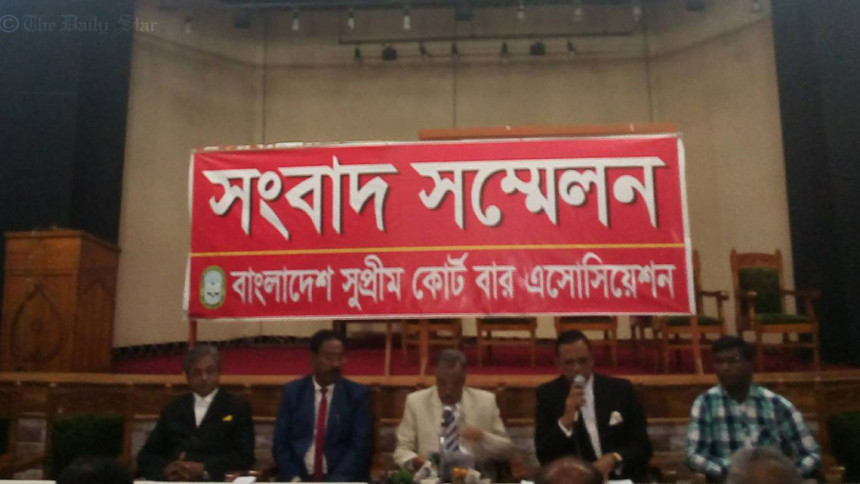 Supreme Court Bar Association President Zainul Abedin yesterday demanded cancellation of the law ministry's gazette that made way for holding trial of BNP Chairperson Khaleda Zia at old Dhaka central jail.
"The government has illegally set up a makeshift court inside the jail to hold a camera trial and punish the BNP leader illegally," he said while addressing a press conference at the SCBA auditorium.
Saying that the trial in the makeshift court is contradictory to section 352 of the Code of Criminal Procedure (CrPC), Zainul, also a BNP vice-chairman, alleged that the government's motive was to keep the proceedings off limits to the public and the media.  
According to section 352 CrPC, a court will be set up at such a place where people can enter.
Meanwhile, denying the allegation of camera trial raised by the SCBA president, Law Minister Anisul Huq said the court had been set up to ensure smooth proceedings and security of Khaleda.
"Khaleda did not appear before the court for the last seven months citing security reasons."
The minister made the comment while talking to reporters after a roundtable programme in the capital's Tejgaon area.
He said as per the definition, camera trial refers to a court where no public or media can enter. In such places, only the judge and the parties are present.
"However, Khaleda had talked to journalists at the court, which means it is open for all and access is not restricted," he said, adding, "The trial does not fall within the definition of camera trial."
The law ministry issued the gazette on September 4 and the makeshift court was set up at old Dhaka central jail the next day to hold trial proceedings against Khaleda in the Zia Charitable Trust corruption case.
Earlier in February, the BNP chief was sentenced to five years' imprisonment in the Zia Orphanage graft case.