Buet students issue 7-day ultimatum to ban politics on campus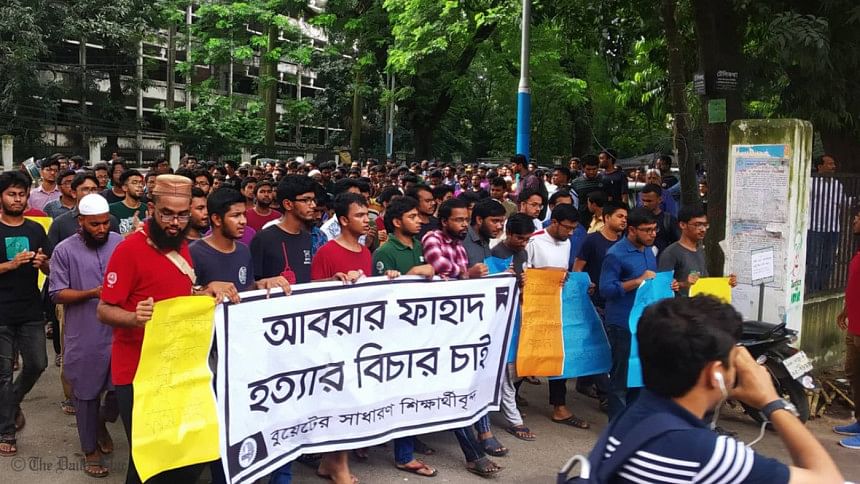 Protesting students of Bangladesh University of Engineering and Technology (Buet) today demanded a complete ban on organisation-based politics on the campus within the next seven days.
The general students of Buet who have been protesting on the campus since the brutal murder of their fellow Abrar Fahad gave the authorities until October 15 to ensure the ban.
They placed a fresh 10-point demand today following a silent procession on the campus, which also included capital punishment to the killers, expulsion of all the accused from the university.
They further demanded the Vice Chancellor to come to the campus by 2:00pm today and answer all questions of the students which includes his explanation as to why he failed to show up on the campus even after thirty hours of Abrar Fahad's killing.
Students also demanded an end to all sorts of ragging in the residential halls. They wanted a common website/platform/forum which will have all such incidents that have previously occurred and will contain details of the legal progress.
Buet Institutional Information System account needs to be used for this platform and work in this regard needs to be visible by October 11, the students demanded.
CCTV cameras should be installed on both sides of every wing of the residential halls, the students added.
The other demands are withdrawal of Sher-e-Bangla Hall Provost Muhammad Zafar Iqbal Khan by 5:00pm of October 11 for his failure to protect students, compensation to Abrar's family and bearing their expenses for running legal battle in the murder case.
They also demanded expulsion of all the identified killers from Buet for life within 72 hours, trial of the Abrar murder case at a speedy tribunal, and expulsion of those involved in ragging students at Buet dormitories.
Abrar Fahad, a second-year student of EEE department, was beaten to death allegedly by some Bangladesh Chhatra League (BCL) leaders at the university's Sher-e-Bangla Hall sometime between 7:30pm Sunday and 2:30am Monday.
The gruesome murder has touched off widespread outrage with students of different public universities taking to the streets demanding the killers' punishment.
Yesterday, several hundred Buet students came out of dormitories and gathered in front of the university's central cafeteria and placed their eight-point demand.
They also protested the "silence" of the vice chancellor and his administration over Abrar's murder. VC Saiful Islam neither came to the campus nor gave any statement after the murder. He finally showed up on the campus to hold an urgent meeting with the hall provosts around 38 hours after the killing.
So far, police have arrested 12 out of the 19 accused in the case. A Dhaka court yesterday granted a five-day remand for each of the 10 accused who were arrested on Monday.