BNP's token hunger strike tomorrow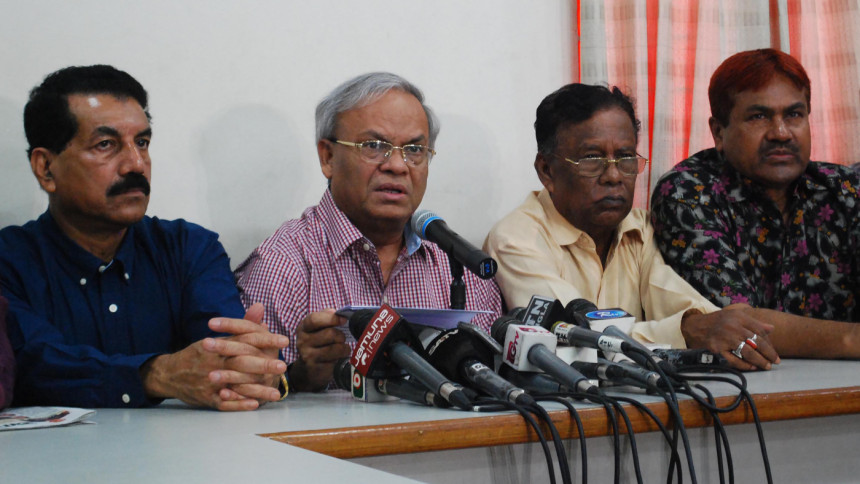 BNP will observe token hunger strike across the country tomorrow demanding immediate unconditional release of party's imprisoned Chairperson Khaleda Zia.
The programme will begin from 10:00am at all district and divisional level headquarters including the capital Dhaka and continue till 12:00pm to press home their demand, BNP Senior Joint Secretary Rizvi Ahmed announced the programme while addressing a press conference at the party's Nayapaltan central office.
Rizvi also asked leaders and activists of the party's different front and associated bodies to successfully observe the token hunger strike forcing the government to realise their demand.
Khaleda Zia also a former prime minister landed in Old Dhaka central jail on February 8 after a special court sentenced her to five years rigorous imprisonment in Zia Orphanage Trust graft case.
Rizvi criticised the government for its inaction in taking care of Khaleda Zia's health condition even though she is seriously ill and said it is nothing but the deception of the government with her.
"Khaleda Zia's left leg and hand will go insensitive if she is not given treatment immediately," Rizvi said quoting Khaleda Zia's personal physicians.
A 10-member delegation of BNP led by its Secretary General Mirza Fakhrul Islam Alamgir met Home Minister Asaduzzaman Khan Kamal two days ago and urged him to take a step for providing her treatment at a specialised hospital.
Two days have gone but the government did not take any step though home minister has said that a medical board will be formed again to treat Khaleda Zia, Rizvi said.
"I am on behalf of BNP is calling upon the government to shift Khaleda Zia to a specialised hospital to ensure her immediate appropriate treatment," he said.
300 BNP men detained
The government is drawing a blueprint to hold a one-sided election again in the country and thus it is engaged in carrying out arrest spree against the opposition party men across the country deliberately, he said.
Around 300 BNP men from different parts of the country including 275 from the capital were detained in the last two days as they held human chain programme to register their demand for Khaleda Zia's immediate unconditional release, he said.
The government will have to release the detained party men and withdraw the politically motivated cases lodged against them if it wants to hold the next general election in a free, fair and credible manner, he said.
Yesterday UN human rights commissioner Michelle Bachelet said that the government should do more to ensure freedom of expression, which is indispensable for free and fair elections.
Referring to the remarks, Rizvi said the Awami League-led government has been carrying out repressive and oppressive activities against the opposition party men for the last 10 years.
Many innocent people have been victimised of killing in the name of so-called crossfire, enforced disappearance. Even the students who took to the streets for safe road did not spear from the hands of the government, he said.
The government should bring all the offenders to book for trial, the BNP leader said.