Action against Dr Kamal's attackers after probe: CEC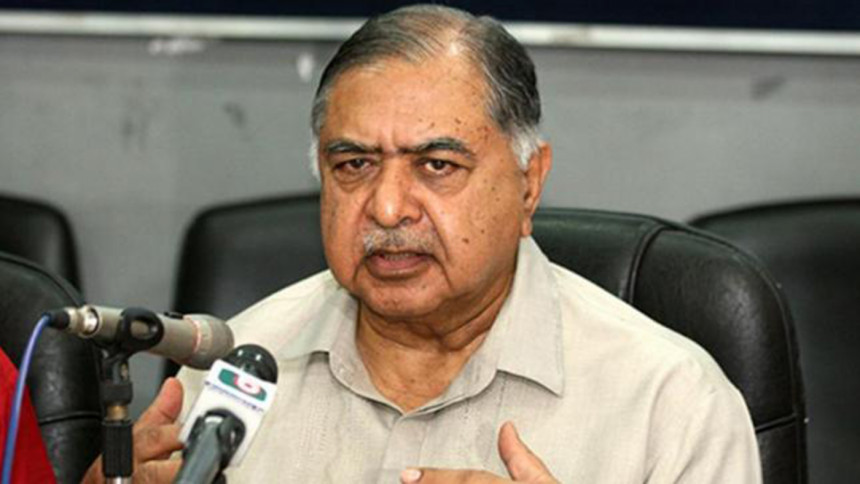 Chief Election Commissioner KM Nurul Huda today said action will be taken after investigation against those who launched an attack on Gono Forum President and Jatiya Oikyafornt key leader Dr Kamal Hossain yesterday.
Terming the incident sad and unexpected, the CEC said, "The incident is a criminal offence and will be investigated as per the law.  We will send this to the election inquiry committee. They will probe it."
"Dr Kamal Hossain is a senior citizen and a renowned personality. An attack on him is undesirable and unexpected," he said.
Huda said this at a press briefing at the Election Commission this afternoon.
WHAT DID CEC SAY ON THE RECENT SPATE OF ATTACKS?
The CEC said a letter will be sent to the Home Ministry tomorrow or the day after to ensure no politician is harassed, said KM Nurul Huda.
However, the CEC reiterated that a level-playing field has been ensured and candidates are electioneering peacefully.
WHAT HAPPENED IN THE ATTACK?
Dr Kamal Hossain's motorcade was allegedly attacked at the Martyred Intellectuals Mausoleum in Mirpur area of Dhaka yesterday morning.
The motorcade came under the attack when Dr Kamal was coming out of the mausoleum after paying tributes to the martyred intellectuals around 9:45am, Latiful Bari Hamim, a staff of the Oikyafront's media wing, told The Daily Star.
Driver of Jatiya Samajtantrik Dal (JSD) President ASM Abdur Rob, who was with Dr Kamal, was injured while the attackers, chanting slogan "Joy Bangla," vandalised several vehicles of the motorcade, said Hamim.
However, both Dr Kamal and Rob were unhurt, he further said.
Selimuzzaman, officer-in-charge (OC) of Darussalam Police Station, said police rushed to the spot sensing untoward noise but did not find anyone in the area.
Kamal Hossain was accompanied by some top leaders of Jatiya Oikyafront, including: Gonoshasthaya Kendra founder Dr Zafrullah Chowdhury; BNP leader Abdus Salam; Reza Kibria, son of slain former Awami League Finance Minister Shah AMS Kibria; and others.
They went to the Martyred Intellectuals Mausoleum on the occasion of the Martyred Intellectuals Day yesterday.