Mash may buy AL nomination form today
Shakib backtracks on decision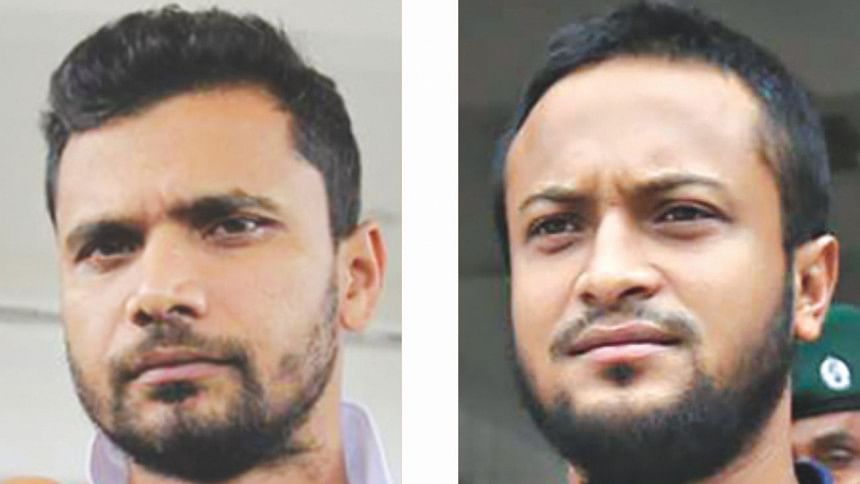 If things go as planned and injury does not sideline the country's most popular cricketer Mashrafe Bin Mortaza leading up to next year's ICC World Cup, Bangladesh might present an MP [Member of Parliament] at the global showpiece event.
And as a first step towards that lofty personal goal, Bangladesh's most successful ODI captain will appear at Awami League president's Dhanmondi office to collect his nomination paper today.
Mashrafe will contest the 11th parliamentary elections to be held on December 23 with Awami League ticket, said Md Abu Naser, senior information officer of the ministry of Road Transport and Bridges, yesterday. Although the party spokesman had also informed about another popular cricketer Shakib Al Hasan's bid for elections, the all-rounder, after having himself confirmed his willingness to run for the election during the day, backtracked on his decision later in the night. He informed Daily Prothom Alo late last night that he would not be buying nomination paper for the upcoming election.
Should there be no late twist in the plot, the impending introduction of Mashrafe in the cut-throat political field will be unique in the context that no other top professional player has previously contested Bangladesh's national election while still playing at the highest level.
Instances of top professional athletes contesting any national election are rare. Filipino boxer Manny Pacquiao, who also had a brief foray into professional basketball, is the only high profile athlete currently serving as a senate member of his country. Pacquiao is an exception to a general trend of athletes turning to politics only after their retirement from the sporting field.
Bangladesh has seen retired sports personalities becoming lawmakers, with national cricket team's former captain Naimur Rahman Durjoy, national football team's former captain Arif Khan Joy and footballer-turned-businessman Abdus Salam Murshedy currently acting as MPs.
Now that Mashrafe, who will arguably be the most important component in Bangladesh's first real shot at World Cup glory in England next year, will be running in the 11th parliamentary election does not come as a surprise. It was in the making for quite some time. Planning minister AHM Mustafa Kamal first made it public on May 29 this year.
"Mashrafe will contest the elections from Narail," Kamal, also a former Bangladesh Cricket Board president, said while briefing reporters after an ECNEC meeting. 
"Shakib will also be contesting the elections," Kamal had also said.
However, two days later, Awami League general secretary Obaidul Quader snubbed that suggestion.
"There is a surprise in nominating candidates for the next general election indeed but we do not want to comment over Mashrafe and Shakib in this regard before the next World Cup," Quader had said.
"I have talked to Shakib and I was told that they don't want to think about participating in politics and elections right now," added the Awami League general secretary at that time.
But as things stand at the moment the wind has changed. It may be a spectacular addition in ruling Awami League's campaign for a third consecutive victory in the national election, but the news of Mashrafe and Shakib contesting in the polls yesterday morning came as a surprise to the sports fraternity.
The reaction on social media platforms was intense, with the general notion that it would be a distraction destined to harm Bangladesh's build-up to the all-important World Cup.
Under Mashrafe's leadership since 2015, Bangladesh has made tremendous progress in the one-day format of the game. The Tigers made it to the World Cup quarterfinal in 2015. They have won more games than lost under Mashrafe since then, winning 38 of 55 ODI matches.
Besides, Bangladesh also made it to the semifinals in the 2017 Champions Trophy in England and reached consecutive Asia Cup finals, with the last one in Dubai where the Tigers suffered a last-ball defeat to India.