SC dismisses Khaleda's bail prayer
BSMMU asked to provide Khaleda with treatment as per medical board's recommendations
The Supreme Court today dismissed BNP Chairperson Khaleda Zia's bail prayer in the Zia Charitable Trust graft case.
After the state and defence concluded their submission, the six-member bench of the Appellate Division headed by Chief Justice Syed Mahmud Hossain passed the order in the afternoon.
The apex court however asked Bangabandhu Sheikh Mujib Medical University (BSMMU) to provide Khaleda with "biological treatment" as per the medical board's recommendations.
The apex court started hearing on the bail prayer in the morning amid an argument over presence of the number of state and defence counsels.
At the beginning of the hearing, Khaleda's lawyer Khandker Mahbub Hossain told the court that a huge number of deputy attorney generals and assistant attorney generals were present at the courtroom.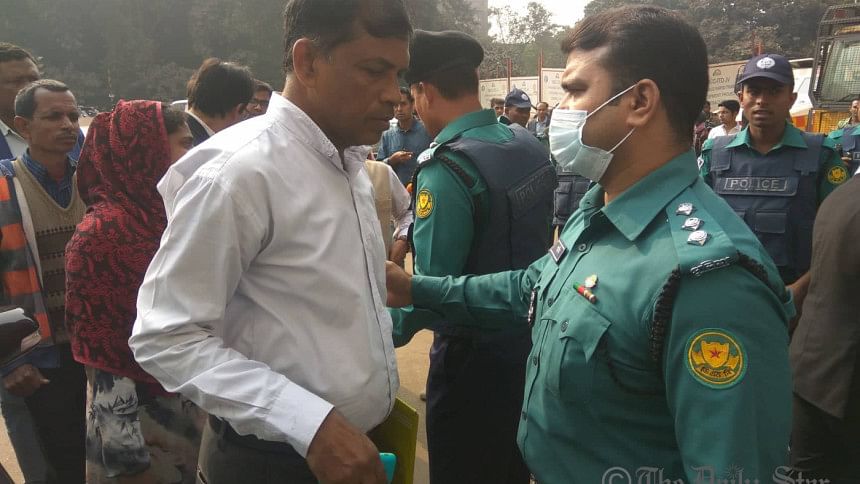 Therefore, the defence counsels (Pro-BNP lawyer) cannot have enough space in the courtroom, Khandker Mahbub said.
He requested Chief Justice Syed Mahmud Hossain to allow 30 lawyers each from defence and state.
Then, the chief justice agreed with the proposal.
At the same time, the pro-BNP lawyers created chaos and shouted at the entrance of the courtroom as police and administration did not allow all of them at the courtroom.
During hearing, Khaleda's lawyers Advocate Zainul Abedin read out the medical report prepared by BSMMU about the health condition of Khaleda.
According to the report, Khaleda Zia needs advance treatment as she is very sick and she is going to be disabled.
Zainul Abedin said he is praying for Khaleda Zia's bail to the apex court on humanitarian ground.
Meanwhile, security measures at the Supreme Court area was beefed up centering the hearing.
Additional policemen were deployed in front of the entrance of SC and people willing to enter the court premises are being allowed after checking on those.
Soon after the bail petition was dismissed, Jatiyatabadi Chhatra Dal leaders and activists of Dhaka University unit brought out a protest procession on the campus.
Khaleda has been behind bars since February 8 last year after a special court jailed her in the Zia Orphanage Trust corruption case. Later, she was found guilty of graft in another case.
However, her party claims those are politically motivated cases.
During the hearing on December 5, a group of pro-BNP lawyers created an unprecedented chaos at the Supreme Court, forcing the chief justice and five other judges to leave the courtroom.
The lawyers shouted at the apex court judges, "Shame, Shame", "We want justice", "Khaleda Zia has the right to get bail". The pandemonium hampered judicial proceedings for more than an hour.