BNP must participate in next polls: Khaleda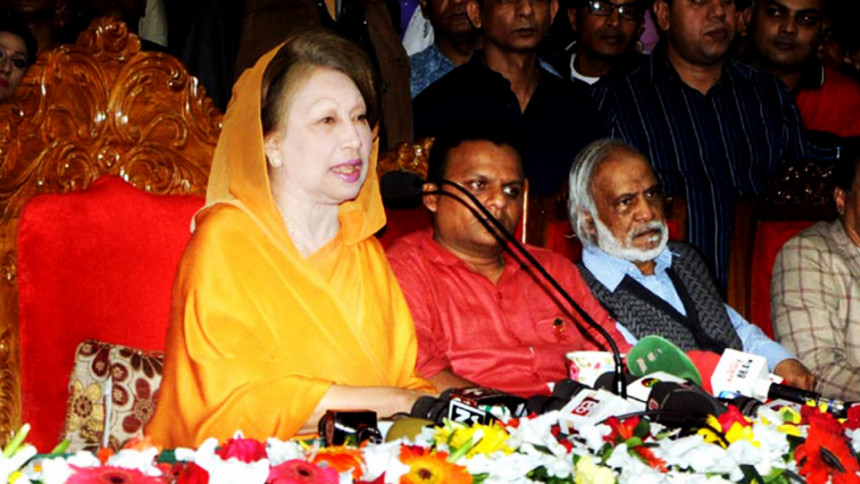 BNP Chairperson Khaleda Zia today said that her party must take part in the next general election at any cost.
"We must participate in the next general election. No one will be able to keep us aside from the election," Khaleda Zia said while addressing a function at the Institution of Engineers, Bangladesh in Dhaka this evening.
The BNP-led alliance boycotted the last parliamentary election on January 5, 2014, as the election was not held under a non-partisan government.
Now there is an uncertainty over BNP's participation in the next general election as the government has rejected the party's demand for restoration of the non-partisan election-time administration. In such a situation, the BNP chief made it clear that her party will take part in the next polls.
The former prime minister also called upon the ruling Awami League to dissolve the current parliament before holding the next general election.
She also blasted the government for skyrocketing price of the daily essentials.
Earlier, after nearly one hour of her stay in front of the programme venue, the authorities allowed the BNP chief to enter there.
Her party's student wing Jatiyatabadi Chhatra Dal (JCD) was scheduled to hold a programme there at 2:00 pm, to mark its 39th founding anniversary. Khaleda, a former prime minister, was supposed to join the programme as the chief guest.
But, JCD activists found the gate of the institute under lock and key at 10:00 am with members of the police guarding the gate.
As they approached the institution authorities to know why the gate was kept under lock and key from the police guard, the law enforcers said the authorities have taken the steps 'for the safety and security of the president'.
The president, Md Abdul Hamid, joined a programme in the Supreme Court located next to the institution.
Later in the afternoon, several hundred activists of JCD took position in front of the main entrance of the institution and staged demonstration to press home their demand for opening the gate.
Khaleda joined the agitating JCD men at 4:25 pm and stayed there until 5:20 pm when the authorities opened the gate.