Khaleda blasts EC over army deployment strategy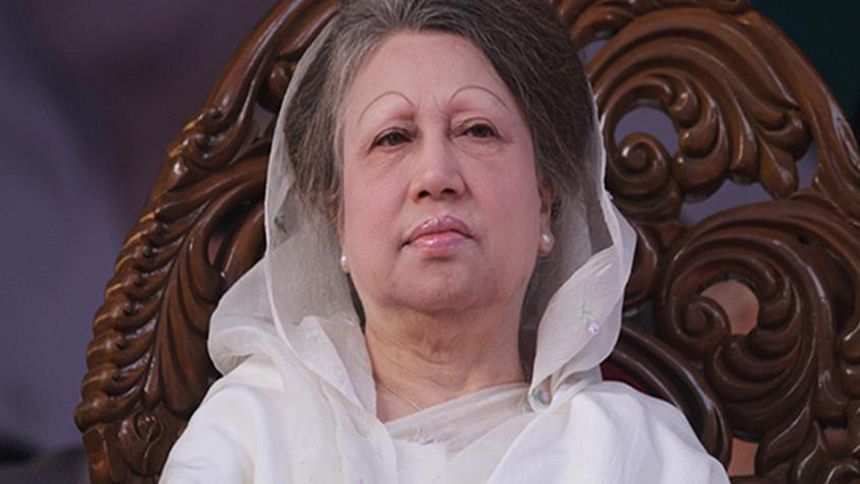 BNP Chairperson Khaleda Zia this afternoon lambasted the Election Commission for its changed course of action regarding deployment of army during the city corporation elections.
"It is not possible to ensure security of voters keeping the army men inside cantonments," she said while speaking at a wayside rally at the entrance of Bashundhara residential area.
The BNP chief said, "Our army provides security during elections in different countries. Then why they will not be deployed during elections in our country."
People demand that the EC arrange deployment of army during the April 28 Dhaka and Chittagong city corporation elections, she added.
For the April 28 city polls, army members will not be seen patrolling the streets, as the Election Commission does not want them to.
The EC rather wants them to remain inside the cantonments as a "reserve force" for four days since April 26.
In a letter to the Armed Forces Division, the commission sought one battalion (over 700 members) of army for each of the three city corporations two in Dhaka and one in Chittagong  that go to polls on Tuesday.
The former premier said, "The Dhaka city people have already taken their decision… they want change."
The BNP chief resumed electioneering for her party-blessed mayoral candidates in Dhaka North and South city corporation elections this afternoon.
She left her Gulshan residence around 4:40pm to campaign for BNP-backed mayoral aspirant in Dhaka North City Corporation election Tabith Awal. .
Her motorcade is approaching towards Bishwa Road, reports our correspondent.
The BNP chief is accompanied by the party Vice Chairman Selima Rahman, Khaleda's special assistant Shimul Biswas, and personal assistant Mahbubul Alam in her SUV.
Jatiyatabadi Chhatra Dal President Rajib Ahsan, General Secretary Akram Hossain and some other JCD leaders are guarding Khaleda's SUV in the campaign.
The BNP chief had paused the campaigning yesterday following recent attacks on her motorcade by miscreants.
However, the Nissan Petrol SUV has been fixed yesterday after the alleged Chhatra League men carried out attacks targeting it at Banglamotor intersection, damaging one window.