'Jukto Front won't sit with BNP if Jamaat ties not cut'
Says Badruddoza Chowdhury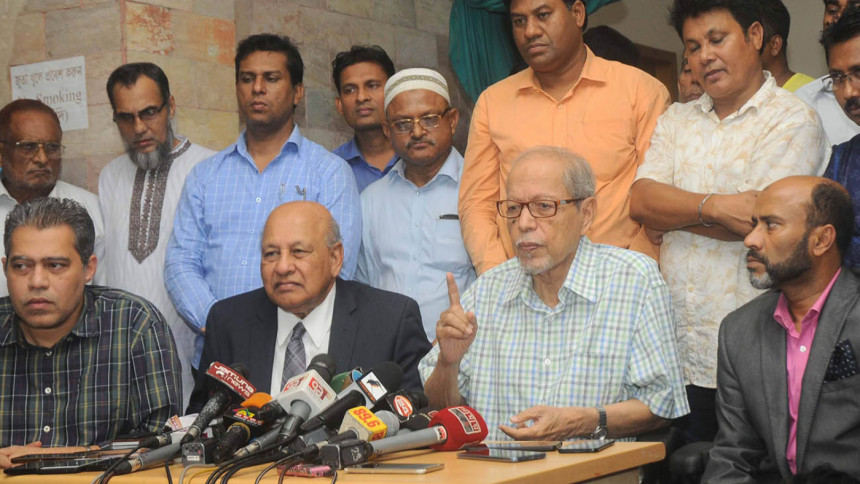 Jukto Front will not sit with BNP if the party does not sever ties with anti-liberation forces, Bikalpa Dhara Bangladesh President and also Chairman of the front AQM Badruddoza Chowdhury said today.
"We have given a condition to BNP to cut its ties with Jamaat but it did not comply with the condition. And thus, we didn't join the national unity," said Badruddoza Chowdhury, also a former president of the BNP-Jamaat government.
Speaking at a press conference at his Baridhara residence in Dhaka, Badruddoza Chowdhury said from now his party will not sit with BNP until it cuts its ties with Jamaat-e-Islami.
Badruddoza Chowdhury cleared his party's stance when Gono Forum President Dr Kamal Hossain from another a press conference announced a new alliance 'Jatiya Oikya Front' with BNP and two other parties.
He also accused the leaders of Kamal-led Jatiya Oikya Prokriya as their efforts to build a greater national unity against the ruling quarter went in vain.
Bikalpa Dhara Bangladesh Secretary General Maj (retd) Abdul Mannan said an evil effort was being hatched to form a national unity with the anti-liberation forces keeping the countrymen in the dark.
Claiming that Bikalpa Dhara Bangladesh is on rigid stance in terms of its political norms and ideology, Mannan said his party will not take part in any conspiracy to put BNP in power unilaterally.