Oikyafront's demand disrespectful to people
Law minister says about calls for re-election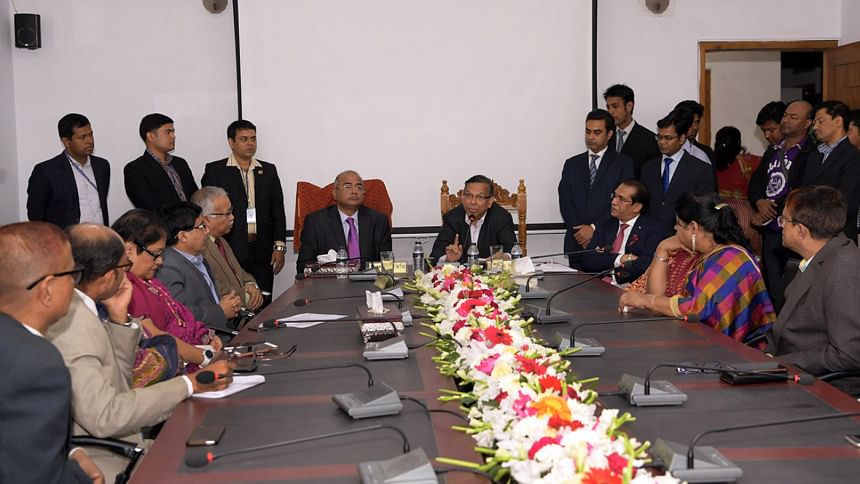 Law Minister Anisul Huq yesterday said Jatiya Oikyafront's demand for holding a re-election is unconstitutional and "very illogical".
"Jatiya Oikyafront's demand is an expression of disrespect to the people," the minister said while talking to reporters after attending a programme, organised to accord a farewell to Zafrul Hasan, outgoing director of National Legal Aid Services Organization (NLASO), at its Bailey Road office.
The law minister said Oikyafront has no right to dishonour the people, who have cast their votes in the December 30 general election.
Replying to a question, Anisul Huq also said, Hefajat-e-Islam Chief Ahmad Shafi's comment about girls' education is opposing to the positive development of the country.
"Last year, Prime Minister Sheikh Hasina recognised Dawra degree of Qawmi madrasa as equivalent to master's degree, which was a positive step. Allama Shafi is a senior person. With due respect to him, I want to say that his comment will be opposite to the country's positive development. It will be better if such a statement is retracted," the law minister said.
"The government will not bring any change in running the country or its [government] policies. The Sheikh Hasina-led government is committed to upholding the rights of women. The commitment will be strengthened and the country will move forward; and it's the government's policy and belief," he said.
Acting director of NLASO Bikash Kumar Saha presided over the function, where Law Secretary ASSM Zahirul Haque Dulal and its Joint Secretary Golam Sarwar also spoke.