HC defers Khaleda's hearing in Zia Orphanage case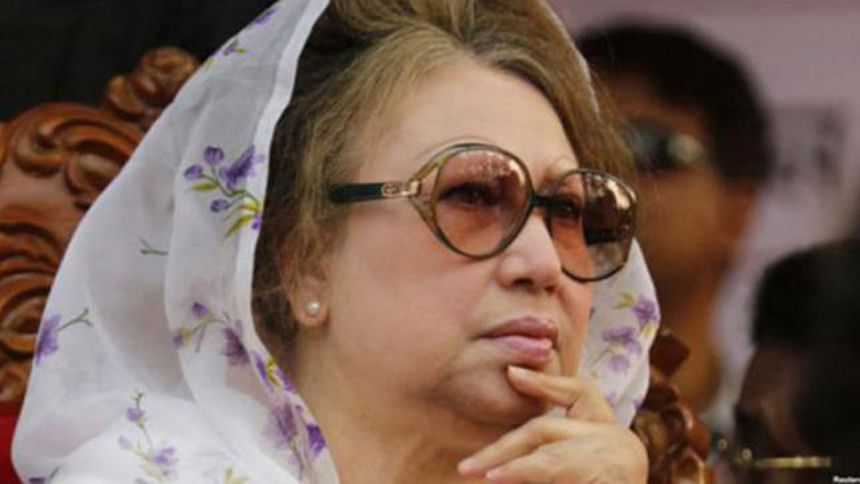 The High Court today once again deferred the hearing on the four appeals in Zia Orphanage Trust corruption case in which BNP Chairperson Khaleda Zia was sentenced to five years' imprisonment.
The HC bench of Justice M Enayetur Rahim and Justice Md Mostafizur Rahman today set 10:30am on July 12 for starting the hearing on the appeals.
The deferment order was passed after Khaleda Zia's lawyer sought adjournment of the hearing.
Earlier, the HC bench deferred the hearing on the appeals for two times.
Khaleda's lawyer Advocate A J Mohammad Ali today requested the HC bench to adjourn the hearing saying that the apex court will pass orders on July 12 on two petitions filed by Khaleda seeking review of its May 16 order that asked HC to hear and dispose of her appeal in Zia Orphanage Trust corruption case by July 31.
Additional Attorney General Murad Reza and Anti-Corruption Commission's lawyer Advocate Khurshid Alam Khan requested the HC to start hearing on the appeals.
Of the four pleas, one was filed by the BNP chief seeking acquittal of the charges, a revision petition was filed by ACCseeking increase in Khaleda's jail term and two others were filed by convicts -- Qazi Saleemul Huq alias Qazi Kamal and Sharfuddin Ahmed -- seeking their acquittal of the charges in the case.
On February 8, the Special Judge's Court-5 of Dhaka sentenced Khaleda to five years' imprisonment after finding her guilty in the graft case filed by the ACC.
The court also jailed Tarique Rahman, now the acting chairman of BNP, and four others to 10 years' imprisonment and fined them Tk 2.1 crore.
The HC on March 12 this year granted four-month bail to Khaleda in this case. The Appellate Division of the Supreme Court on May 16 upheld the bail order, which will expire on July 12.
The former prime minister filed a petition with the HC seeking extension of the bail order.
Meanwhile, HC adjourned till tomorrow the hearing on a petition filed by Khaleda seeking stay on the trial against her in the Comilla arson case.
The bench of Justice AKM Asaduzzaman and Justice SM Mozibur Rahman passed the adjournment order after concluding today's hearing, Deputy Attorney General Dr Md Bashir Ullah told The Daily Star.
Seven people were killed and many injured after a bus was torched in Chouddagram upazila in 2015.
The following day police lodged two cases for murder and another for arson in this connection.
On May 28 this year, the HC has granted bail to Khaleda for six months in the murder case. Later, on July 2 the apex court stayed the order and asked the HC to hear and dispose of the rule issued over her permanent bail within four weeks.