Trudeau invites Hasina to G7 special session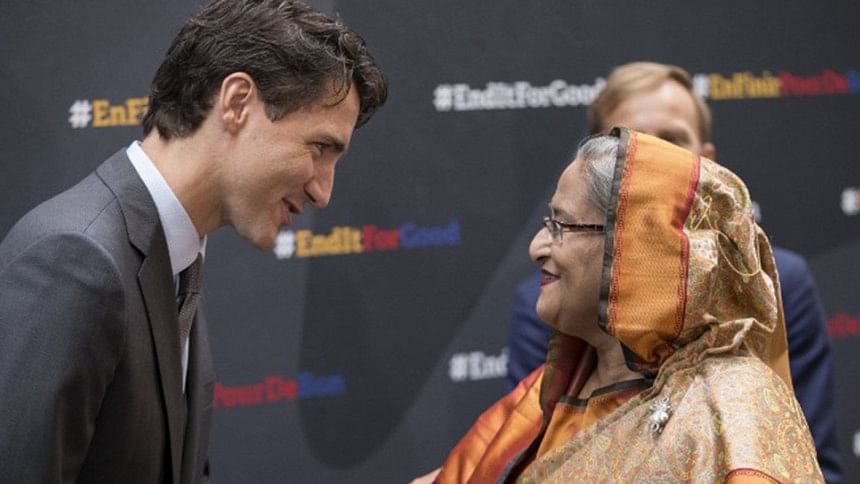 Prime Minister Sheikh Hasina has been invited by her Canadian counterpart Justin Trudeau to join a session of the G7 Summit.
Trudeau yesterday announced that Canada will welcome the Bangladesh premier and 15 other world leaders and heads of international organisations to a special outreach session of the G7 Summit on June 9.
The session will focus on healthy oceans and resilient coastal communities, reads a news release of Canada PM's official website.
Next week, we'll welcome @g7 leaders to Charlevoix to address some of the world's most pressing challenges together. We've also invited reps from the @UN, @IMFNews, @OECD, @WorldBank & other leaders from around the world to work on growing our economies and protecting our oceans:

Justin Trudeau (@JustinTrudeau) June 1, 2018
The list of the invited world leaders and heads of international organisaions as follows:
Mauricio Macri, president of Argentina and Chair of the G20
Sheikh Hasina, prime minister of Bangladesh
Jovenel Moïse, president of Haiti and chair of the Caribbean Community (CARICOM)
Andrew Holness, prime minister of Jamaica
Uhuru Kenyatta, president of Kenya
Hilda Heine, president of the Marshall Islands   
Erna Solberg, prime minister of Norway
Paul Kagame, president of Rwanda and chair of the African Union
Macky Sall, president of Senegal
Danny Faure, president of Seychelles
Cyril Ramaphosa, president of South Africa
Nguyễn Xuân Phúc, prime minister of Vietnam
Christine Lagarde, managing director of the International Monetary Fund
José Ángel Gurría, secretary-general of the Organisation for Economic Co-operation and Development
António Guterres, secretary-general of the United Nations
Kristalina Georgieva, chief executive officer of the World Bank
"These leaders and heads of international organizations will meet with G7 leaders to discuss how to build resilient coasts and communities, share ocean knowledge and science, and support sustainable oceans and fisheries," the news release said.
They will also explore how to best address pressing challenges, including plastics in our oceans and illegal, unreported and unregulated fishing, it added.
"Our oceans and coasts are under considerable threat – from increases in plastic pollution, more frequent and severe weather events, and illegal, unreported and unregulated fishing. Resilient coastal communities and healthy oceans are vital to growing economies that work for everyone and that is why we are committed to working with others to protect the world's oceans." It said quoting Trudeau.